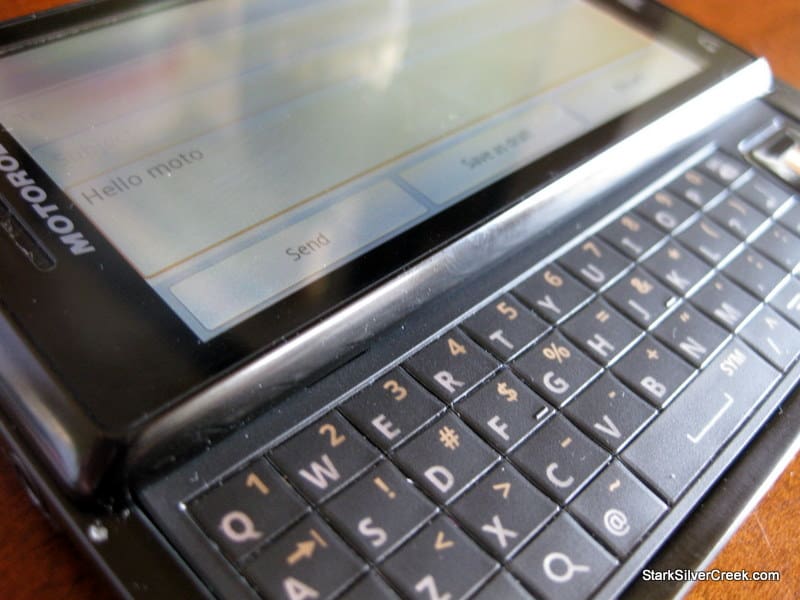 Early thoughts on Motorola Droid on Verizon continued. Solid phone. Not quite iPhone killer (again nothing will until someone can match iTunes):
I've been using it since Friday when I picked it up from Verizon store.
The transfer from AT&T to Verizon was seamless; Verizon staff were excellent.
I entered my Gmail ID, and less than a minute later, everything was in sync (all our contacts, business and personal, plus calendars, email); this is one of my favorite features.
The turn-by-turn GPS navigator is truly amazing for a phone. Not sure it can replace full-blown GPS unit quite yet but I'm going to continue to test against our Magellan.

Motorola Droid and BlackBerry 8700

Google Places app is great for finding gas stations, restaurants, stores -> then click directions to get Google Maps or Navigator turn-by-turn.
Screen: gorgeous.
Hardware design: solid, a little heavy. Also I find very minor wobble between slider since the Droid has a two piece build.
Interface: Android 2.0 is fast on Droid, if not boring. But once apps are loaded, you can really customize it.
Battery: so far a pleasant surprise. I think I could easily get through long day with email, browsing, etc.
Gripe: I like the way BlackBerry has all notifications (email, Twitter, Facebook) on home page… so far I can't figure out how to accomplish this on Droid.
Physical keyboard: it's better than I expected given all the negative reviews, but I can't type as fast as the chicklet BlackBerry keys on my old 8700. At least not yet. The virtual keyboards are excellent.
HTC Eris: Also available sans keyboard for $99; slightly smaller, running Android 1.5 for now, no navigation, has highly rated Sense UI… still considering switching down if I find Droid too bulky; I have 30 days.
I'll have full review up soon.