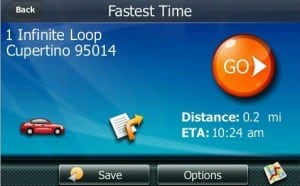 GPS makers, notably Magellan and Garmin (GRMN, market cap $6.2B), are in full scramble mode. Surprising no one, earlier this month Magellan released an iPhone app version of its Roadmate navigation system for $79.99 (regularly $99), now available on iTunes.
Although I'm sure they've seen it coming for a while, Google is knocking, and that means yet another industry is about to be turned on its collective ear. It started over a year ago with the release of Google's mobile OS called Android, but it wasn't until the release of 2.0 earlier this month with included navigation that things really heated up.
The Motorola Droid was the first handset to include the new feature. And it wasn't long before everyone realized that GPS and navigation on the Droid was not just good, it was superb; in large part thanks to Google Maps which seemingly has the entire world virtualized including "points of interest"—a key feature for GPS systems.
"Navigate to nearest corporate survival strategy."
No doubt dedicated GPS systems, at least for the en masse consumer market, is a dying market. Smartphones, like the Droid, are likely to continue to steal away sales. Why spend $200 for a device when you have that same functionality in your phone?
There are several strategic alternatives, but is it too late for companies like Magellan and Garmin? They could enter the smartphone market. But this would be risky, costly. Plus it doesn't play to their core strengths. Another option: build navigation applications that run on top of mobile operating systems such as iPhone, RIM and Android. The latter appears to be at least a short-term panacea for Magellan. The upside is the higher margins from software licensing.
2010 is shaping up to be a very interesting year for several consumer markets including: point-and-shoot cameras, portable camcorders, and, now, GPS.
In the end, will smartphones subsume all?