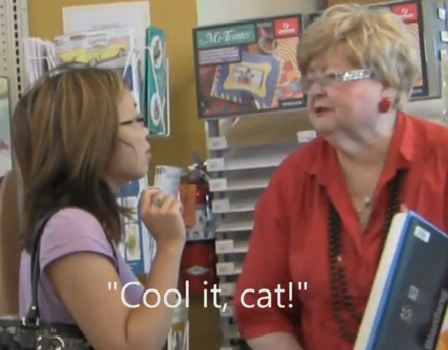 I must say, I relish the moments when Loni meets her equal. That was the case in our first episode, "The Teacher & The Pear," of the new web show The Artist Diaries.
Follow Loni as she pursues her right brain dream of becoming a master painter.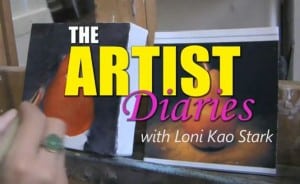 Her teacher had to calm her as Loni shopped for brushes on sale, "40% off!" Hence, the "Cool it, Cat!" I live for these moments.
But wait until you see the headlock from next class. No kidding. A headlock! And this is a painting class?
Seriously though, Lee Hartman is a great art teacher, and we're having a lot of fun.
The SF Bay Area theater 09/10 season is in full swing. So far, so good. We're spoiled to have so many great, diverse shows just a short drive away from all our favorite places in San Francisco, San Jose, Oakland/Berkeley, Palo Alto, and just about everywhere in between.
I like what the San Jose Repertory Theatre has done with their 'As You Like It' production: at the beginning of the show, artistic director Rick Lombardo announces a Twitter hashcode (#AYLI) so the audience can share their thoughts, and read others in real-time using Twitter. Loni and I have been active on the feed. You can check it out on Twitter here: As You Like It Twitter feed. I expect more theaters to adopt this social media approach to marketing and customer engagement.
Mike Cassidy of the San Jose Mercury News wrote a self-described "frank" piece about the newspaper business, and the challenging plight of our own Merc, and the industry at large (Cassidy: It's time for a frank talk with readers about the Mercury News).
It's sad, but there is a silver lining.
All the talent, journalists, reporters will not, thankfully, disappear into the ether. Instead, they will likely play an even more significant role in a new publishing model that is going through a painful birth.
Despite Cassidy's pleas, including calls for tactical changes and customer suggestions—no matter how well meaning—will not fix what amounts to a massive industry transformation. I applaud Mike Cassidy's candidness though. He also makes some excellent points, many of which I'll get into over the coming weeks and months as we all discuss, ponder and muse about where traditional and new media are headed.
On the SSC front, we've made some minor tweaks to our home page and throughout the site. Nothing major. But hopefully it makes it easier to read. We've gone from 3 columns to mostly 2 columns on the main page which should make it easier to scroll quickly down the page to check for new posts, news, articles and videos. This was based on feedback from several readers. Thanks for that.
I hope you're enjoying NFL opening weekend. I can't believe the 49ers won. Then again, maybe Mike Singletary's philosophy has marinated nicely. Even more surprising to me, if the Bears win tonight I win our pick ′em pool. A nice way to start the season!