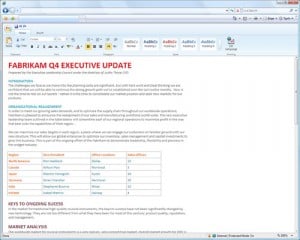 Cloud computing could get even more interesting next week if this rumor proves true. Hot on the heels of Google's Chrome OS announcement this week (Watch out Microsoft: Google formally announces Chrome Operating System, turns up heat), it appears that the Redmond giant is awakening to the cloud, finally… maybe. We'll find out soon enough.
The rumor has two components: a next generation Web browser, and a cloud-friendly version of Microsoft Office that will run in it.
This is long overdue, and really not much of a surprise. Google Docs has long been siphoning customers with their free suite of easy to use, Web-based applications. Even Adobe—probably news to many—has been in the cloud with its suite of Acrobat.com applications which includes a slick word processor.
One bit of trivia. I was thinking about this on the way home from the gym… who was one of the first innovators or, perhaps even creator, of "cloud computing"? Apple? Microsoft? Google? I say: no, no, no.
The real unsung, poor Java-slinging hero: Sun. Remember? The "dot in dot.com"?
Yes, Sun had it all figured out (except the money-making part); light-weight computing. With a card, you could retrieve your desktop and documents with a single swipe at any Sun workstation. Well, maybe it wasn't exactly a cloud. But the Sun is close no? Anyways, too bad Sun is run with more tech and less business… their present predictment could have looked much different if they had put the cloud in "cloud computing". Just a thought. (oh, and maybe they could have also invented the netbook market—isn't hindsight fun?)