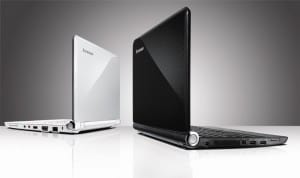 Intel today revoked preferential pricing to Lenovo and Samsung for its Atom chipset which power popular netbook models, typically with screens 10-inches and smaller. Apparently both manufacturers violated terms by using the lower-priced chipset in models with larger screen sizes.

The netbook market is an entertaining place these days. First, the ever increasing choice of models, at lowering price points as I previously wrote about (see Gateway enters netbook market with first 11.6-inch display).
I also mentioned the potential for consumer confusion. What is a netbook? How is it different than a notebook? And at these low price points, I'd be just as tempted as anyone to forgo some power.
It seems I'm not the only one concerned.
Intel's move not only indicates a management of expectation with consumers primarily, but also an effort to reduce the cannibalization this new market is likely to have on its bread and butter mobile chipset.
By using the low-powered Atom chip in larger notebooks, Intel suspects consumers will expect standard notebook performance, and consequently be disappointed by the results. Hence the restriction to manufacturers of a maximum 10.2″ screen size.
What I find perplexing is that this appears to be about semantics. After all, if I like to surf the web and read email, and I'm perfectly satisfied doing these tasks on an Atom-powered netbook with a 10.2″ screen, why would I not be equally happy at 12″ (with the new Lenovo S12 example)?
It's perhaps a matter of perspective.
Folks cross-shopping a 12″ Intel Atom-powered netbook for example with a regular notebook may think they are comparing Apples to Apples. The pricing differential should be the giveaway (most netbooks sell for $300-400, approximately 30-50% less than standard laptops).
This is an interesting move by Intel, effectively chastising two name-brand customers. Will Lenovo and Samsung seek alternative vendors, such as Via or AMD to fulfill future model requirements?