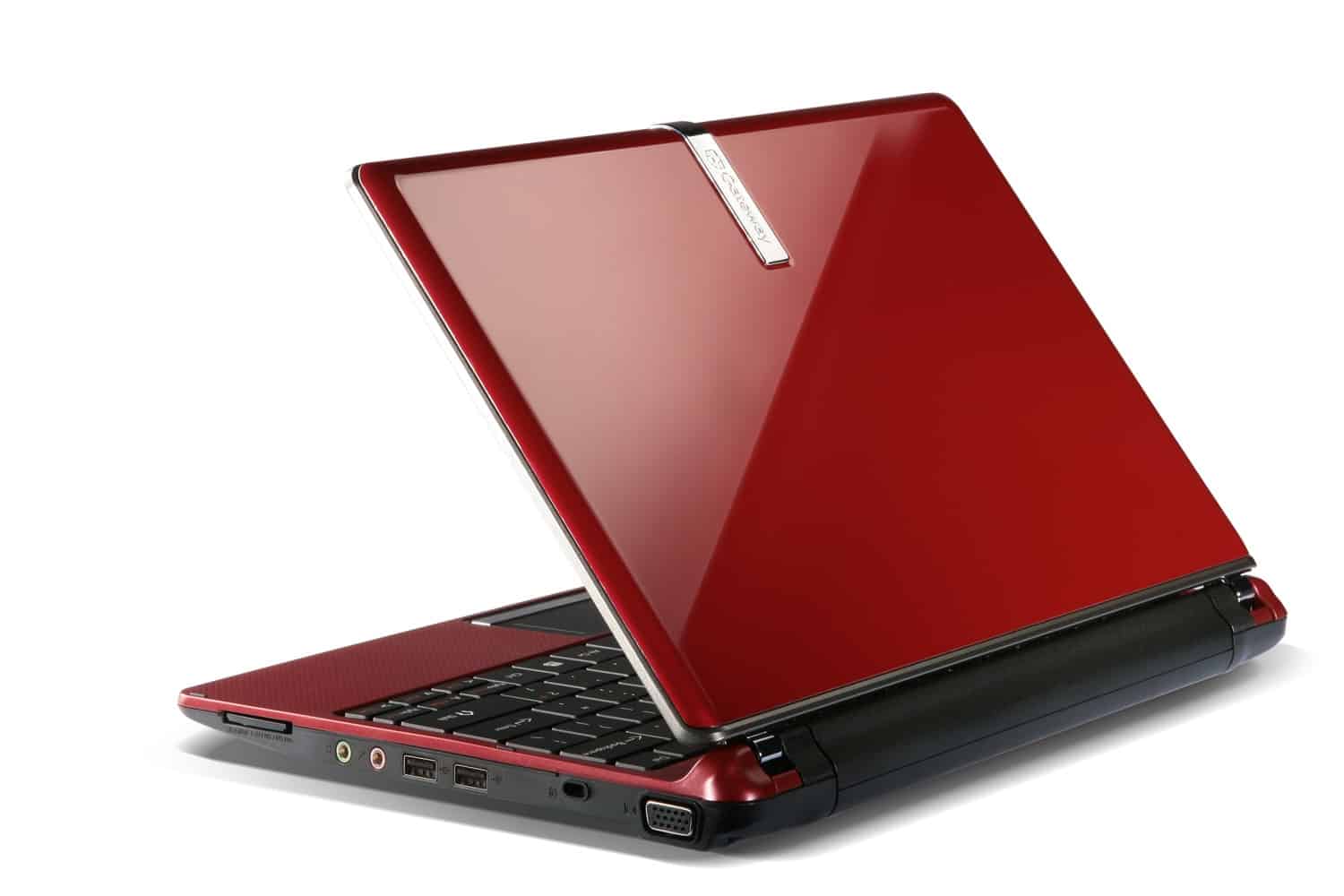 With today's announcement of a new $399 netbook, now even Gateway, famous for their cow spotted shipping boxes and low prices, has entered this white hot market segment.
As I've written before, I still believe netbooks will become the new notebooks. They continue to get bigger displays — from 8.9″ to 10.1″, and now to 11.6″ — yet retain low prices, decent power and improving battery life.
The Gateway LT3100, in addition to the aforementioned larger 11.6″ screen also sports other unique features bound to make buyers in the market for a netbook take notice. One is the processor. Gateway eschewed the standard Intel Atom processor in favor of a more powerful AMD Athlon variant typically found in more expensive notebooks.
Other pluses are the full-size keyboard (many netbooks max out at 92% cramping typing speeds slightly), 5-hour battery life, and ATI powered graphics which should help it process higher resolution videos.
This is a promising product from Gateway, of all companies, and I expect it to get a lot of attention. If I were in the market for a netbook, I'd put this near the top of consideration.
The trend to on-the-go, anywhere computing and Internet access continues to grow. And I expect eventually we will take it for granted, much like we do today with cell phone service.
Cloud computing, especially access to on-line office applications such as Google Docs through a standard web browser, offloads traditional processing requirements making these portable devices powerful productivity enhancers. Add to the mix Twitter, Facebook and other social networking apps, and you're coffee shop surfing session becomes a potential blitzkrieg of activity.
Exciting times. Moore's Law strikes again.
Gateway's First 11.6-inch Netbook Delivers Functionality, Performance

Customers Can Stay in Touch, Do More With Large Display, Performance-Boosting AMD Athlon Processor, Full-Size Keyboard

IRVINE, Calif.–(BUSINESS WIRE)–Gateway today introduced the Gateway LT3100 netbook, the company's first with a productivity-boosting high-definition 11.6-inch display. Complementing the new display are features that equip customers to do more with their netbook, including wireless connectivity and an AMD Athlon Processor. Weighing only 3.14 pounds and measuring about an inch thick, the Gateway LT3100 sports a sleek and compact design that can be taken anywhere.

Savvy mobile customers who are always on the move can stay in touch and connected using the new Gateway LT3100. Compact and easy to use, it is an ideal netbook for customers who want a reliable WiFi 802.11b/g wireless connection to the Internet to stay up-to-date on emails, post updates on social networks and enjoy online entertainment. Students and small business customers can use it for conducting online research, reviewing materials for class and communicating with colleagues.

Customers can do more with their new Gateway LT3100 netbook. The device's Ultrabright™ high-definition widescreen display is a large 11.6 inches, providing increased screen real estate to view Internet sites as well as multiple applications and windows. As a result, customers can avoid extensive vertical and horizontal scrolling and can more easily move between windows for a better overall experience. The display on the new netbook line is LED-backlit and features an entertainment-enhancing 16:9 ratio and 1366 x 768 (WXGA) pixel resolution, so images on it are incredibly clear and crisp. Plus, the larger display size made room for a full-size keyboard, so even typing is easier.

"The Gateway LT3100 is a smart netbook choice – it gives customers the freedom to connect to the Internet for everything from staying up-to-date on the latest viral videos and enjoying digital music and photos, to checking on the status of projects and studying for classes," said Ray Sawall, senior product marketing manager for Acer America. "At the same time, it delivers reliable mobile communications. Customers get the larger-sized 11.6-inch display along with enhanced netbook performance, so they can do even more while on the go."

The Gateway LT3100 netbook delivers a heightened level of performance and usability thanks to its AMD Athlon 64 L110 Single-Core processor and ATI Radeon™ X1270 Graphics for enhanced performance when browsing websites, downloading music, moving through applications and handling multiple tasks. Ready for customers who want to take their digital media and files with them, the Gateway LT3100 netbook models will feature up to 2GB of DDR2 memory and up to a 250GB(1) internal hard drive. Available with a 6-cell battery, the LT3100 netbooks provide battery life of up to five hours.(2)

Customers can capture moments on the go in video with the integrated webcam. With it, consumers have an easy way to document their adventures in video, record video emails and enhance communication with "face-to-face" video-conferencing. It captures smooth video and high-quality images even in low-light conditions. Plus, the built-in digital microphone conveys excellent voice quality, keeping background noise levels low and minimizing echoes. Consumers will enjoy audio with the Dolby Headphones and two built-in stereo speakers.

The Gateway LT3100 netbook further enhances productivity with its Multi-Gesture Touchpad. Unique movements on the touchpad let users intuitively move through Internet sites and digital media. For example, customers can make an inward or outward pinching motion to naturally zoom in and out on photos. Customers can move two fingers horizontally to flip through photos, web pages and PDF documents. Also, customers can swirl their fingers in a circular motion to scroll through web pages, long lists of files and music playlists.

The sophisticated design of the new Gateway LT3100 notebook gives it a fashionable look and feel. The glossy chassis is punctuated with a subtle yet defining Gateway engraved logo and modern silver trim and is available in both NightSky Black and Cherry Red. Sleek and comfortable to hold and use with an incredibly portable form factor, the LT3100 has a starting weight of 3.14 pounds. The LT3100 measures only about an inch thick, so it neatly fits in a backpack or purse.

The Gateway LT3100's ports make it easy to connect to peripherals such as printers, a display and consumer electronics such as digital cameras. It has an impressive three USB 2.0 ports for ample ways to connect as well as Ethernet and VGA ports. Plus, it features a multi-in-one digital card reader for accepting popular digital media cards.

Pricing, Availability and Configurations

The new Gateway LT3100 is available in several configurations at a starting manufacturer's suggested retail price (MSRP) of $399.99. A sample configuration follows:

Gateway LT3103u

AMD Athlon™ 64 Single-Core Processor L110 (1.20 GHz, 512KB L2 cache, 800 MHz FSB)
11.6-inch WXGA High Definition LED back-lit display (1364 x 768 resolution and 16:9 ratio)
2048MB DDR2 SDRAM Single Channel Memory
Integrated ATI Radeon™ X1270 Graphics
250GB SATA 5400RPM Hard Drive(1)
Multi-in-1 Digital Media Card Reader
802.11b/g Wi-Fi CERTIFIED®
Integrated Web Camera
Two Built-in Stereo Speakers
Three USB 2.0 Ports
6-cell Li-ion Battery
11.26W x 7.99D x 1.03H inches
NightSky Black
Microsoft Windows Vista Basic with Service Pack 1
One-Year Standard Warranty
Manufacturer's Suggested Retail Price: $399.99
The Gateway LT3100 netbook line comes with additional preinstalled software including Microsoft Works with Office Home and Student 2007 Trial, Gateway Recovery Management, Adobe® Reader®, and Norton Internet Security™ 2009 Trial. (3)