Slightly off the beaten path in Sonoma County, Benziger is a scenic, wooded winery worth the visit. We visited a few years back and came back with plenty of good memories, not the least of which was the wine.
The grapes for this vintage of  Chardonnay were sourced from Sonoma County, while the newer '07 appears to come from Carneros. That would be an interesting comparison. I suspect the latter would have less buttery qualities, but this is pure speculation.
We served and tasted this one with three other people, and paired it with crab cakes. The pairing turned out to be ideal, another one of the small joys of everyday life celebrated with friends and good food (recipe in Loni's California Kitchen).
This Chardonnay is perhaps a little more buttery then I would normally prefer. I say perhaps, only because it's hard to imagine a better pairing for the Crab Cakes than this wine. The crisp apple and pineapple flavors contrasted with the rich, tart crab. The finish, despite oaks and butters, was refreshing thanks to the fruits. Also, I like my Chardonnays chilled and served around 50F. Some prefer it slightly warmer, which can reveal more of the flavor.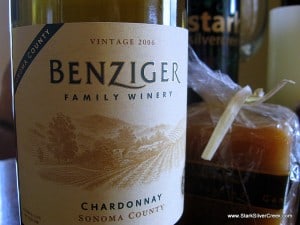 What's become of me?
I find myself grabbing a Chardonnay more often than in the past. Not that I still don't love the big Cabs, still my #1 wine of choice. But with such high quality coming out of Napa and Sonoma these days, it's hard not to feel slightly spoiled. Especially at this price.
This Benziger can be had at your local Safeway for around $8 with the 10% 6-pack discount. Impressive.