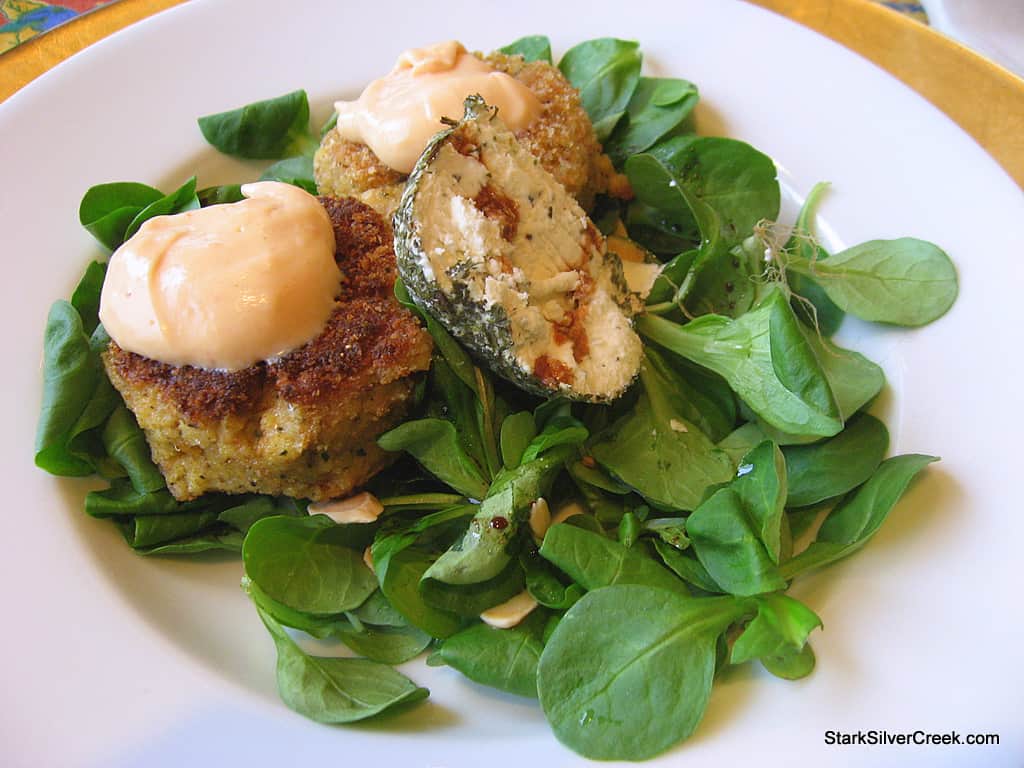 I love crabs when cooked right, steamed or the way my dad makes them, chopped up and sautéed in spices and a thick sauce. The unfortunate thing about crabs is they take a lot of work to eat. You have to remove the shell and then the internal cartilage to get to the pieces of flaky, tender flesh.
Crab cakes, an American invention generally associated with the area surrounding Chesapeake Bay, takes the inconvenience out of eating crabs by creating plump patty-like shapes of seafood deliciousness that can be easily cut with a knife and fork.
If you've been to different restaurants you will know that there are generally two types of crab cakes. The Maryland (aka. Boardwalk) style crab cakes are generally made by mixing crab with a stuffing which spans the ordinary to the bold. The Restaurant style is prepared with no filler, just pure all-lump crab meat presented on a steak, open-faced sandwich or by itself on a plate.
As delicious as both options are, the Boardwalk-style often leaves me playing hide-and-go-seek with the crab and the Restaurant-style sometimes makes we wonder if it would have been more fun to seek out the pure stuff inside an actual crab shell.
So my recipe for 'Crabs ahoy, matey' Crab Cakes goes light on the fillers, using them to enhance the crab flavors, not overpower while providing additional layers of texture. I'd like to think of this crab cake recipe as presenting the best of both worlds.
'Crabs ahoy, matey' Crab Cakes'

1 pound of cooked crab meat, make sure it is nice and flakey. If you are extracting this crab meat from fresh crabs, generally you will need a little over 2 pounds of crabs to obtain a pound of crab meat.
2 tablespoons of finely chopped fresh basil
1 teaspoon of Worcestershire sauce. I use Lea & Perrins as this is the only Worcestershire sauce I have known since childhood.
2 large eggs, well-beatened
2 tablespoons of mayonnaise. You can use the low-fat kind if you want here, there is really no difference that I could tell in taste.
1 1/2 teaspoon fresh squeezed lemon juice. I always like to get my lemon juice from an actual lemon. It is well worth it to invest in a lemon tree in the backyard if your climate permits. It keeps the juice fresh until you need to use it.
3/4 teaspoon of mustard powder
1/2 cup fresh bread crumbs. The crab cakes will be very delicate when you try to form the actual cakes, resist adding more bread crumbs. Being gentle and patient will pay off.
Dash of sea salt and freshly ground pepper
Additional fresh breadcrumbs or its lighter Japanese sister, Panko crumbs, for covering the outside of the crab cakes before they are sautéed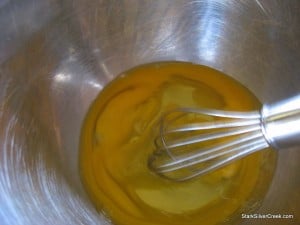 Set aside the crab, bread and bread crumbs. Mix all other ingredients together in a medium-sized bowl. Add the crab meat gently so the flakes of crab meat do not separate too much. Fold in the 1/2 cup of bread crumbs by gradually adding them to the mixture.
You can prepare this ahead of time, cover and set in the refrigerator until you are ready to cook the crab cakes. It is best to make them fresh just before serving.
When ready, form them into crab cakes by taking a lump of the mixture, rolling it into a ball and gently flattening it between your palms. Pour some bread crumbs or panko onto a small plate and dredge the crab cake into it so it gets covered with a thin layer of bread crumbs. Place on a cookie sheet. Repeat until all the crab cake mixture is gone. In terms of the actual size of the crab cakes, it is all up to you. I personally like to serve small, dainty ones.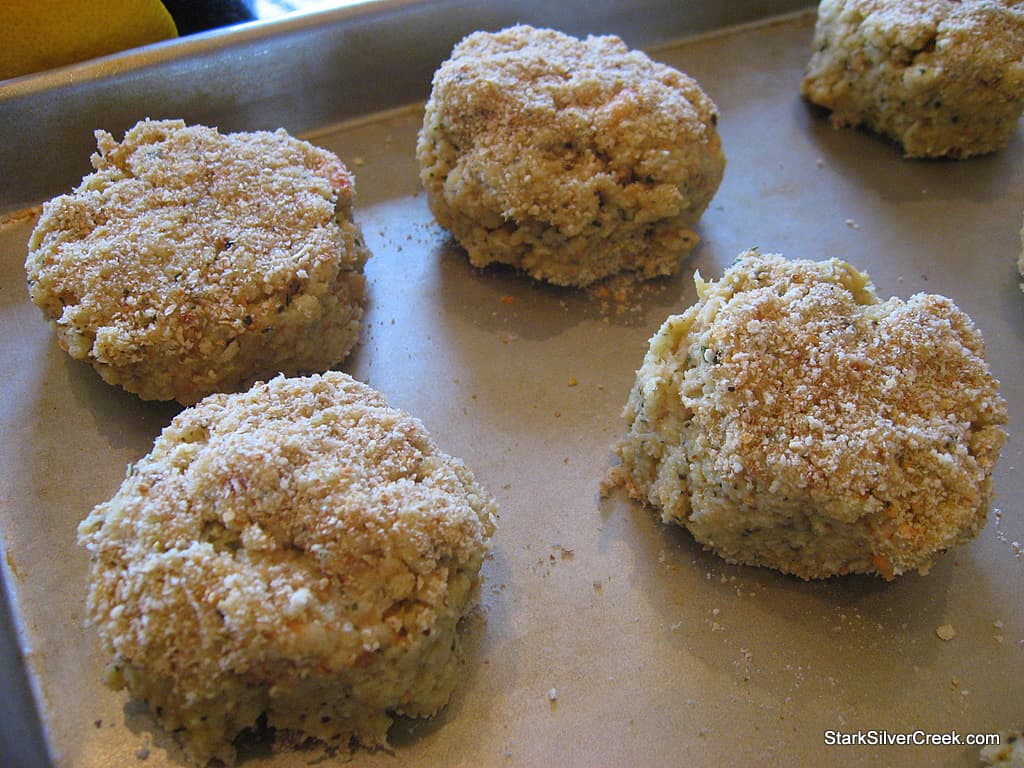 Heat your pan to low-medium, make sure the pan is covered in thin layer of canola oil. Once heated up, place the crab cakes into the pan. Do not over-crowd. Either have several pans out or cook the crab cakes in batches. Wait 3 minutes and flip the crab cakes onto the other side. You may turn them over earlier if the crab cakes are starting to turn a dark brown, this is why it is important to keep the heat at low-medium.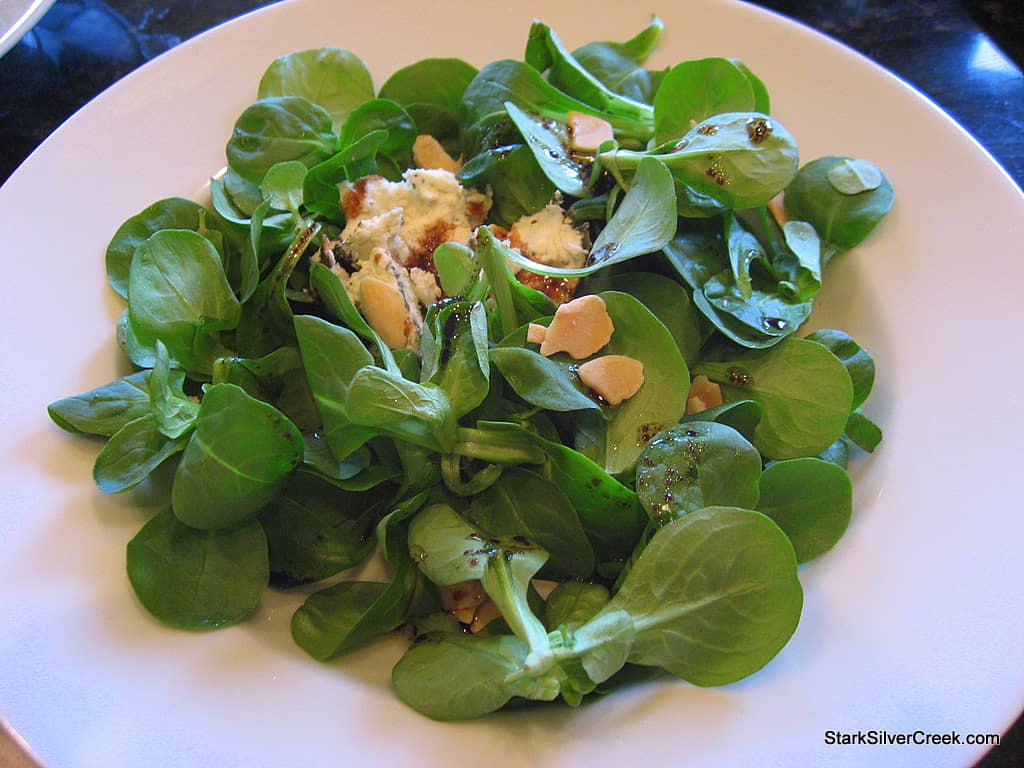 While you are waiting for the crab cakes to cook, pull out your salad dishes, place a bed of green on each plate. I really like using Mâche (aka. Lamb Lettuce) as the greens for this dish. Cut up a nice, soft piece of goat cheese and place on top of the salad. Then in a small bowl, pour some extra virgin olive oil and some of your really good aged balsamic vinegar, whisk it up and drizzle it evenly on each bed of greens.
For the crab cakes sauce, I like to either use a tartar sauce or mix together mayonnaise, a dash of Worcestershire sauce, Dijon mustard and dash of smoked Paprika to taste and serve it in a bowl at the table.
When the crab cakes are done, place them on top of the bed of greens and serve. And when you ask your guests if anyone wants any seconds of crab cakes, they will all shout, "Crabs ahoy, matey!". Okay, maybe your guest have been trained just to say, "Yes, please".