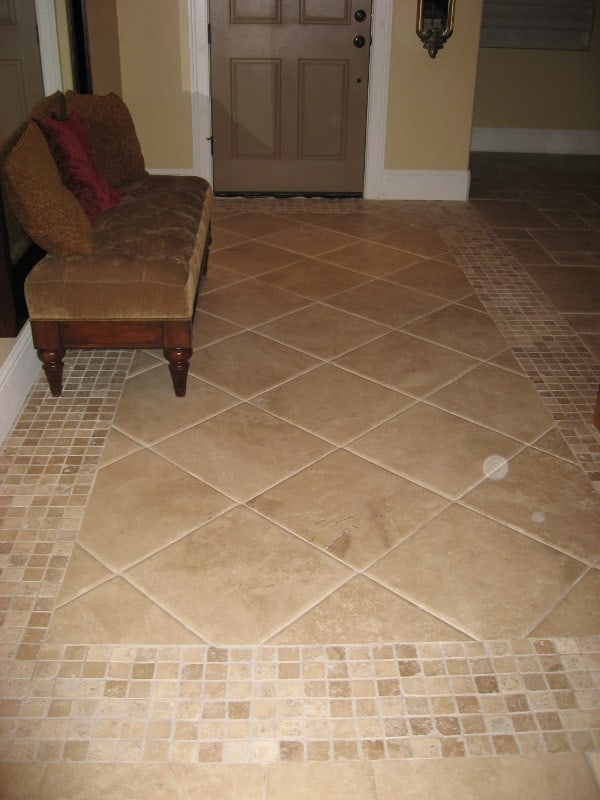 After a couple of weeks of dust and noise, we finally have our place looking back to normal. Well, better than normal.
The travertine tiles we choose with the cushion edge are just the right color and the rounded edging gives the floor a nice dimension and softness.
Always difficult to envision how the tiles would look on an entire first floor when one is staring at the sample board in a showroom. I designed the foyer area so 16×16 tiles were laid in a diagonal pattern surrounded by 1×1 mosaic tiles. This helps to define this area from the living room.
The rest of the floor is done in a Versailles pattern which gives a very custom but still relaxed feel to the home.
The wine cellar is still awaiting additional racking and the mahogany door which is being crafted in Brazil.
The walls have been painted a rich tapestry color in a satin exterior paint. The flooring, if you will notice, is done in a rustic mosaic tile pattern. As a rule of thumb, smaller rooms require smaller tiles which will make the room seem more spacious.
It is also nice if you are doing an entire floor to break up certain areas with some variety either with tile size or pattern. This technique used sparingly will add a nice interest as you walk around the area. Used too often and it can make your place feel disconnected.
I'll be off to Portugal soon for business and hope to bring back some wine, port and ceramic tiles to add to this cellar as well.
Do you have a renovation project going on? Drop us a line, we'd love to hear about it.