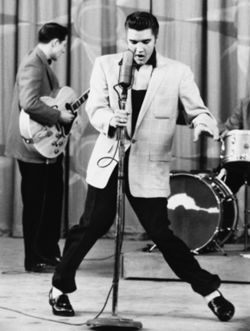 We've almost finished our Internet radio adventure. I hope you're enjoying it so far.
To recap, in part 1 I introduced the basics, things you need to know to get started enjoying streaming, high quality music wherever you are. Last week, I rolled up my sleeves and tested 3 top hardware devices, choosing 2 winners.
"Music gives a soul to the universe, wings to the mind, flight to the imagination, and life to everything."
– Plato

Today, it's all about the music: stations and services. There are thousands of Internet radio stations available across hundreds of genres. You are bound to find a handful that you'll enjoy on a daily basis. To help you narrow down some of the choices, I've picked my favorites across a few genres. These are my perennial all-stars; stations that have nice music mixes, very few if any ads, and deliver a reliable service you can count on whether at home, in a hotel room, or traveling around the world.
"If music be the food of love, play on: give me excess of it…"
– William Shakespeare

If you're interested in music services I make a few suggestions also. There are a few leaders out there such as Apple iTunes, Rhapsody and Napster. These services allow you to purchase music (and in some cases video, podcasts and more), which you can play back through your PC, your home audio system (with a hardware player) or transfer to a portable device for on-the-go enjoyment.
Read on to see the 2008 picks for best Internet radio, music services and podcasts.
THE BEST OF INTERNET RADIO 2008

Top 40/Hits
Nominees: 977 The Hitz Channel, SKY.fm Top Hits Music, HitzRadio.com
SKY.FM Top Hits Music – this is a reliable pop music station playing the usual hits. Less rap and hip-hop than 977. It's like having an all-star radio station (at high quality 128kbps too) without the commercials or incessant banter.
Classic Rock
Nominees: RadioIO Classic Rock, Radio Paradise, 181.fm – The Eagle, 977 The Classic Rock Channel
Radio Paradise – no doubt one of the most popular stations out there, and doing well with user contributions so it can run commercial free. This is a perfect summer station for BBQs, or just hanging out with friends. The playlists are often introspective and breezy, covering more than just classic rock. By venturing into some electronica and world music, Radio Paradise offers up a great listening experience that will never leave you bored.
Classic 70s
Nominees: SKY.fm All Hit 70s, Big R Radio – 70s FM, 1.FM – Disco Ball,
SKY.FM All Hit 70s – another winner from SKY.FM. This is a great walk down memory lane. The Eagles, CCR, The Police, Elton John, Queen. All here, and decent 128kbps quality.
Classic 60s
Nominees: 1.fm – 50s and 60s, M2 Vinyl, SKY.fm – Oldies, SKY.fm – A Beatles Tribute
Tie: M2 Vinyl and SKY.fm – Oldies – both of these are good, but in different ways. M2, as is the case with their other channels, is slightly off the beaten path, perhaps the French influence. SKY.fm is straight ahead classic, and will satisfy with all your 60s (and some 50s) favorites.

80's New Wave and Pop
Nominees: 977 The 80s Channel, SKY.fm 80s 80s 80s!, 181.fm – Awesome 80's, M2 Analog
M2 Analog – there's no shortage of 80s music stations. It's one of the most popular music genres, for better or worse, on the Internet. Most will give you a familiar dose of Michael Jackson, Madonna, Prince and U2. But our pick is M2 Analog (from France). It goes deeper, and reveals some 80s gems and slightly obscure new wave music. All great, just not as worn as some of the other 80s pop hits.
In a Romantic Mood
Nominees: 181.fm – The Heart (All Love Songs), SKY.fm – Love Music, M2 Love, RadioIO lovesongs
181.fm – The Heart – Any of these channels will set the mood. But 181.fm seems to offer better variety overall, and less name identification interruptions.

New Age
Nominees: SomaFM Groove Salad, 1.FM – The Chillout Lounge, SKY.fm – New Age
SKY.fm – New Age – The gold standard again. Their New Age channel delivers a relaxed, ambient playlist of Enya, Enigma, Vangelis, Freud, and other celestial, and slow tempo music.
THE BEST PAY MUSIC SERVICES OF 2008

Apple iTunes – #1 for a reason. Lots of content, lots of choice, and fun to browse. The absolute best if you're looking for something easy to use. There are a few negatives though. There is no subscription option which provides all-you-can-eat freedom. You must use it with an iPod which limits your MP3 player (or other device) to more expensive Apple product. Still, it's the market leader, and will be for a long time.
Rhapsody – A strong music alternative to iTunes. But software can be problematic to install, especially on Vista. Also, music is only encoded at 160kbps which is less than others, and not up to today's standards. Playlists are very good. The software is aging and needs an update. Napster is a better choice.
Napster – The "new" Napster is a legal, subscription-based service offering high quality 192kbps downloads. A deep music catalog is a huge plus. Interface is average, better than Rhapsody, but also in need of modernization. Download speeds were fast, and progress bars help. If you're just looking for music and like the monthly subscription model, you'll love Napster.
THE BEST FREE MUSIC SERVICES OF 2008

SKY.FM Internet Radio – The gold standard in listener supported Internet radio. They offer a strong catalog of free Internet radio stations, all at 128kpbs, which is the new quality standard. For $4.95/month you can upgrade to SKY's premium service with 192kpbs streaming music and no ads. In my testing though I found the standard, free service to be excellent.
SHOUTcast Radio by Nullsoft – A portal for online Internet radio and channels across the world. If you're looking for some music, this is a good place to start. I like that the Logitech Slim Devices Squeezecenter interface has SHOUTcast built in (along with some other services such as Radio IO) which makes it convenient to find great music.
Radio IO – Now that Radio IO offers higher 128kbps streaming rates I would suggest trying out some of their channels. I especially like their "Top 20" stations which loop top hits across several genres including pop, country, rock, RnB and hip hop.
Did I miss any of your favorites?
Let me know in the comments, and share your picks with everyone. Passion for music is best shared!