Are you ready for some music?!
Previously, I wrote about the basics of Internet radio (An Everyday Guide to Enjoying High Quality, Internet Radio Part 1 – The Basics). Now I'm going to discuss and review some of the best hardware choices out there (including Logitech Slim Devices, Roku, and Sonos) for playing back not only Internet radio, but also streaming podcasts and music stored from your own computer or server. It's remarkably easy.
In the final part of this series, I'll give you the low down and advice on music services and stations; things like Rhapsody, Napster, iTunes and SKY.fm, Radio Paradise. All the fun stuff! But first we need to talk about equipment.
If you've never ventured onto this turf before, you're in for some good news and bad news.
First, the good news: there are more companies, more choice when it comes to selecting a digital media player. Also, prices have really come down in recent years, and while you can freely stream music to your laptop or computer without buying anything extra, just a few hundred dollars will buy a lot of power and give you the option to connect to your home audio or theater system.
So the bad news?
It can be confusing.
Not everyone talks together, so for example if you like Apple iTunes, you need to make sure you purchase a compatible device, which may in turn not be happy connecting to other services such as those offered by Napster and Rhapsody.
For this review, I assembled some of the best hardware from the leading companies in this market: Slim Devices Squeebox Duet by Logitech, the Sonos Multi-Room Music System, and Roku SoundBridge. Prices range from about $200 to just over $1,000. Not too bad considering some whole house audio system installations can cost tens of thousands, and yet I believe you can achieve around 90% of the functionality with these three offerings.
Ok it's time to plug-in, amp to 11, and throwdown.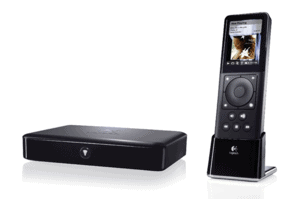 Review: Slim Devices Squeezebox Duet by Logitech

Starting at $399, the new Squeebox Duet is a superb, feature-rich performer. Recently acquired by Logitech, Slim Devices have been in the business of digital media players and Internet radio for many years, and it shows. The Duet consists of a receiver, which you connect to your home stereo (the unit does not have speakers built-in) and a controller with charging stand.
Set up was easy. Plug the Duet receiver into your amplifier (using digital or old school RCA audio jacks), and then connect to a wireless network. The controller is ready to go, and with a bright 2.4″ backlit screen offers an easy way to navigate all your music choices which include Internet radio, local music on your server, podcasts and more.
The Duet can run without your computer. In other words, just plug-in, power up as I described and you can be listening to a great Internet radio station like Radio Paradise in no time. A free software download called SqueezeCenter, can be installed on any computer or laptop you have. It will index your music and make it available to the Duet. Further, you can then control the the system with not only the included controller but any web browser. This gives you all kinds of flexibility.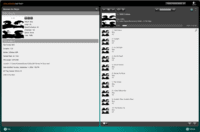 I dialed in some classic U2, and I mean the good stuff, from Boy (the re-mastered version is brilliant) circa 1980 with raw guitar, and edgy Bono vocals. The Duet blew me away. For all those who still (still!) doubt the quality of MP3 music, this little guy should not disappoint. I compared 320kbps ripped tracks against the CD and could not tell any difference. Drops out were non-existent. This thing delivered high quality music without fault. High marks here.
Caution, however, to Apple users who buy music from iTunes. The Duet will support your non-DRM Apple downloads, but will not play back any protected music you purchase.
I found the interface on the Duet easy to use with plenty of choices for navigating music by artist, album, year, etc. The SqueezeCenter web browser was also very good, and allows you to view on a bigger screen. I used my laptop to navigate my music collection using nice album artwork thumbnails, and also to search for Internet radio stations – there are thousands! I did notice the interface to take a few seconds to load, but once it was running it was reasonably quick.
I really like the Squeezebox Duet. This is my pick if you want all the bells and whistles, but are working on a budget. You get stellar performance, great software and support from Logitech, a company with a successful consumer electronics history.

Review: Roku SoundBridge M1001 by Roku Labs
At $199, the Roku is the cheapest of our 3 comparison models. Don't let that fool you as it still packs plenty of punch.
But it does appear to be outgunned in this showdown in several key areas. The remote has no screen so you won't see any album art or information on the artist or album now playing. Instead you need to rely on the relatively small display which is terribly inconvenient if you're located across the room. Not good.
Setup is easy, but not as easy as the other two models compared here as any operation relies on the small display which often limits the amount of text that can be displayed resulting in a lot of scrolling. Otherwise connecting the device is almost identical to the Logitech Duet, just connect to your amplifier using an optical cable or RCA jacks. I had no problem connecting to a wireless network.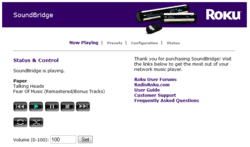 Sound quality was very good, and I had no complaints with drop-outs or stability of the system, experiencing no crashes.
Another strike against the bargain unit is it's limited web interface. It gives you basic control such as play, stop, fast forward and has a separate tab to setup Internet radio stations. Again, it works, but is basic and not as intuitive as the Sonos or Logitech systems.
Overall the Roku felt like a last generation model, severely lacking several important features. I noticed the Roku web site states this model is out of stock and not available until January 2009, which puts any intention you have of picking one up as a gift for the holidays on ice. I suspect they have a newer model in the works. More recently, Roku has shifted attention to a Neflix movie streaming device, perhaps indicating a change in direction.
At $199 it is the cheapest here, and may serve your needs if a basic, no frills model is all you want, but the Logitech Duet is a giant step forward.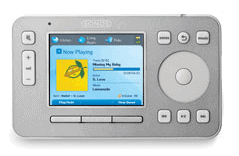 Review: Sonos Multi-Room Music System by Sonos
Sonos is the Apple or BMW of this test: high on style and design, but with a price to match. The entry price, at $999, includes a controller, and two zoneplayers (one with amplifier), but no speakers. This setup enables you to have two separate zones which means you could enjoy some old time CCR in one room, and Jonas Brothers in another room for some other challenged listener.
Everything about the Sonos reflects fine engineering and durable assembly. The quality is excellent. Setup is very similar to the Logitech Duet. You connect the ZonePlayer to your stereo. Then, you can use the iPod-like controller with bright 3.5″ full-color display to navigate your music. With the controller you get a bigger screen than the Duet, but you generally need to use two hands to use it. I love the design, and combination of scroll wheel, dedicated buttons and "soft buttons" that change function as needed.
Also, like the Duet, you can connect to Internet radio stations without a computer which is convenient. Software can be optionally installed that will automatically index and sort your own music. I experienced no problems here, and found using the Sonos very enjoyable.
For multi-room audio, the Sonos is hard to beat. You don't need to tear down dry wall and install knobby volume controls everywhere. Instead you just place a ZonePlayer wherever you want a "zone" and use the controller to choose music and set the volume. The Sonos displays all the information you need in a simple, colorful way that doesn't overwhelm.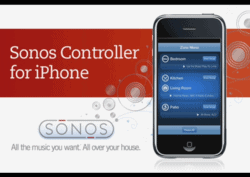 Sound quality was expectedly stellar. Again, the industry as a whole has made enormous strides here, and I think almost anyone, aside from perhaps the most strident hifi aficionado will be extremely impressed.
Fans of music services such as Napster, Rhapsody and even Sirius will be pleased to know Sonos supports all of them. If that's not enough, it comes preloaded with over 15,000 Internet radio stations across a variety of genres including sports, talk and of course music. Also clever, just enter your ZIP code and the system will bring up all your locally available radio stations. Nice!
Recently, Sonos announced support for the Apple iPhone, which means you could finish an iPhone call, and then promptly pull up some Buddy Holly for old time's sake.
The Bottom Line
This is a great time for music lovers. Internet radio offers thousands of great stations, and these three systems all provide a way to enjoy it in their own way.
The Roku is a dated design, and with the company's recent attention on media streaming such as their new Netflix offering, I suspect focus is shifting. At $199 it's appears to be a good price, but maybe not so much when you consider you get a small display, very limited remote and poor web control options. A few years back I would recommend the Roku M1001, now, however, it's not good enough to hang with this crowd.
The Logitech Slim Devices Duet is spot on. The price is good, and it's chock full of great features. The company regularly updates software (now at version 7 as of this writing) and has an active community of fans and add-ons. At $399 it's my value pick.
The Sonos is also a pick, if you can stretch your budget to about $1,000 which might be tough these days. Still, the Sonos when compared to a custom multi-room audio system in the tens of thousands comes out looking like a bargain. It all depends on your perspective. The interface is slick, hardware elegant and well engineered.
So there you have it. The Sonos is a BMW. The Logitech Slim Devices is an Infiniti. And the Roku is an older Volvo, functional, but people look at you funny.
Logitech Slim Devices Duet
$399
www.slimdevices.com

8 out 10

Verdict: An excellent buy, and value pick. Easy-to-use, smart controller, and tremendous features. SqueezeCenter web interface scores top marks.
Roku Labs SoundBridge M1001
$199
www.rokulabs.com

5 out of 10

Verdict: Yesterday's design. Roku appears to be shifting to video with Netflix device. Not recommended, even at lower price.
Sonos Multi-Room Music System
From $999
www.sonos.com

9 out of 10

Verdict: Exceptional quality, exceptional design. If you're looking for the best, look no further.