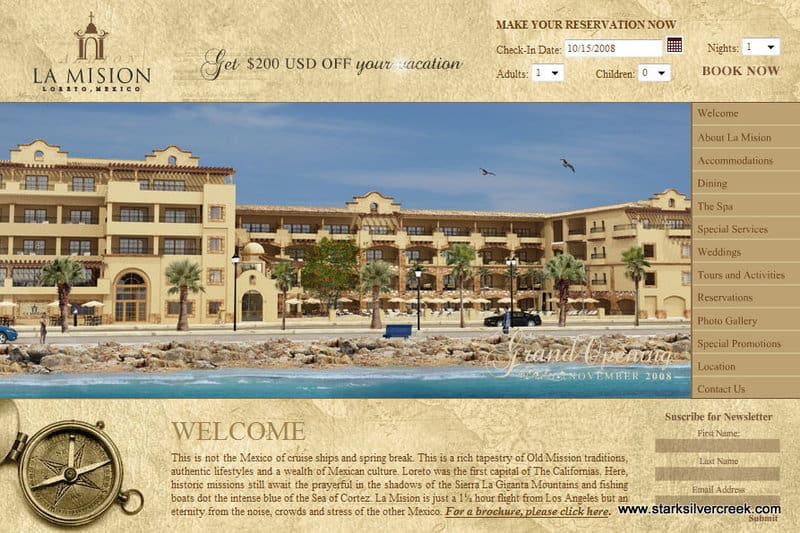 The new 70-room hotel, LA MISION, is apparently set for a grand opening next month in Loreto, Mexico. If the final result is anything like the images on their web site and the promise of a great Malecon location, then this will be big news for Loreto.
Based on their positioning and branding, the hotel will offer an upscale, spa-like resort experience. Some of the images and words used to describe the "experience" reminds me of the Sonoma Mission Inn & Spa; the kind of place where you can completely escape and splurge on nice meals, spa treatments, and all the things you need to escape the harsh reality of your new, post-economic meltdown 401K portfolio value.
The decor is described as "Hacienda" with flat screen TVs in every room. From what I can tell, there will be 2 restaurants: El Restaurante and the Baja Peninsula restaurant. No rewards for originality, but points for ease of pronunciation.
When I tried their online booking system, room rates ranged from $116 (mountain view) to $344 for a 2-bedroom luxury suite. Options include breakfast ($12), round-trip from airport ($22), and snorkeling tour ($60). 3-night package deals are available from $442 with double occupancy.
An 11-page brochure on LA MISION with striking photos and artwork is available here.
La Mision
Rosendo Robles s/n Col. Centro,
Loreto, B.C.S. México, 23880,
Phone: US & Canada: 1-877-53LAMISION
México: (52) 613-1350524
E-mail:info@lamisionloreto.com
www.lamisionloreto.com
[Thanks John!]