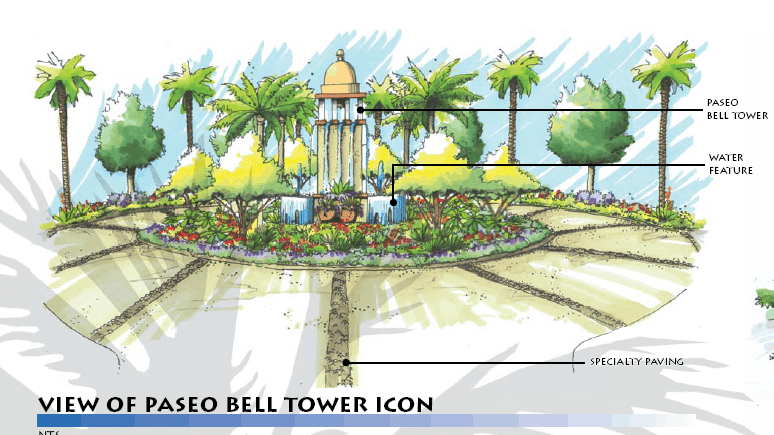 Artist's rendering of the proposed Bell Tower, a new icon representing the heritage and culture of Loreto, Mexico.
Tonight while enjoying the awe-shucks demeanor of James Stewart fighting his fear of heights and apparently chasing multiple women in Hitchcock's classic Vertigo (in HD no less), we received a Loreto Bay update email from Michael Coyle of Replay Resorts.
I was expecting the email any day as Mike Ravenhill, President Loreto Bay Village Homes, had updated me on a phone conversation last week.
The email provides significant information on progress on several components

of the overall plan. This is the most comprehensive update we've seen since Replay Resorts took over the project late last year.
Loni and I are still digesting the information, and thought we'd share some initial thoughts and impressions.
The email is divided into 7 sections: Replay Resorts, Home construction, Community infrastructure, Club membership and beach club status, Renovations to the Inn at Loreto Bay, Airlift to Loreto Bay and Staffing.
I was particularly interested in two things. Firstly, progress on construction. This is critical as the original buyers purchased under a lot/construction contract where draws are used to pay for milestones. This means the faster the construction, the more cash flow will go to Replay/Citi which will aid in the overall financial condition of the project and, hence, future marketing efforts.
And secondly, the efforts to build out amenities are also important. After all, if there is nothing to do when visitors arrive, chances are they won't return (or instead book a trip to Cabo next time).
Key highlights from Michael's email include:
Financing requested for the project has been secured for an "amount even higher" than initially sought
Since late 2007, 118 village homes have been completed in Founder's
The remaining 33 Founder's homes will be completed end of 2008
Construction continues on 38 custom homes, also targeted for end of this year
For Aqua Viva, 120 homes should be completed this year, with an additional 130 under contract by middle of 2009
51 condos in the Posada by February 2009
60,000 sq ft. of commercial space in Founder's this year, plus a new plan to attract tenants
The launch of a new "club membership" this fall
A construction plan for the Paseo to begin September
18 holes of golf course complete early 2009
Renovations to the Inn at Loreto Bay begins in Fall including pools and restaurant
The formation of a new "developer's council" including Loreto Bay, the Village Group project in Esenada Blanca, Marbella in Nopolo, Aman Resort in Mulege; the goal being to consolidate marketing efforts, receive government co-op dollars, and to help influence increased airlift to the region
Closing of Scottsdale and Victoria offices and re-location to Loreto now that basic life services are in place
A new marketing push this fall with emphasis on new home sales; along with new visual identity (logo) to be coordinated with the Cortez Explorers Club
At least 4 companies can provide financing for Loreto Bay homes
FONATUR is expected to make a "significant" investment in Loreto in 2009
Canals and estuaries are to be completed in Aqua Viva phase 1 by Spring 2009
It's a good report so far. Although many risks and inevitable challenges abound, it's satisfying to us early investors and homeowners that progress is being made under the new ownership group.
I am looking forward to the new logo and visual identity. From what I know, early indications suggest an "upscale" Four Seasons-like look complete with scripted font style.
The construction progress is good; especially the custom lots as they represent significant investments and, ultimately, a high degree of confidence in the ultimate return (i.e. success) of the project.
The Paseo construction plan is perhaps another indication that Replay has been there, done that when it comes to resort development. First impressions are critical. And currently Loreto Bay fails in that regard. With Founder's almost complete, and Aqua Vivia phase 1 coming on strong, now seems like a perfect time to kick into construction gear on some design elements that will impress visitors, improve walking enjoyment (not to mention safety), and deliver on the promise of a resort experience.
Michael Coyle attached a PDF rendering with artist concepts of the vision of a new Paseo. No doubt there will be revisions, but it's never too early to jump in with impressions and critique.
I like:
The Paseo bell tower feature; classy, and could be a 'timeless' architectural element if done right
Speed bumps ("raised specialty paving at crossing") and weaving street to control traffic flow
Lots of public seating areas, water features, fire pit and art throughout
A comprehensive "plant palette"
I don't like:
The conceptual drawing of the "wildlife theme sculpture" at terminus one; I hope this changes, it's too Disney for me; I'd prefer something more elegant that still emphasizes sea life, but doesn't suggest a theme park
Regarding airlift and overall visibility of Loreto as a whole as a resort destination, I hope the other new developments gather momentum and achieve their goals. To succeed, the areas needs multiple resorts, with multiple streams of investment. Although we may not like the additional crowds, a certain amount is needed for critical mass. Without it, there's no chance of reaching a base level of amenities needed to make the area attractive long-term to visitors and homeowners.
Overall, a good update for information-starved owners. It would be nice to know more about some of the challenges & issues that Replay and Citi are facing. I know that many would prefer not to hear negative aspects, however balanced commentary (as on the topic of airlift) does a lot to keep us out of the dark.
Also do Citi's $17B in losses over the past 3 quarters (with CPI rolling up to the division with the biggest losses) bear on the project? Apparently not given the
higher than expected level of investment Michael Coyle was able to obtain. In the long-term this will hopefully turn out to be an interesting footnote in a successful development replete with all the ups and downs associated with building in the wild west – or in this case, the wild nomadic Baja desert.
Ok back to Vertigo, but wait, I must have missed something. Jimmy Stewart is now kissing a blonde. Wasn't she a brunette a moment ago? Why does that necklace match the one from the painting? And who jumped off the pier? Well looks like I may need to rewind a bit.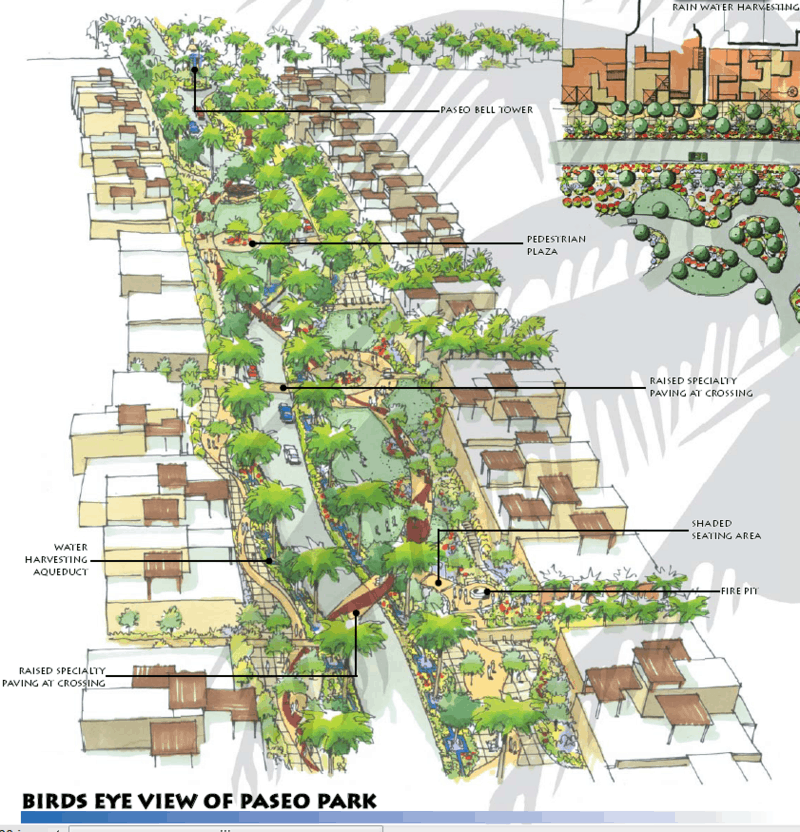 Lots of walking paths, areas of interest and character. A big improvement and a giant step towards achieving the resort vision of Loreto Bay.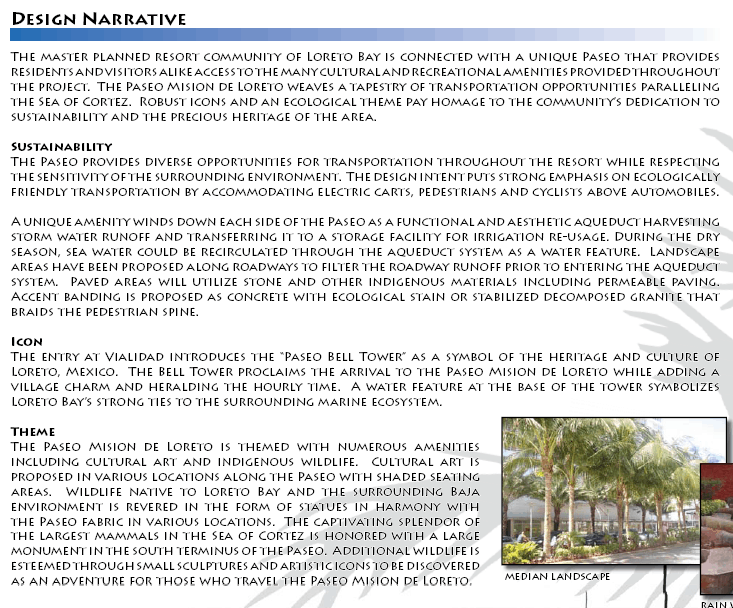 Click for a larger view to read what the architects and designers envision for the Paseo.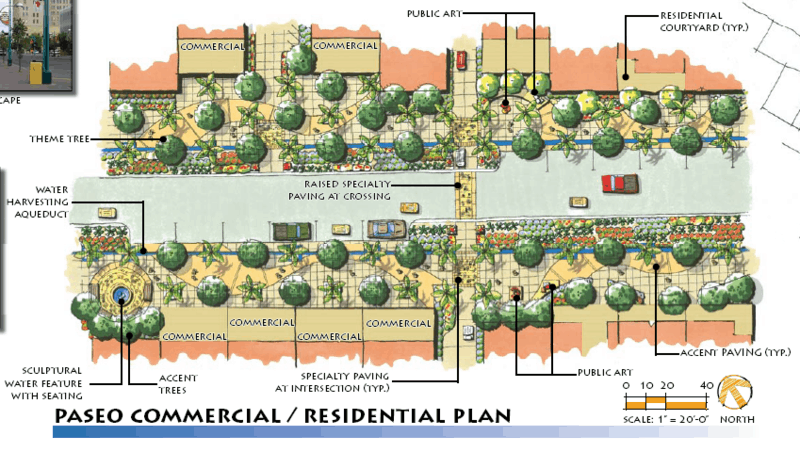 A blend of commerical and residential nicely integrated.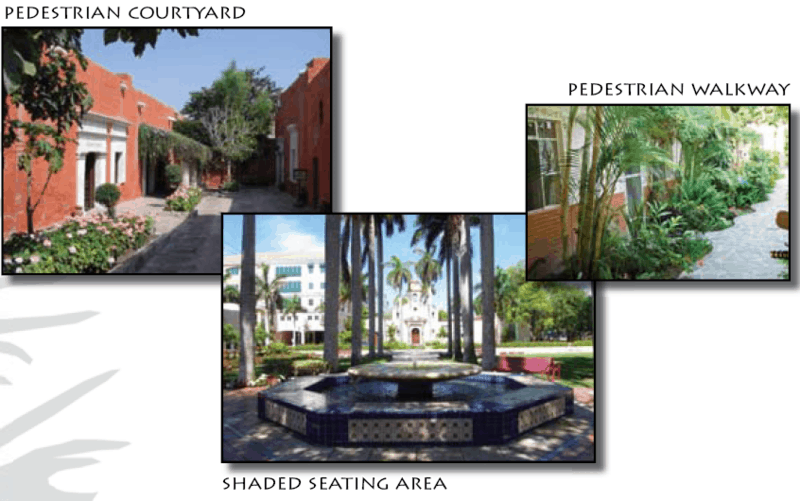 Mock-ups of some of the pedestrian areas.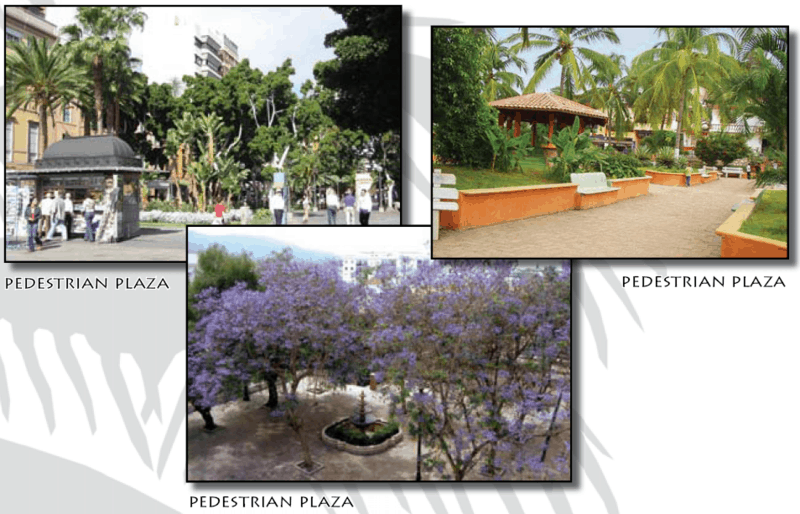 Plazas. If you build it, they will come.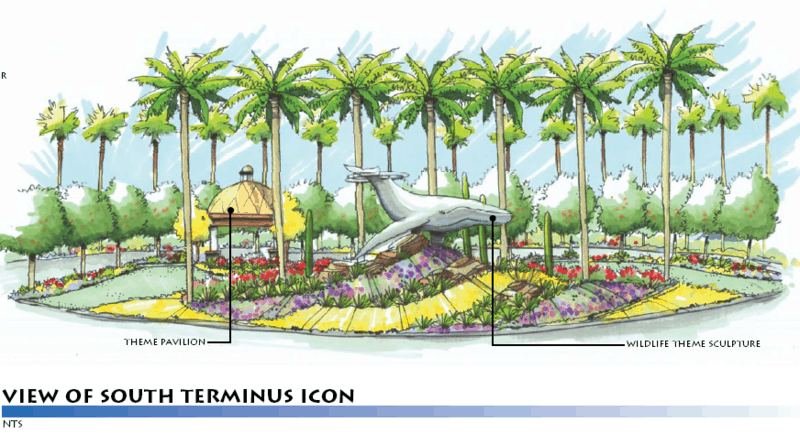 Wildlife theme sculpture. Not my favorite. Where's the lineup for the ride?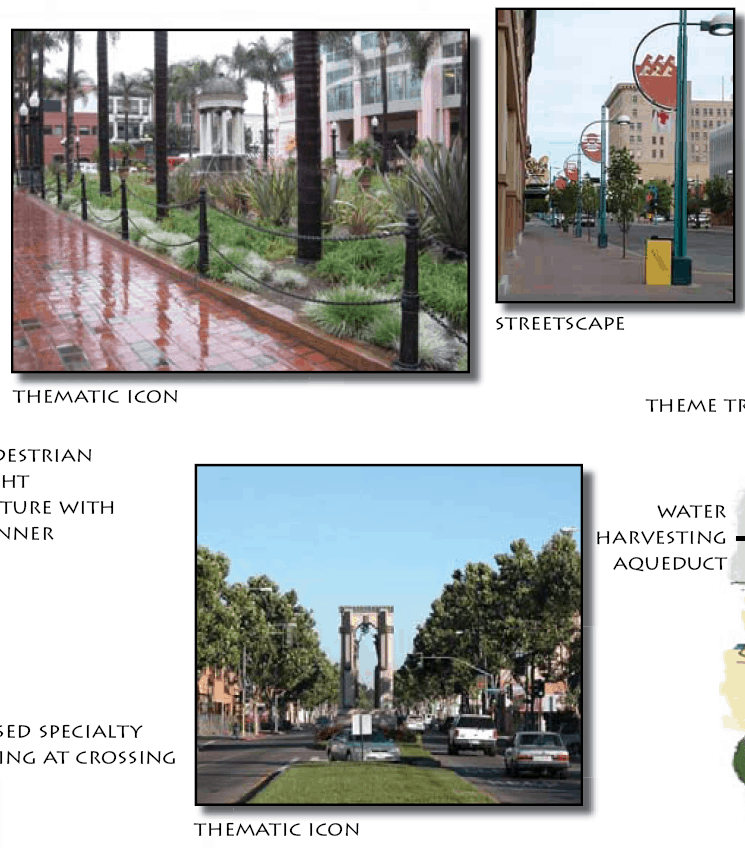 The Paseo Bell Tower as thematic icon. I like the concept.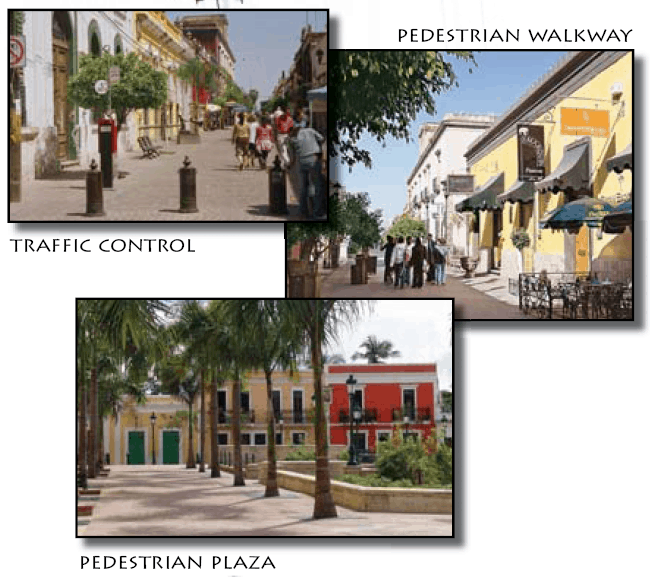 More concepts of walkways and plazas.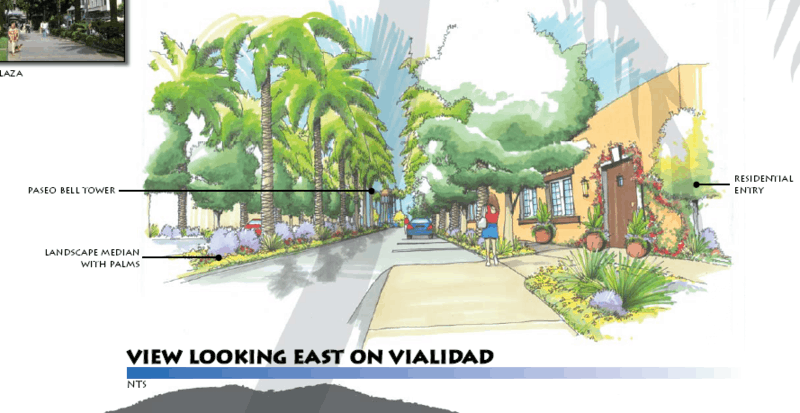 Palms on the median. Nice clean, smooth walkway… I can't wait.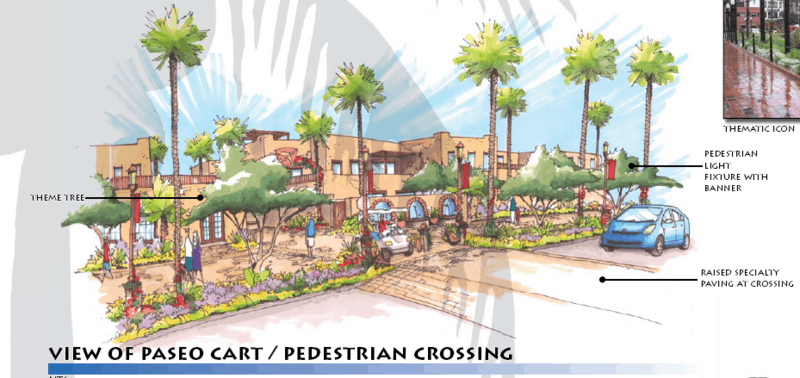 How do you say 'speed bump' in Loreto Bay… ?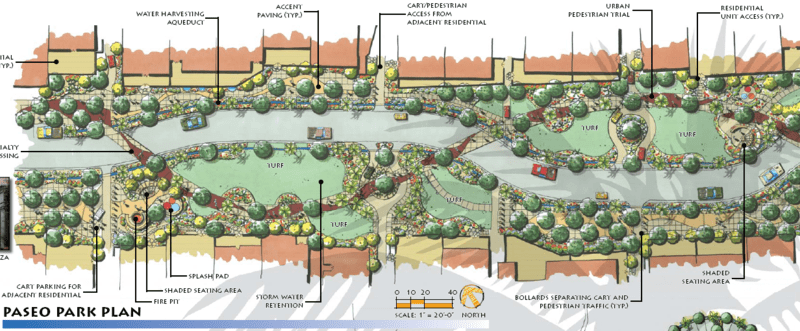 The Paseo Park Plan. Lots of green, and interesting spaces.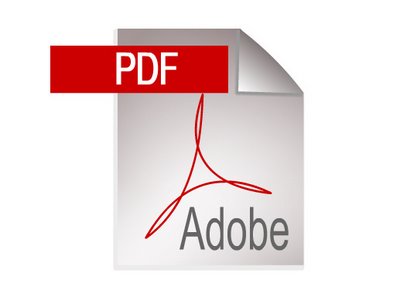 Click here for complete PDF (2.8MB) of the conceptual plan for the Paseo Mision De Loreto at Loreto Bay. July 7, 2008 by Neill/Vecchia & Associates, Inc.