All things open source continues to be a growing movement.
The latest example: the ZimaCube NAS.
Based on the ZimaBoard — which is a small Single-Board Computer (SBC) not unlike Raspberry Pi or Arduino — the ZimaCube is a Network Attached Storage (NAS) system based on Linux and other open source components.
Currently, the company, Shanghai-based IceWhale, is saying to watch soon for a Kickstarter to support the project.
Meantime, the specs look quite good and should give mid-range NAS models from Synology and QNAP a run for their money.
In addition to 6 hard drive bays (2.5″ or 3.5″) there's also a welcome number of M.2 NVME slots — 2 on-board and 4 off board. Other highlights include:
CasaOS front-end (running on top of Debian Linux)
Intel N100 (Cube) or Intel i5-1235U (Cube Pro)
2.5Gb ethernet ports
DisplayPort and HDMI video out
USB 3.2, 3.0 and 2.0 ports
(see image below for full specs of both the ZimaCube and ZimaCube Pro)
Expected pricing per Tom's Hardware is $300 for the Cube and $800 for the Cube Pro.
This will be an interesting option for those dealing with vast amounts of data. Video production, small office environments, 3D modelling, university classes, home labs, and others who need to move information around and have a secure way of managing and deploying applications (using the included CasaOS docker interface) should be key markets.
ZimaCube and ZimaCube Pro: Specs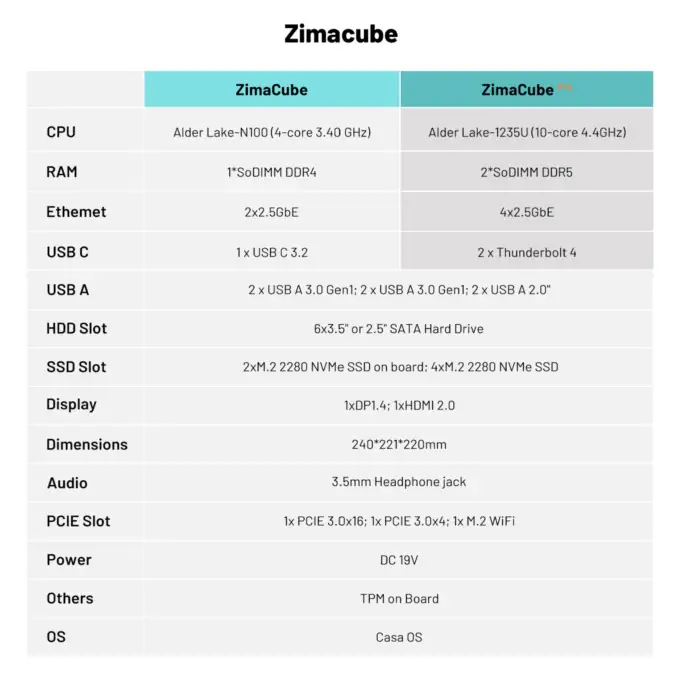 ZimaCube: A DIY NAS Middle Ground
If you're like me and deal with video production and a large amount of archival footage — 17TB+ for about 15 years of Stark Insider video files — and growing amount of new 4K and 5K and 6K RAW footage then you're probably all too familiar with the NAS space.
Key players include Synology and QNAP. Not much has changed there. When you want to buy a name brand NAS those are the two incumbents. You go Synology if you want ease-of-use and an Apple-like experience. You go QNAP if you want bang-for-the-buck and more processing power out-of-the-box. There's other players too. Terramaster and, one of my new favorites, Asustor. But, for the most part, the NAS market has moved slowly and really consists of a duopoly (at least in theory).
Now enter the open source warriors.
We've seen this time and time again in various markets. By using free and open source code and assets, developers can offer free alternatives to other commercially available products. In recent years, I've noticed the trend is increasing. Not only are we seeing more of these sorts of projects — ZimaCube being a prime example of where the market could be headed — but they're increasingly getting better, both in terms of performance and ease-of-use. I'd also suggest aesthetics are improving too.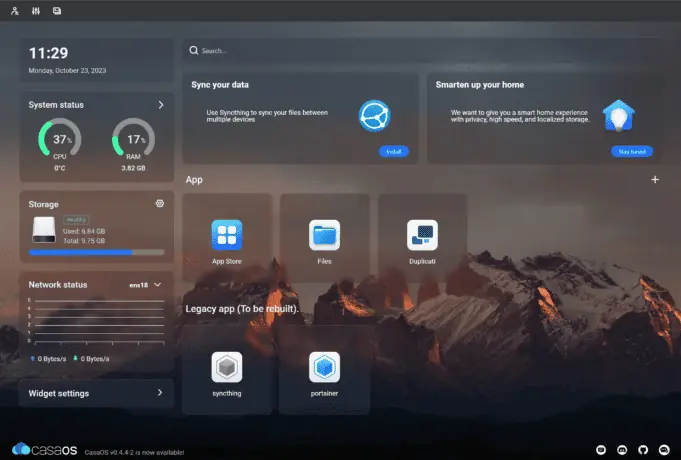 For example, CasaOS is the front-end UI that's included with the ZimaCube. It's minimalist and quite pretty to look at. There's not much depth there, compared to features found on Synology (DSM) or QNAP (QTS). However, the goal is to primarily provide a storage interface and a way to manage and launch Docker apps.
In my brief testing on a machine in my home lab running Ubuntu, I found it to be intuitive and simple. Installing the Duplicati backup app was easy as a single click on the icon in the app store. Similarly, seeing how much storage was available in addition to navigating file folders was a point-and-click affair. Easy.
Mounting an UNRAID server via SMB (Samba) with CasaOS was also dead simple. I just entered the URL of my UNRAID in the Files app and it was mounted straight away. I could then access all my video archives via web browser, and, if needed, upload files and folders too.
CasaOS, which has been around now since December 2021, is also intuitive when it comes to mounting cloud storage. For now the choice looks to be limited. Current options include Google Drive, Dropbox and OneDrive. Of course if you want to backup to more cloud providers you can easily just use Duplicati (free) from the app store.
Still, I probably wouldn't recommend ZimaCube for NAS first timers.
You still need to first install a native Linux distribution (Ubuntu is my favorite) before then installing CasaOS on top. That requires some command line work and some level of comfort with Linux. Many will not be ready for that. Synology, QNAP and Asustor will be the better choice here.
Hardcore DIYers will also probably continue to roll their own, building their own NAS servers component by component, before installing something like TrueNAS or UNRAID (my current NAS). Or even CasaOS is an option too.
ZimaCube, though, perhaps splits the difference. It gives you a running machine ready to go out-of-the-box. Yet, it also offers easy expansion. Thanks to two available PCIe slots you could, for instance, install a 10G ethernet adapter and take advantage of higher transfer speeds. Or you could readily add more memory, or perhaps even change out components like the CPU and GPU.
To date, the combination of ZimaCube hardware and the CasaOS front-end are the best open source NAS combo I've seen to date. TrueNAS is also great. But it's a serious bit of kit reserved for IT/storage experts who really know their stuff, especially user permissions.
In any case, you can read more about the ZimaCube on this landing page, and sign-up to receive updates about the upcoming Kickstarter campaign.
I think I'm going to back this one. Not only do I think this is possibly the future for mass storage, NAS and the (private) cloud, but I I want to support those involved in making this happen and pushing the market forward. Truly impressive stuff.
But in the end there's really only one lingering question: why on earth does this thing — a NAS! — have an old school 3.5mm headphone jack on the front of the case?