Roku continues to be one of the most competitive players out there when it comes to streaming devices.
The latest update to its ever evolving — and seemingly infinite at times — line-up is the Roku Express 4K. If you're shopping for a streamer this one is worth a look.
Coming in at just $39.99 USD the bundle includes the box itself which connects to a TV via HDMI. Plus, this 2023 update also includes a Roku Voice Remote.
Just like a voice assistant — Alexa! — you can use the remote to control your viewing experience. Search for shows. Play content. Pause. All with a simple voice command. That's pretty convenient. Though it's worth pointing out others too have had this feature as well including Nvidia with the Shield TV, and Google with its Chromecast with Google TV devices. And, of course, the industry giant itself Amazon with the Fire TV line-up that include Alexa built in of course.
Roku Streaming Services and Apps: You Will Be Entertained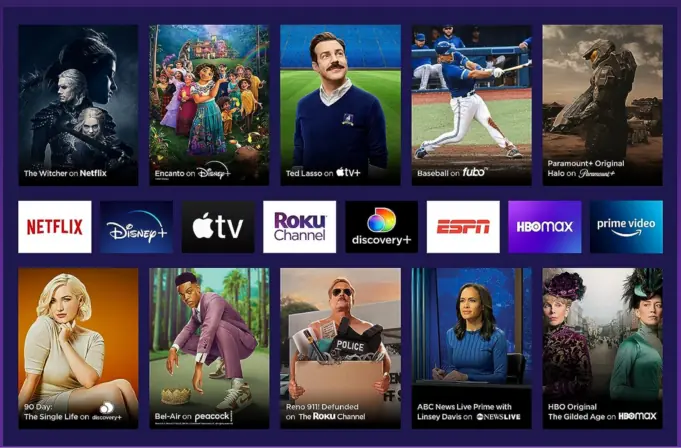 As you'd expect the Roku comes bundles with a massive array of streaming services and apps to keep you entertained for eons. Top highlights include:
Disney+
Apple TV
HBO Max (or just Max…)
Peacock
Hulu
Netflix
Telemundo
ESPN
Paramount+
CBS
Spotify
In addition, the Roku Express 4K is smart home ready. Out-of-the box support includes Apple AirPlay, Apple Home (and Siri), Alexa and Google Home (and Hey, Google). So if you like to keep everything in your home controllable with your platform of choice you should be covered.
Like others in this segment, Roku features a slick all-in-one user interface. The main screen integrates content from your apps and services to present a streamlined and inviting menu of content. Compared to others I find it rather simple in approach. But it gets the job done, and tends to have less clutter and in-your-face type stuff that can distract that is more prevalent on Fire TV.
HDMI Included, But No USB-C
As a nice bonus Roku also includes an HDMI cable, in addition to two AAA batteries for the remote.
One thing that slightly disappoints is that Roku is still using (the antiquated) micro-USB standard for its charger. Probably not a big deal as you just plug this thing in once when you connect everything together at time of install. But still. I would prefer to se the modern and ubiquitous USB-C standard here. Just like the Apple iPhone 15!
Roku's Price is the Killer Feature
All of this is nice, but this is pretty much standard fare as far as streaming goes these days.
However, the real killer feature here with the Roku Express 4K may well be the price: $39.99 USD.
That undercuts Google's 4K offering (Chromecast with Google TV) by $10 or 25%.
And its also $5 cheaper than Amazon's own Fire TV Stick 4K.
All in, Roku is a compelling option for those who enjoy an easy-to-use device that is also the least expensive on the market. For now, at least.
Fanatics like me who run Plex servers for their (arthouse and French New Wave!) movie collections and want peak performance when it comes to things like image quality and Dolby Atmos will likely still gravitate towards a more powerful option. That would be the one and only Nvidia Shield TV. It's truly still a standout for the cinephiles who an be pretty picky about these things.
For the rest and more normal people I'd highly recommend the new, updated Roku Express 4K bundle. It simply gets the job done without breaking the bank.