Looking to buy a gift for an aspiring home barista? Or maybe it's time to treat yourself with a low cost upgrade to your own espresso workflow.
We've spent months evaluating and testing the latest round of new — Third Wave Coffee — accessories that have hit the market. Most are inexpensive, but can really make a difference in producing the best espressos possible. Here's the ones we think you should short list during your next online shopping trip.
Top 5: Best espresso accessories for improving espresso workflow and flavor
Scale
The most important accessory for getting espresso right is a scale

Measuring the brew ratio is critical for dialing-in shots and maximizing the flavor profile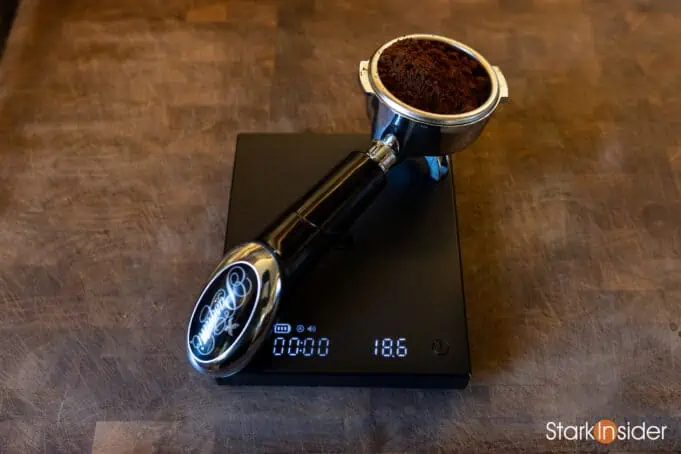 Let's start with the essentials. If you want to dial-in the absolute perfect shot on any espresso machine (aside from a super-automatic) you'll definitely need a scale. Simply it's a must have.
A scale enables you to measure the weight of the grind (typically in grams) that goes into the portafilter. Then, you can also measure the output from the shot. A common formula is 18 grams of coffee grind in and 36 grams out. This result is the classic 1:2 brew ratio which most baristas target with the shot taking anywhere from 25-35 seconds.
Different bean varieties (light vs. dark, for example), regions and sources will often requiring changing the brew ratio. A scale makes all of this possible, and it's why we highly recommend one.
Espresso Scale Recommendations

One of our favorite scales is made by TIMEMORE (pictured above), a company known within the espresso community for making well-priced and well-made products. That would be our pick for most people. For serious espresso hobbyists the Acaia Lunar is the step-up option and gold standard in the industry.

Best for most people (under $100):

Step-up model ($250):
Puck Screen
Inexpensive

Helps keep the group head clean and reduce maintenance intervals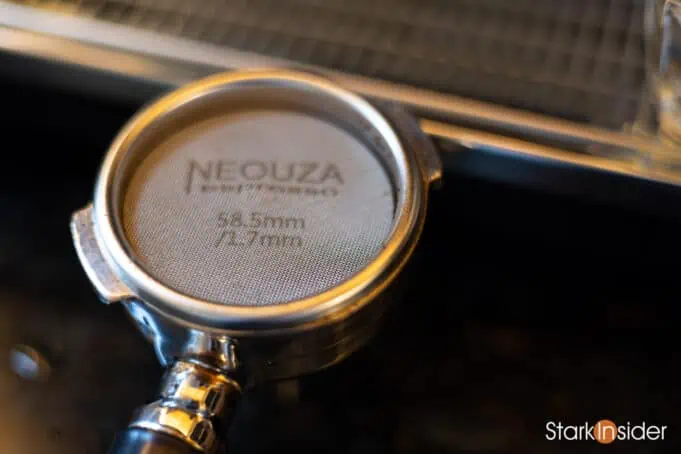 A puck screen is a small re-usable metal disc that sits atop tamped grind in the portafilter. Relatively new to the world of home espresso the idea is that they help keep the group head clean by forming a small barrier between it and the coffee grinds.
Further, many tests suggest that a puck screen can also avoid the dreaded channeling issue. Consequently, you can potentially get a more even shot of espresso. The result should be more flavor and richer crema. Your experiences may vary. However, there's no denying that at the very least a puck screen will keep things cleaner and that, along with low cost, could be a reason to try one out on your coffee station.
Puck Screen Recommendations

You'll find no shortage of Puck Screens on places like Amazon. Here's two brands that we've tested and found perform well in both reducing channeling and keeping the group head relatively cleaner. Note: be sure to get the right size for your portafilter.
Dosing Funnel
Minimizes lose of coffee grinds by keeping would-be strays in the portafilter

Keeps work surfaces cleaner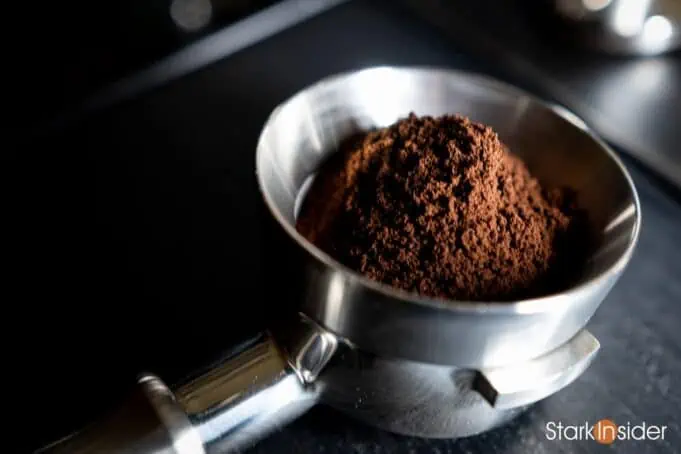 Moving along, we're on to another simple espresso accessory: the dosing funnel.
A dosing funnel is basically a ring — or collar — that lies on top of a portafilter to help prevent coffee from spraying when grinding. Especially when using expensive beans such as Third Wave specialty you want to ensure you don't lose any when prepping the puck. The funnel helps direct grinds straight into the portafilter. If done with care you should experience no loss whatsoever, hence maximizing the value of the beans you buy.
Dosing Funnel Recommendations

Again we have two recommendations. The first (MATOW and pictured above) features a solid collar that sits atop the portafilter using its weight alone, while the second (Normcore) is magnetized providing additional stability.
Distributor/Tamper
Improve tamping consistency with repeatable pressure

Minimize channeling
Tamping is one of the most important parts of prepping a puck. Between 20-30 pounds of pressure is ideal. However, being humans it's sometimes difficult to reproduce consistently.
Enter the distributor and tamper combo.
Here you get two functions in one: (1) a distributor that evenly spreads coffee grinds in the portafilter; and (2) a programmatic tamping function that applies repeatable pressure.
Basically by using this type of accessory you can greatly reduce the variability when prepping for an espresso shot. Fewer variables and increased consistency are important when optimizing your espresso workflow.
Distributor/Tamper Recommendations

You'll find a large selection of choice. Distributor/Tampers have really caught on recently and many manufacturers offer them, and include a variety of features. Crema makes one that is very solid and easy to use and produced great results in our tests. Note: please ensure you buy the correct size for your portafilter. 58.5mm will likely fit most espresso machines. For Breville 53.3mm. Check your machine and manual before buying to be sure.

Best Mid-Range Distributor and Tamper (under $50):
Grinder
A dedicated espresso grinder will help you grind fine enough

Reduce clumps and ensure even grinds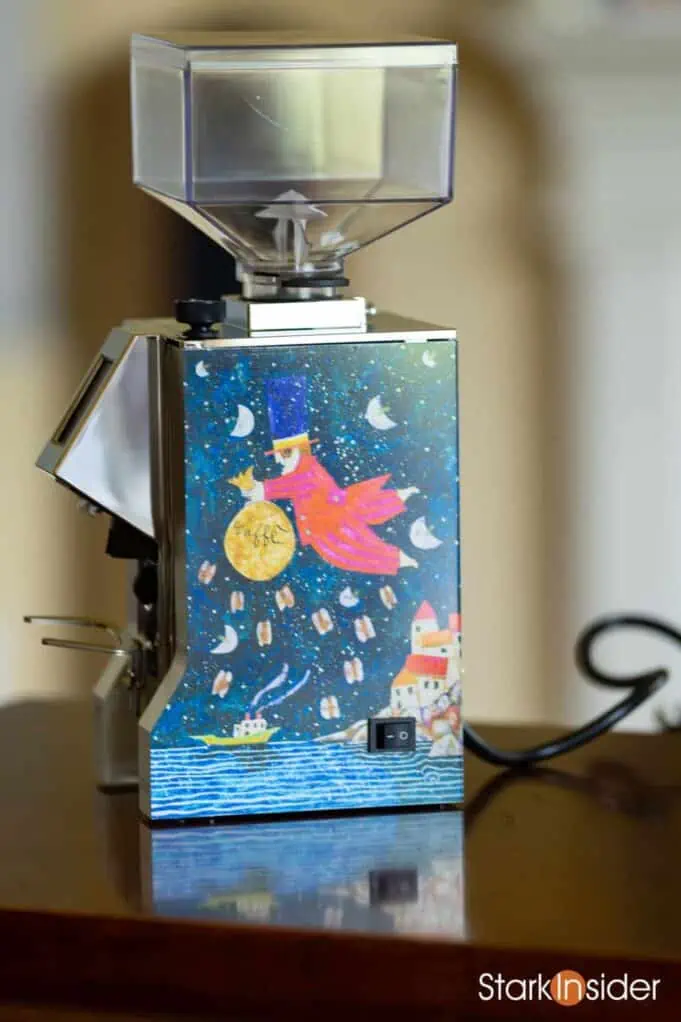 Depending on your situation you may be due for a grinder upgrade, or perhaps you want to move on from manually grinder. Either way, seriously consider a specialized espresso grinder. These are purpose built and produce fine grinds, ideally suited for pulling perfectly extracted shot following the aforementioned espresso brew ratio.
If you find yourself with too many clumps after grinding you may find yourself needing to use a small whisk-like device (WDT) to reduce them while evening out the grinds. With a modern espresso grinder this step won't be required and you can go ahead and tamp straight away.
Modern grinders tend to be much faster and quieter than those in the past. Better burr design also helps ensure the best possible result. No doubt, a good grinder is absolutely a critical part of the espresso equation.
Espresso Grinder Recommendations

Some quick advice: don't skimp on the grinder. Many of us love to spend big on the latest and coolest espresso machine. Yet none of that matters if the grinds (and beans) you're using aren't up to the task. We have three recommendations here depending on your budget.

Best Entry Level Espresso Grinder (under $200):

Best Mid Range Espresso Grinder (under $500):

Best High End Espresso Grinder (under $1,000):
With that, we hope you've discovered a thing or two that will help refine your espresso journey.
Don't forget to tip your barista, and happy espresso!