UPDATE 05.16.2023 – RED Komodo-X is here. Most of the anticipated features have come to fruition — including 8K/80 and 4K/120, locking RF mount and CFExpress Type B memory cards — largely in part because they were revealed in trickle like fashion over social media across the past few weeks by RED themselves. As for price? $9,995. That makes sense from a product positioning standby as it places the original Komodo camera as the entry model at $5,995.  And the V-Raptor the step-up 8K model at $17,995.
President and co-owner Jarred Land of RED Digital Cinema today teased a new camera announcement.
According to a video on Land's Facebook page, a new 'X' camera will be revealed on 5/16/2023.
No further details were provided in the video other than that date so mark your calendars. However, scroll down for additional tidbits and potential specs that have been revealed in various places on the internet.
This isn't the first time we've heard whispers of a new model. 'X' (likely 'Komodo-X') has been talked about on the RED forum and it is expected to be an update to Komodo — RED's compact third generation 6K camera model based on the DSMC3 platform.
A RED 'X" teaser video was also posted to Twitter:
WATCH: RED Teaser Launch Video – Komodo-X Arrives 5/16/23
KOMODO-X | 05/16/23 pic.twitter.com/BZoDUioww2

— RED Digital Cinema (@RED_Cinema) May 8, 2023
Further, there's been reports of massive price drops on at least one model of the previous generation — DSMC2 platform — RED camera. Newsshooter noticed a 50% discount recently on the Dragon-X cinema kit on B&H Photo, dropping from around $20,000 to $10,000. Uh, that's a whopping price drop! Which possibly means moving inventory to allow for a new model, certainly offering more capability for less money.
Speaking of price, the current Komodo retails for $5,995 USD. If I'm guessing, the new Komodo-X would come in around $8K USD. That would keep it from cannibalizing the existing Komodo, but still keep it within reach of most lower-to-mid-market production houses and/or for use as a crashcam and B-cam. I'd be surprised if RED lowered the existing Komodo price. RED has always been somewhat premium priced — like Apple — when it comes to cinema cameras and I would think management would not want to dilute the brand value.
Things we do know about the upcoming Komodo-X based on a sneak peak on a live stream and comments on REDuser from perennial RED ambassador Phil:
It's a new camera not designed to replace an existing model
Canon RF mount (just like the current Komodo model)
Global shutter (same)
Likely a top screen (same)
Likely 6K 60fps minimum in terms of high frame rate capability
One feature I'm hoping for as well on Komodo-X is replacing the antiquated CFast memory cards on the current Komodo with modern CFexpress Type B cards. The latter are the same types used on modern mirrorless cameras such as the Canon EOS R5 and Panasonic Lumix GH6. They have way faster read/write speeds than CFast and also they're actually reasonably priced. This was a real sticking point with RED's old Mini-mag cards. I'll never forget having to pay $1,800 for my 512GB Mini-mag. Well, at least it's proven rugged and reliable; not a single issue in over 6 years of use.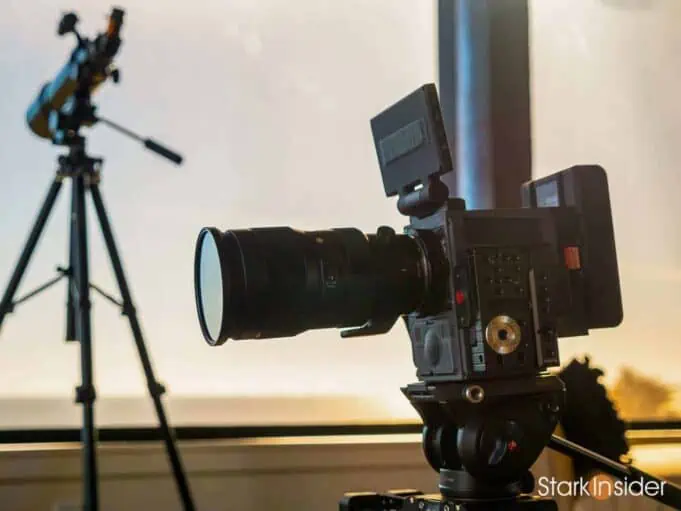 In any case being able to standardize on the modern CFexpress Type B cards on the Komodo-X and have compatibility with other cameras would be a welcome update.
The surprise regarding today's Komodo-X teaser to me: the date.
May 16 is next week. I was assuming a reveal would be month's out, and expected a steady drum beat of small feature teases and reveals leading up to a big event of some sort. Of course this doesn't mean the camera will ship next week, but RED and B&H and others will likely accept pre-orders at that time.
I'm not so sure I'm ready to upgrade my RED Dragon (Scarlet-W) as it's been a workhorse. No issues, aside from the internal battery being dead and requiring me to re-enter the date/time when I want to shoot a project. Otherwise editing REDcode RAW has been a dream as has the image quality.
But the compact design of the Komodo and Komodo-X is alluring to be sure. The RED Dragon DSMC2 is built like a tank, making it really durable, yet not so great for gimbal or handheld work.
Stay tuned for 5/16/23 for all the details from RED about the new Komodo-X DSMC3 cinema camera.
PS – Feel free to start your own countdown timer for when people start complaining about what features the upcoming Komodo-X will be missing and how it will be impossible to be creative or deliver on their filmmaking or YouTube projects!