I think the camera gods have spoken (again). This time they're whispering in my ear: Komodo!
I Google it. And discover it's some sort of dragon — a real life dragon — that is prone to occasionally attacking humans. But it looks nifty. And sounds cool and all that…
So that means, of course, Komodo is also the perfect name for a new mysterious, upcoming camera from RED.
I say mysterious because this particular camera seems to buck the traditional design trend seen out of the Irvine-based company. Unlike it's more expensive siblings — RED Monstro, Gemini, Dragon-X — this one is likely to arrive under $10,000 USD. It appears to be a non-modular design — modular design with numerous expansion options and customization are hallmarks of RED design. And… hold your seats…
RED Komodo will use non-proprietary media!
Anyone who has used, rented or bought a camera from Red Digital Cinema knows that memory cards, called Mini-Mags, are anything but cheap. You can only use RED cards as they're non standard, i.e. proprietary. However, Komodo appears also to buck that trend, and instead use an industry standard format, of which we don't yet know.
RED President Jarred Land on Upcoming Komodo camera

"Don't worry you will see lots of footage before you can actually buy Komodo.. It has already shot a feature :)

And Komodo is not a surprise "take over the lower end market" camera, it's a camera designed for a specific application at the highest level and hence is being tested and tested and tested and then tested some more before release. That has always been the plan since the start, remember I told you all exactly how Komodo would be rolled out and it's sticking to that path pretty well.

Of course.. people will compare it to everything else out there from Black magics to our own cameras and everything else in between.. but it really sits in it's own market… at least that is what it was designed to do. It's a complimentary camera , designed to take the best images possible that do one thing very, very well in its most simplest of form.

It is not a replacement camera nor should it be anyones first camera, even though I am well aware that it probably will be one or both of those for some, because It is good… It is really, really good."

— Jarred Land

Source: REDuser.net
In typical RED fashion, and unlike Sony, Canon and Blackmagic, specs and features come dripping out, on Facebook posts and Forum teases, primarily by RED president Jarred Land. Often it's what we don't know, as this series of bullets first posted a while back when first announcing what "Komodo is not":
Komodo is not…
It is not DSMC3
It is not a replacement for DSMC2
It is not 8k VV
It is not a Dragon or a Helium or a Gemini or a Monstro Sensor
It does not have an HDMI port
It does not use proprietary media
It is not a "module"
It is not under $5k, unless you own a Hydrogen.
It has no XLR ports
It does not have a fixed lens
It's body does not weight more than 2 pounds.
It is not larger than 4 inches in any dimension.
And then some teaser images, including one of the Komodo being used on set by director Steven Soderbergh to shoot Meryl Streep in Let Them All Talk (2020):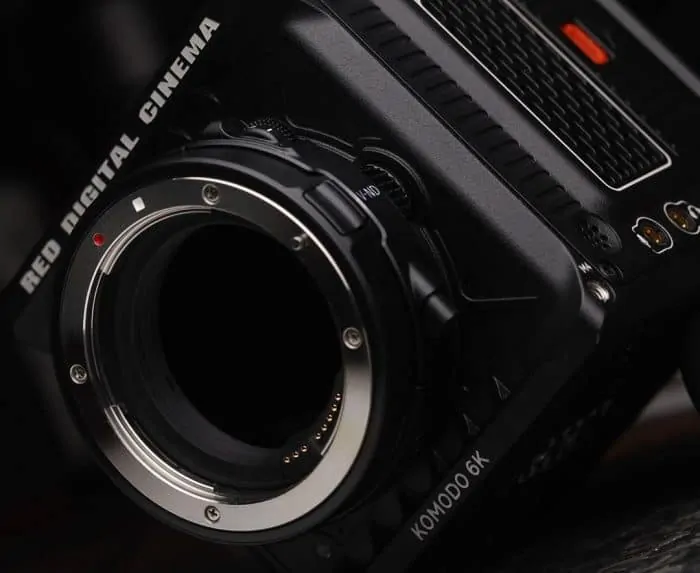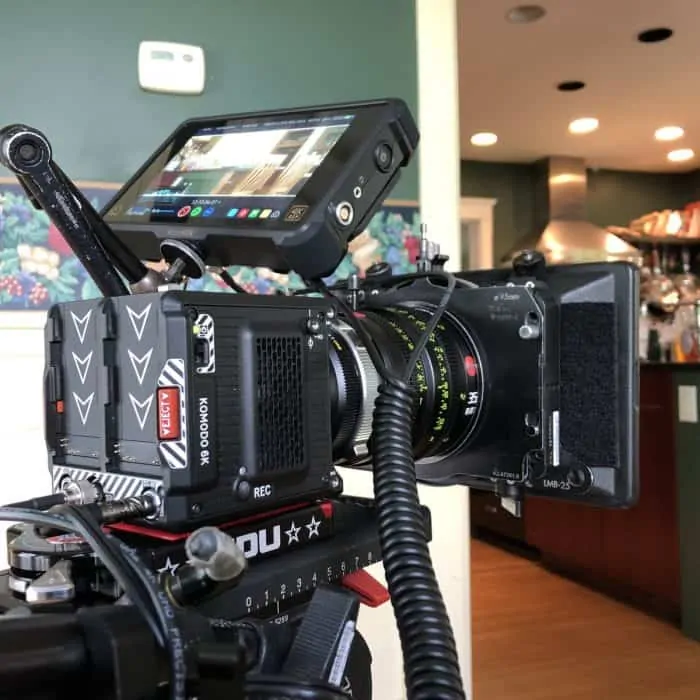 Day 1 of ?? on LET THEM ALL TALK. 12 summers ago we were guinea pigs for RED ONE. Now it's KOMONO time! pic.twitter.com/OrxAYAWfo8

— Bitchuation (@Bitchuation) August 14, 2019
Upgrading from a Panasonic GH5?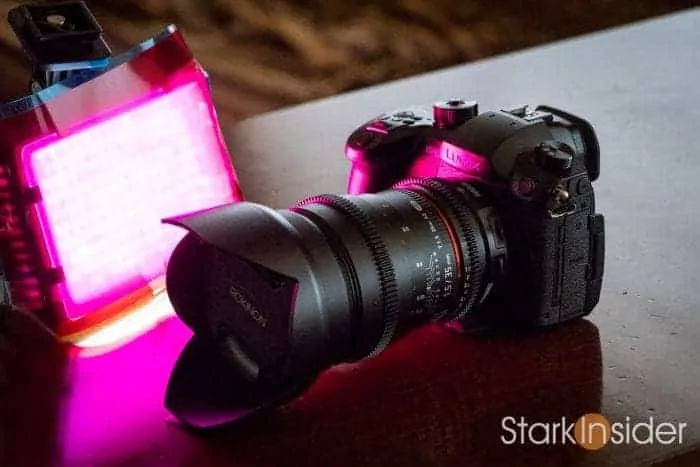 What's a GH5 video shooter to do in 2019? In terms of an upgrade?
There's lots of tantalizing choices out there. Here's my quick thoughts on each:
Panasonic S1H – another 6K full-frame camera. The stopper for me is (1) the price, and (2) the L-mount.
Sony Alpha A7S III – not yet released, but with a rumored 4K/120fps and all the quality that the A7S series is known for, expect this to be a very popular model. I prefer Super 35 sensors, and Canon EF/R mounts myself, however there's no question this Sony does appeal, especially given its small form factor.
Blackmagic Pocket Cinema Camera 4K – great stuff from Blackmagic once again. A Super 35 camera that shoots pretty 4K footage. An upcoming firmware update promises a Super 16 crop mode (perfect for my vintage Angenieux lens) and improved anamorphic support. At only $1,295 USD this is a sweetheart deal… if you can find one in stock.
RED Komodo – the aforementioned new camera from RED, also not yet released, but might be worth the wait. 6K. Redcode. Super 35. Non-proprietary media. Canon batteries for power. This sounds promising. Shivering. Anxiously.
Panasonic GH6 – no word yet on this camera or a release date, but for many GH5 shooters this will be the next logical upgrade.
Short-List: RED Komodo and Blackmagic Pocket Cinema Camera 4K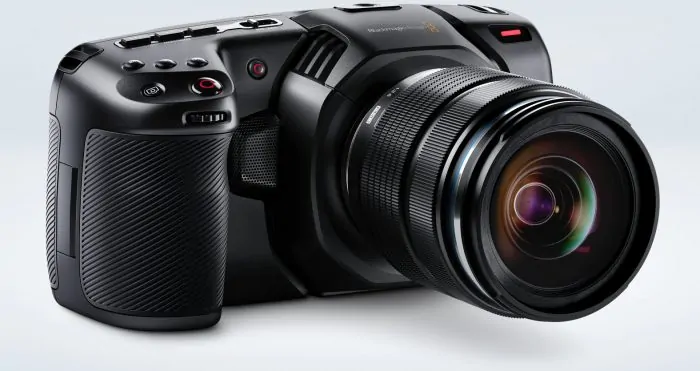 For me, looking to consolidate a kit that is both compact and able to shoot high frame rates, and RAW, the choice comes down to 2 cameras for shooting Stark Insider videos:
RED Komodo
Blackmagic Pocket Cinema Camera 4K
Currently we shoot with a GH5 in the field and when traveling and with a RED Dragon (Scarlet-W) in the studio. In an ideal world I'd consolidate those into one compact high quality camera that is equally at home on-the-go or when rigged up for a set piece.
For our needs we're shooting mostly narrative, and experimental stuff. If I were focused on documentary, I'd being researching Sony FX9 or Canon C100/C200/C300/C500.
Komodo and the Pocket 4K both seem up to the task for shooting high quality narrative stuff… though of course we don't yet know the full story or price on the RED Komodo.
Speaking of price, it seems unfair to cross-shop a $1,300 camera in the Pocket 4K with one that is surely 4x to 5x the price in the upcoming Komodo. True. But I already own a GH5 and Scarlet-W so I can sell them and consolidate. And, in the end, I'd rather pay more to shoot Redcode. Those .r3d files are incredible to work with in Premiere Pro. You can fix a lot of screw-ups in post, like white-balance, ISO, and color. And because they're Intra-based, they playback butter smooth, even 5K footage. Blackmagic RAW (BRAW) comes close. Though there's no native Premiere support. Rather, you use a plug-in. I tested it, and BRAW works well enough in Premiere. There's less customization compared to Redcode. Yet, you can also push your footage pretty much as needed before artifacts appear.
Komodo's (Not So) Secret Weapon…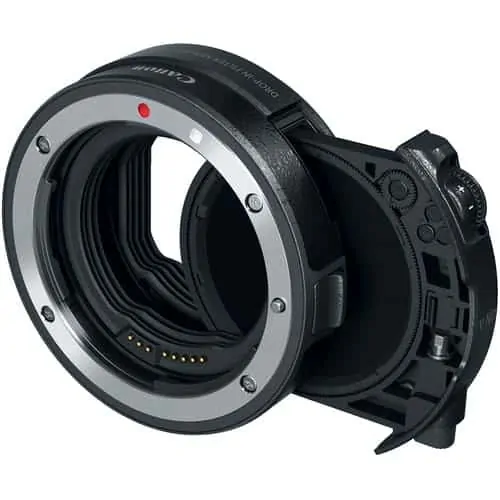 A final point regarding what we know about Komodo. It will use Canon's shiny new R lens mount. That means you can, obviously, use any new lens — Canon or otherwise — that has an R/RF mount.
But, for me at least, the real beauty of this mount is that Canon makes not only an R-EF/EF-S lens adapter (so you can use your existing Canon glass), but also makes the same adapter with an ND filter built-in. Bingo. Another challenge shooting with my Scarlet-W solved. No more fussy ND filters needed when shooting outdoors. Rather, just use the Canon adapter and enjoy the simplicity of choosing your ND strength as needed. Very nice.
Going with the Canon R mount seems like a stroke of genius and one that could differentiate the Komodo from a lot of other new cameras in 2019. We will see how the specs shake out.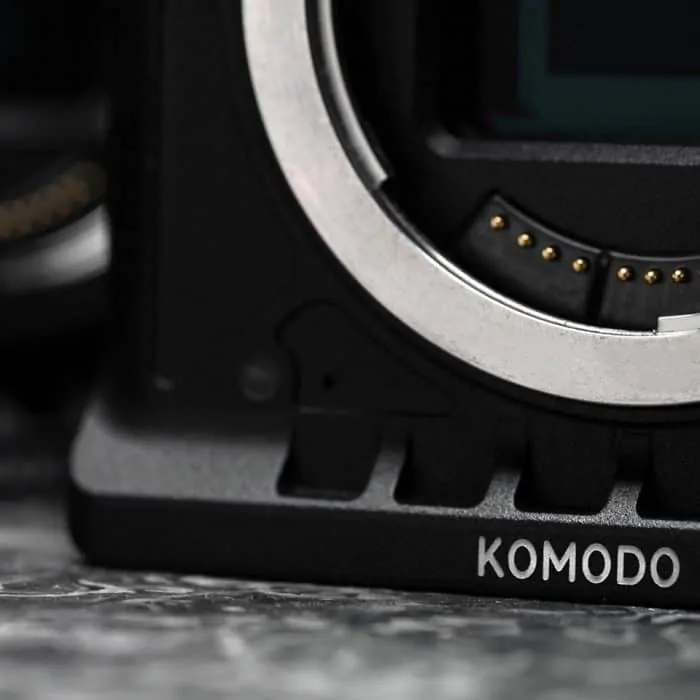 Speaking of specs. How will RED prevent cannibalization of Komodo from the likes of its upper range cameras like the Gemini and Monstro?
Given that Komodo is 6K (and not 4K), resolution is evidently not one area being crippled. I'm guessing high frame rates will be limited. And, as mentioned earlier, the Komodo design appears to be non-modular for the most part, meaning you likely (we don't know yet for sure) won't be able to swap the lens mount (to PL for instance) or add on production modules or have integrated XLR ports for audio, various side-handles, etc.
If you want the full-on RED modular experience and advanced frame rate options you'll likely need to step up. Hence, Jarred Land calls the Komodo a "complementary" camera rather than a replacement.
Then again, with what we know so far the Komodo seems to be a defining moment in RED's history — one that seems to be cutting loose a lot of history and past design decisions.