The era of cord cutting appears to be coming to an end. Most of us, according to a new report, have already left satellites and cable behind and embraced streaming.
A new study from Leichtman Research Group — via PCMag — says 74% of U.S. homes now have some form of video streaming service.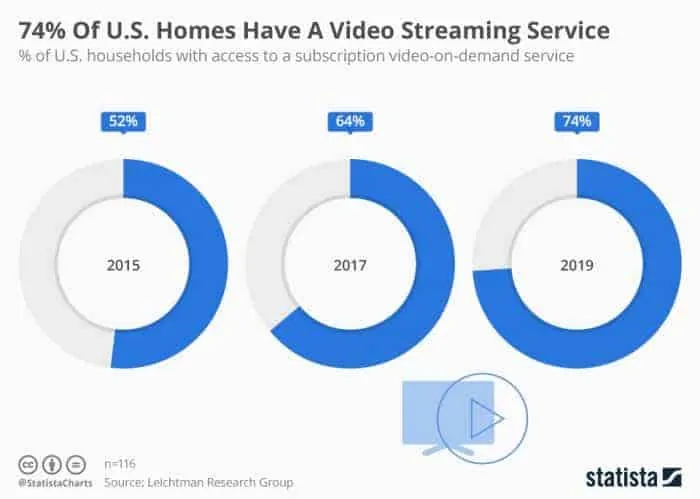 That's up from 64% in 2017 and 52% in 2015.
Based on that trend we can likely expect the video streaming market to hit saturation in the next few years.
Those services would include online video platforms such as Netflix, Amazon Prime Video, Hulu, YouTube TV (Google), HBO and Sling among others.
Major new players entering this space include Disney+ (November 12, 2019) and Quibi (2020).
I'll be curious to see how households manage their video streaming subscriptions. Will one service be enough? Or will families adopt a multiple subscription model?
We subscribe to Netflix. Decent enough — but oh-so-much filler these days. And because we're Prime members we also get Amazon Prime Video. Between the two streaming services we get access to a satisfactory amount of content, though we still need to pay a la carte for a new movie release here and there (recent ones include Us, Midsommar, Hereditary… you can see my taste in film is not exactly Super Hero approved).
By comparison I believe most households or individuals chose only a single streaming music service, be it Spotify (my choice), Google Play Music, Amazon Music, Apple Music, Pandora or something else. I think most or okay with having to spend $9.99 per month to get all the music they want, but are unlikely to double that up by choosing several services. Given that in the old days we were accustomed to spending $50-$100+ for satellite service and its 700 channel menu, I suspect some have accepted that more than one streaming video service would be needed to cover a basic family's entertainment needs, and yet the full monthly fees will still fall within a reasonable budget.
Meantime, consider that cord cut.