UPDATE 9.14.2019: More good news for Premiere users and I believe the industry at large (the more compressed RAW formats and choices, the better) as Adobe confirmed native ProRes support will be soon coming to a future release.
Good news for Premiere Pro users who shoot on Blackmagic cameras. At the IBC conference Blackmagic Design announced an updated version of its Blackmagic RAW plugin (v1.5) which now includes native support for Adobe Premiere Pro editing software.
Here's a link to the free Blackmagic RAW plugin (scroll down the support page and look under "Latest Downloads"). Just download it and install on your Mac or Windows PC and off you go.
If you're curious to see how it all works but don't own a Blackmagic camera you can still test it out and see how you like working with compressed RAW files (hint: it's great). In addition to the above plugin go to Blackmagic's RAW product page and there you'll find some downloadable .braw clips which you can use to test in Premiere Pro (or DaVinci Resolve – which has supported BRAW from the outset).
So what's the advantage of capturing video using Blackmagic RAW?
Think of it as the video equivalent of capturing RAW photos. The files are much larger than their JPG counterparts (for video: h.264, XAVC, etc.), but the upside is you get far more information to work with in post production. That means you can adjust things like color, exposure and white balance far more aggressively — or "non-destructively" as some say because those changes to the original RAW footage are then saved in a sidecar file and not made to the image itself. Essentially, with RAW you can be more creative and push and pull your footage before it starts to fall apart (i.e. show unwanted digital artifacts). It's likely the closest thing we'll find to a digital negative. There are far better explanations out there and deep dives into the machinations of RAW, but for me I just know that I like the flexibility it gives me when editing.
As for the controls themselves, here's what the Blackmagic RAW 1.5 effect controls looks like inside Premiere Pro: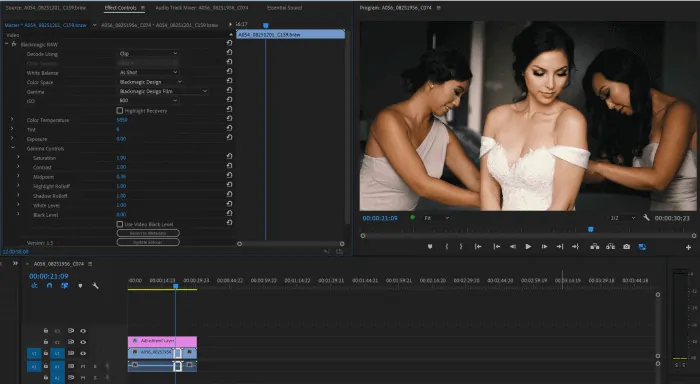 And, to compare, here's what the RED Redcode effect controls looks like in Premiere:

RED still leads in terms of depth of effect controls and settings you can change without impacting the original file. It's quite incredible. You can blow your WB or ISO settings in camera, and yet correct it later using the Redcode settings. For a guy like me that screws up often this can be a lifesaver.
I was pleased to see that Blackmagic does includes a decent number of sidecar controls for its RAW files. Sure, not quite as much as RED, but then again we know the prices of Blackmagic cameras are far, far less… really incredible bang for the buck.
Here's a screen grab below from the Blackmagic web site that demonstrates the various compression options for BRAW. You can see that shooting in compressed RAW saves a lot of storage space, yet still gives you lots of flexibility during post production.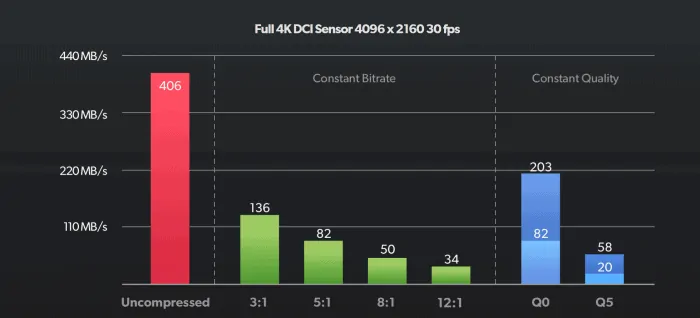 When I travel I primarily shoot video for Stark Insider on a Panasonic GH5 which I love. However, I've been keeping an eye on those tempting Pocket 4K cameras.
I kept telling myself if only Blackmagic RAW supported Premiere Pro (my editing platform of choice)! And sure enough, as of now they do.
This news will make me strongly consider replacing my GH5 with a Blackmagic Pocket Cinema Camera 4K and enjoy the benefits that come along with a compressed RAW capability not only in the studio, but also when run-and-gunning and traveling.
Download: