Tally lamps.
A minor feature to be sure, but the Panasonic S1H has them. And this says to me the people behind this 6K flagship camera are gunning for serious filmmakers. On the new S1H, which Panasonic revealed today at an event in Los Angeles, you'll find tally lamps (recording indicators) on both the front and rear of the camera body. It's a small thing, but once you don't have them you realize how important is for both the talent in front of the camera and the person behind it to know for certain when things are, indeed, rolling. Tally lamps are just the tip of the iceberg when it comes to the (astonishing) number of features Panasonic poured into this powerhouse of a cinema camera.
Watch: Panasonic Announces the Lumix S1H 6K Cinema Camera
Panasonic Lumix S1H Mirrorless Camera

Key Features

24.2MP Full-Frame CMOS Sensor
6K24p Video, 4:2:2 10-Bit DCI 4K/UHD 4K
V-Log, Dual Native ISO, HFR with Sound
5.76m-Dot 0.78x-Magnification OLED LVF
Price: $3,998 USD at B&H Photo
Of course the real headlines with this camera are 6K capture, high frame rate options, the potential for upcoming ProRes RAW capture (via HDMI out to an Atomos recorder), and let's not forget, as is the trend in 2018 and still it seems in 2019…
… the S1H features a full-frame sensor.
Full-frame seems to really excite people. But you'll definitely pay the price. The S1H sells for just under $4,000 USD. Then again, we're seeing a move in the market to premium prices. Canon, Nikon, Panasonic and soon RED (6K Komodo) all seem to be targeting the under $10,000 cinema market with exciting full-frame options.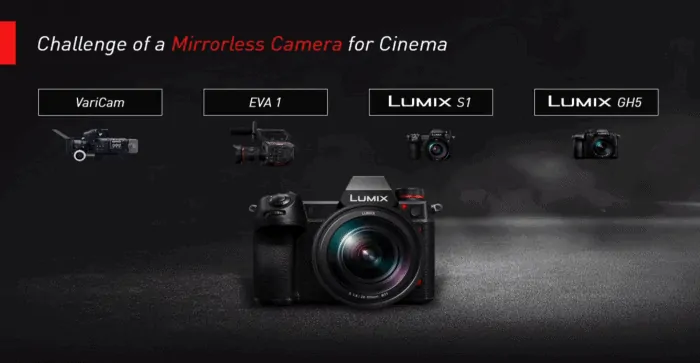 As we've seen with the rest of the Panasonic cinema camera line-up (see above image) the S1 slots into the middle of the range. At the top there's the (iconic) VariCam, then quite a bit below in terms of price is the EVA1, then the S1s (S1/S1R/S1H) and finally the Lumix GH5, the camera that remains one of my favorites for shooting videos here on Stark Insider. See Crazy or Die for one example:
CRAZY OR DIE — Shot on Panasonic GH5
Panasonic S1H: Thoughts From a GH5 Video Shooter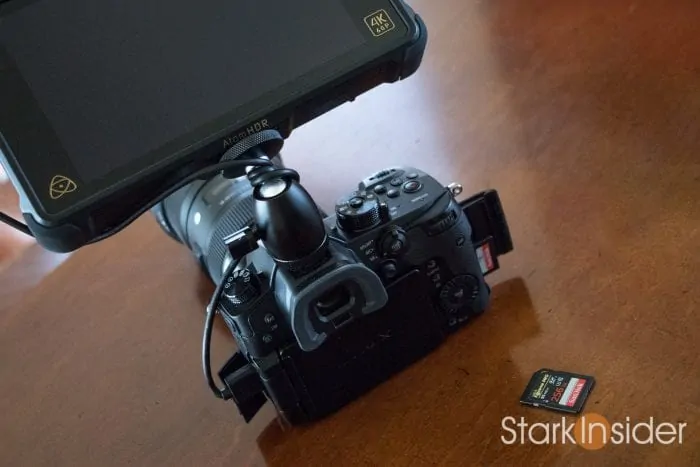 S1H specs are all there on the web, including B&H Photo where the camera is already up for pre-order. So rather than talk about resolutions, dual native ISOs, frame rates, etc. I'll instead offer up a few thoughts from a GH5 video shooter (I also shoot less often on a Canon C100 II, and when in the studio with a RED Dragon).
Many GH5 owners are probably getting anxious. Should you — me — upgrade to something like the S1H? Or maybe even the Blackmagic Pocket Cinema Camera 6K? Or upcoming RED 6K Komodo?
Only you can answer that question. I'd suggest, however, to ask yourself why and what?
Why do you feel the need to upgrade from a GH5?
What will the S1H give you over your existing setup? It could be more creative potential. Or maybe it could be a source for greater income from jobs. Or maybe not.
Yes, the GH5 is getting on in age. It's easy to forget Panasonic launched the absolutely gem of a mirrorless hybrid camera in 2017. In my view, they're still great today, in 2019. Sure, it tops out at "only" 4K. Yet, are you sure you want the storage costs and time lost to dealing with larger 6K files? Landscape shooters and wildlife shooters might feel the extra effort is worth it, and I think that could make sense — you'll want all the pixels and sharpness you can get.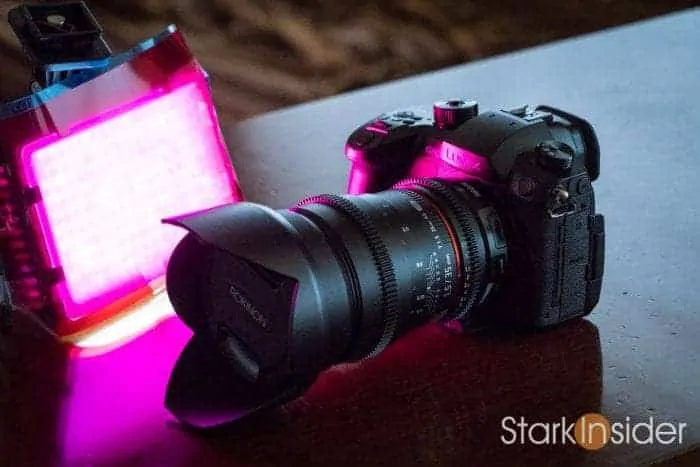 Then there's the L Mount. If you're like me and invested deep into the Canon EF lens ecosystem you'll need an adapter. Then again, we already need one for the GH5 (MFT/EF Metabones Speedbooster 0.71 for instance) so maybe this point is moot. Nevertheless something to keep in mind, especially if your cross shopping cameras in this price segment like the RED Komodo 6K (Canon R), Blackmagic Pocket Cinema Camera 6K (Canon EF), Canon EOS Cinema C200 (Canon EF), and so forth. If you prefer a native lens mount that will factor in your decision.
At the end of the day, I'm sticking with the GH5… for now at least. I must admit if RED Komodo is priced competitively it will tempting to shoot Redcode (R3D) in a compact package onto reasonably priced CFast cards. My sensible self says the GH5, though, is a killer creative tool. It's inconspicuous so you can easily shoot in a museum, or restaurant, or public spaces where you don't want to draw unwanted attention. Anamorphic mode is there if you like. As are high frame rates. Dual SD slots. 10-bit 4:2:2. Nice VFR options. Long battery life. And don't forget the handy MFT lens mount that can be easily adapter. Or pop on a lightweight quality lens like the stellar Lumix 12-35mm and enjoy the benefits that the compact MFT system affords.
For existing Panasonic productions that use Varicam, EVA1, etc. the S1H will likely be a sure bet. Panasonic says the color science matches, and there's the full-on Vlog. So that's great stuff. For smaller outfits, run-and-gunners, and budget-based indie filmmakers I'd expect the GH5 to remain a solid option. Don't forget. When it comes to the GH5 we're talking about less than half the cost of a S1H body. That's a lot of money you could otherwise put into lighting, monitors, batteries, lenses, and production costs such as sets, acting, sound design, etc.
For now, the cinema camera market remains an interesting market to watch (and armchair quarterback).
The smartphone camera continues to create turmoil. It destroyed the point-and-shoot. Now, it's starting to take down DSLR and mirrorless cameras and we can expect video features to only improve over time.
What's the Panasonics, Sonys, Canons and Nikons and others to do?
So far it looks like the answer is to move up-market, price products above and beyond the smartphone and to offer advanced features that will attract serious shoppers. The S1H is a great example… a phenomenally powerful cinema camera in a traditional DSLR/mirrorless body.
The Panasonic S1H is priced at $3,998 USD for the body only and ships September 25, 2019.