We have leaks. More tech leaks. Who knew?!
This time it's the DSLR camera market — not the headline stealing iPhone 11. Yes, the upcoming Canon EOS 90D looks to maintain its traditional DSLR body, and not go mirrorless… at least not this go around.
When the 90D is released by Canon later this month, and if the early reports are accurate (they almost always are these days because in my view they ultimately come from the source and it's the new-new marketing) these are the headline features we can expect:
Canon EOS 90D Key Specs
32.5MP sensor
45 cross-type AF
4K video (3840 x 2160) 29.97fps
SD slot
You can go to Canon Rumors for the full account of what to expect in terms of specs for the Canon EOS 90D.
As a long-time Canon DSLR shooter (Rebelt T2i -> EOS 60D -> EOS 70D -> EOS 80D) I'm following this launch closely. I'm most interested in the upgrade in the sensor. With 24MP the 80D was on par with the market for APS-C crop-sensor bodies. By bumping that up to 32,5MP or about 35% the 90D should make an already stellar stills camera even better.
For video, it looks like this will be the first APS-C body to feature 4K video from Canon. Browsing the specs I see that it will support 29.97fps in this mode. Let's hope that Canon means "up to" and will allow video shooters to chose the commonly used 23.978 (or 24p) rate for shooting narrative projects.
Apparently the 4K video mode will not be cropped, meaning the entire sensor will be used, making it easier to capture wide landscapes for instance and establishing shots, depending on your particular projects.
STARK INSIDER VIDEOS SHOT ON CANON DSLR (60D/70D/80D)
Wrong's What I Do Best // San Francisco Art Institute
Shrek Unmasked: Backstage Secrets at Shrek The Musical
The Lion King Backstage – Rafiki
Not surprisingly, serious filmmakers and videographers will likely still want to consider something like the Panasonic GH5 (my current favorite for shooting Stark Insider short films and travel videos) or the Blackmagic Pocket Cinema Camera 4K or 6K (hint: go for the 4K with Metabones Speebooster and life is good w/o breaking the bank). That's because the 90D doesn't offer things like RAW recording or high frame rates, suitable for capturing high quality slow motion.
As always I expect Canon's DPAF (Dual Pixel Auto-Focus) to once again lead the field, making the 90D a solid choice for those looking for a V-Log or selfie camera. Thanks to the flippy, fully-articulating LCD screen you can easily frame your shots on the fly without the need for an external monitor.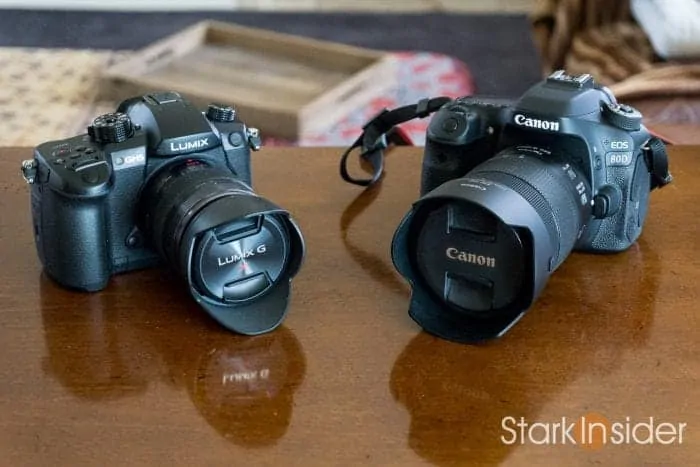 So I see the 90D as a solid step-up from the 80D. Just as the 70D and 60D were in their days. Nothing ground-breaking. But I expect given Canon's reputation for it to sell well enough. The question for many buyers will be: Does the 90D offer enough over a smartphone, especially an iPhone, to justify a ~ $1,300 purchase? The answer for an increasingly proportion of those concerned with taking videos and photos on the go could be an emphatic now. And for enthusiasts, their sights may be set higher in terms of filmmaking specs, and hence the appeal of a GH5 (or upcoming GH6) or Pocket 4K and 6K cameras.