This is not a drill. I repeat, this is not a drill.
Boom. Blackmagic Design has given Pocket camera fans what they wanted. An EF mount.
During a live streaming session available on Facebook and YouTube CEO Grant Petty revealed the new model, which not only features a Canon EF mount, but also increased resolution thanks to the larger sensor: 6144 x 3456 (Super 35). That would be, incredibly, 6K.
And the price, in keeping with BMD's philosophy is impressive too:
$2,495 USD (pre-orders are up on B&H Photo).
Aside from the EF mount, larger sensor and resolution, all other specs appear to be mostly the same based on the presentation: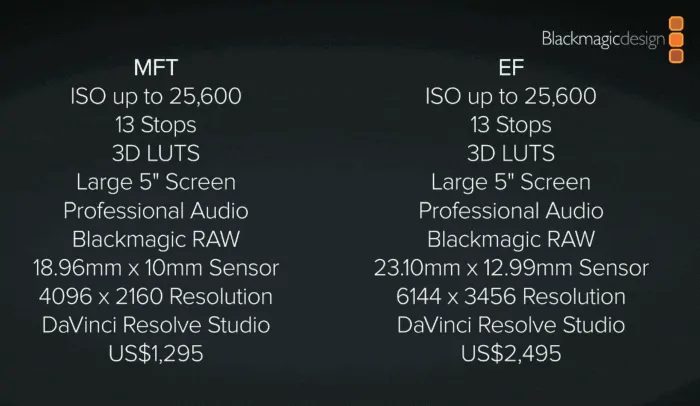 As you might expect, the new model is called the Pocket Cinema Camera 6K.
The new model will sell next to the existing Pocket Cinema Camera 4K which still sells for — remarkably — only $1,295. Petty did mention and apologize for delays in shipping and backorders, mentioning the complexity of supply chain logistics in the tech industry. I'd say this demand points to the success Blackmagic is having in bringing so much bang-for-buck to the market.
As a GH5 video shooter, I'd have to say the Pocket 6K may tip me over the edge.
As a GH5 video shooter, I'd have to say the Pocket 6K may tip me over the edge. Now that I can use all my EF glass (without an adapter) and take advantage of larger resolution and Super 35 look, to possibly match 5K footage from our RED Dragon for Stark Insider videos, the value proposition is indeed enticing.
Blackmagic Design
Pocket Cinema Camera 6K
Specs

Key Specs

Active EF Mount
ISO up to 25,600
13 stops of dynamic range
3D LUTs
5″ built-in screen (1920 x 1080)
XLR audio
Blackmagic RAW
23.10mm x 12.99mm sensor (Super 35)
6144 x 3456 Resolution
Dual Native ISO 400 and 3200
DaVinci Resolve Studio

Shooting Resolutions

6144 x 3456 (6K) up to 50 fps
6144 x 2560 (6K 2.4:1) up to 60 fps
5744 x 3024 (5.7K 17:9) up to 60 fps
4096 x 2160 (4K DCI) up to 60 fps
3840 x 2160 (Ultra HD) up to 60 fps
3728 x 3104 (3.7K 6:5 anamorphic) up to 60 fps
2868 x 1512 (2.8K 17:9) up to 120 fps
1920 x 1080 (HD) up to 120 fps

Frame Rates

Maximum sensor frame rate dependent on resolution and codec selected. Project frame rates of 23.98, 24, 25, 29.97, 30, 50, 59.94 and 60 fps supported
Off-speed frame rates up to 60 fps in 6K 2.4:1, 120 fps in 2.8K 17:9 and 1080HD

Codecs

Blackmagic RAW Constant Bitrate 3:1
Blackmagic RAW Constant Bitrate 5:1
Blackmagic RAW Constant Bitrate 8:1
Blackmagic RAW Constant Bitrate 12:1
Blackmagic RAW Constant Quality Q0
Blackmagic RAW Constant Quality Q5
ProRes 422 HQ QuickTime
ProRes 422 QuickTime
ProRes 422 LT QuickTime
ProRes 422 Proxy QuickTime

Storage Type

1 x CFast 2.0
1 x SD UHS-II card
1 x high speed USB-C expansion port for external media
One other thing worth mentioning about Blackmagic in general is how laid back and humble the company appears to be. Grant Petty himself does the demos and hems and haws in the nicest way possible as he reveals new software and hardware products. It's quite a contrast to other camera manufacturers. You can clearly see the passion he (and likely his team too) have for what they do. It's refreshing, especially given the overwrought hoopla we're accustomed to seeing here in Silicon Valley. Who knows? Maybe Grant is the consummate salesman — he readily makes you want to cheer this Australian company on no doubt.
You can watch the presentation below on YouTube.
WATCH: Blackmagic Production Update
Blackmagic is selling the Pocket Cinema Camera 6K for $2,495 (USD). Petty says availability is now. So check your favorite online retailer for stock ASAP… or be faced with the inevitable back-order notice that soon follows new Blackmagic cameras.
Some use-cases Grant Petty noted for Blackmagic Pocket Cinema Camera 6K included: music videos, nature and wildlife, wedding videography, live action gimbal work, fashion shoots, independent film ("probably the first group of people that picked up our cameras"), real estate market and properties, and YouTube content creators.
Note: B&H Photo shows expected availability of the Pocket 6K as Aug. 12, 2019.
Don't worry Pocket 4K shooters. Blackmagic has still been refining that camera, with a software update coming in a "month or two" which will include heavily requested anamorphic modes and a Super 16 mode (great for vintage lenses).
Summary of Blackmagic Design Announcements

Blackmagic Pocket Cinema Camera 6K ($2,495; available now): A new handheld digital film camera with a full Super 35 size 6K HDR image sensor, 13 stops of dynamic range, an EF lens mount and dual native ISO up to 25,600 for incredible low light performance.

DaVinci Resolve 16 and Fusion 16 Studio are now shipping; DaVinci Resolve 16.1 (public beta available now): A new update to the company's popular edit, color, visual effects and audio post production software that includes major updates to the new cut page to help create the world's fastest editor.

UltraStudio 4K Mini ($995; available now): A new capture and playback solution for Thunderbolt 3 computers with 12G‑SDI, HDMI, analog video and audio connections that lets customers build solutions for editing, color grading, live broadcast graphics, archiving from traditional broadcast decks and live internet streaming.

Blackmagic RAW Speed Test (free; available now): A new performance measurement tool for Mac OS X that tests a computer's CPU and GPU speeds using full resolution Blackmagic RAW image decodes making it possible for customers to get a real world estimate of their computers performance.

Source: Blackmagic Design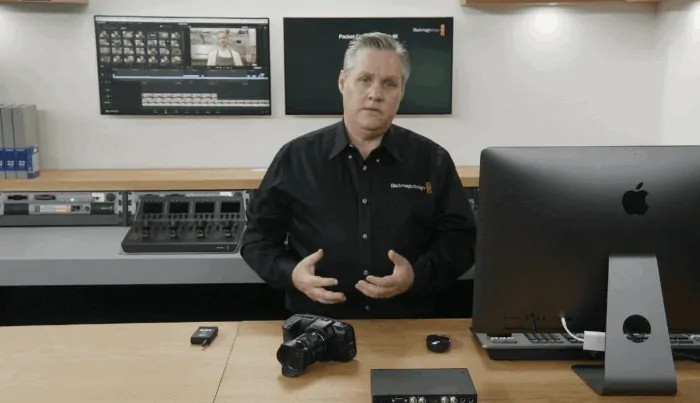 In addition to the new Pocket 6K, Blackmagic showcased some updates to the increasingly impressive DaVinci Resolve editing and color grading suite, in addition to upcoming software updates for the Pocket 4K camera.
"The best gift we can give each other is our creativity."
— Grant Petty, Blackmagic Design CEO
Very exciting announcement(s). Blackmagic continues to push the market with its innovation. It will be interesting to see during the back-half of 2019 what RED (Komodo?), Sony (A7S III?), Z Cam, Panasonic (GH6?), Canon (EOS 90D?) and others do in this space.
Now if only Adobe would add BRAW (Blackmagic RAW) support to Premiere Pro…
Pre-order:
UPDATE: Someone was paying attention to Blackmagic's live stream… CEO Jarred Land just shared more detail on RED's mysterious upcoming Komodo 6K camera. We do know it will use Canon's new R-mount (which is great as you can use the EF adapter with built in ND, nice!) and will use Cfast in some way for storage. Beyond that, not much is known including the release date. Coincidence this additional Facebook sneak peek of Komodo leaked today?!