The scenario is all too common and frustrating for those embarking on their smart home journey:
You install a smart bulb, say one made by Philips Hue which lead the industry, in a family room ceiling light. The problem, however, is that that light fixture will always need power for the bulb to be usable. So the wall switch needs to remain in the "on" position (flipped up). If a family member turns it off, the smart bulb has no power and is no longer smart at all as it can no longer be turned on, let alone dimmed, or have its color changed, etc.
One solution is to hard wire the light switch to the on position. Essentially you bypass the switch making it non-functional and ensure there's constant power to the light fixture. Of course, this requires some electrical work and can be a bit of a pain, and if you're renting or plan to sell your home you'll likely want to revert it back to the original configuration.
Another solution was introduced today by Lutron.
It's called the Aurora Smart Bulb Dimmer. Simply mount the rotary dimmer on top of a traditional up/down light switch. By locking the switch in the up position, Lutron says that Hue smart lighting (such as that family room lamp in the above example) will by "always ready."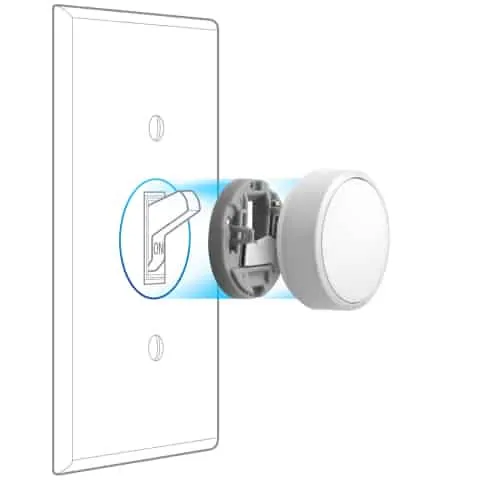 Further, the new Aurora switch not only keeps the power running without the need for an electrician, but it also functions as an (old school) rotary dimmer for controlling Hue bulbs. Basically it keeps things simple. No training required. Rotate left to dim and right to brighten — easy-peasy.
Aurora operates on a small coin battery which is expected to last around 3 years. Lutron says installation takes just two minutes.
One limitation that I see, however, is that the Aurora switch will only work with traditional flippy light switches. Not the more commonly found modern switch plates that you see in new home construction. So there's a strong possibility this solution won't work for your residence.
I'm hoping this "Friends of Hue" announcement also means that the Lutron hub and app will eventually be able to control Philips Hue bulbs. For those of us that have smart home devices from multiple manufacturers interoperability becomes an issue. I'd like one Lutron Caseta light switch in the kitchen, for instance, turn on hardwired lights, but also be able to turn on, say, a Philips Hue bulb. Currently this isn't possible, unless you decide to venture down the decidedly more complex route of installing something like a Samsung SmartThings hub.
Per the Lutron announcement:
"The Lutron Aurora dimmer, available in white, can now be pre-ordered on MeetHue.com, and is expected to ship in June. The Aurora dimmer will also be available for purchase on Amazon.com and in-store and online at Apple, Best Buy and The Home Depot soon."