Panasonic today at Cine Gear Expo in Hollywood, California revealed a third body in its new full-frame S1 line-up which currently consists of the Lumix S1 and Lumix S1R.
The new Lumix S1H shoots 6K full-frame video up to 24p, has 14+ stops dynamic range, supports anamorphic 4:3, and captures files at 10 bit.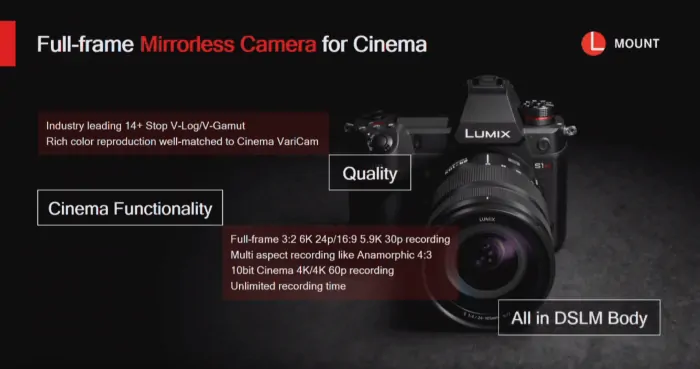 In today's presentation Panasonic said the S1H will ship this Fall.
Some good news for those who had expected this to be a very pricey $5,000 – $6,000 body. A bit of a pleasant surprise actually.
The Panasonic Lumix S1H will retail for $4,000 (USD). Not cheap to be sure. But given the specs it seems reasonable.
Keep in mind entry cinema cameras such as the Canon Cinema EOS C200, Panasonic EVA1, and Sony FS5/FS7 come in around the $5,000-$7,000 range.
Panasonic Lumix S1H

"Mirrorless camera for cinema"
14+ stop V-Log/V-Gamut
Color matched to Cinema VariCam
Full-frame 3:2 6K 24p/16:9 5.9K 30p recording
Multi aspect recording like Anamorphic 4:3
10bit Cinema 4K/4K 60p recording
Unlimited recording time
Dual card slots (XQD + SD)
3.2-inch triaxial tilt screen
DSLM body
3100 mAh battery
Ports: USB-C, HDMI, 3.5mm mic and headphone
Leica L Mount
Price: $4,000 USD
Availability: Fall 2019

Source: Panasonic
As a Panasonic GH5 shooter what does this camera mean? And should I/you upgrade?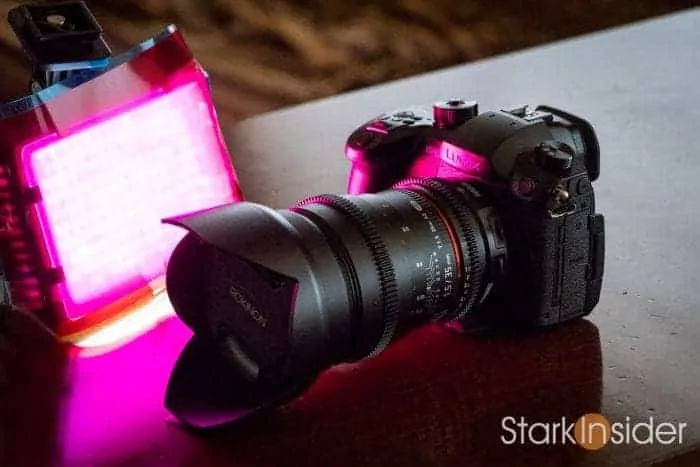 Hard to say. I've been shooting with a GH5 since its release in 2017. In short I love it. It has incredible power, yet is very easy to use and compact. Sure, it's a crop sensor with a MFT mount which means it can be hard to capture wide scenes. For narrative, though, that's no big deal. Add to the fact that the GH5 can now be had for around $1,500 and you have a mirrorless body that is very compelling for video shooters — even though it's now over 2 years old.
Clearly if you are a true hybrid shooter and stills matter to you as much or more than video, the S1H is a compelling offering. Stills on the GH5 (20MP) is in my experience a weak spot. I think the S1H will not only have high quality 6K video, but also high quality stills. Also, you get V-Log and color matching to the VariCam which will be useful for multi-camera productions, and you have a body that is going to also be an interesting option as a B cam.
The L mount means you'll need to invest in new native lenses. Or at minimum buy an adapter to mount your existing glass. No big deal. A $249 adapter, for instance, will enable you to use Canon EF lenses.
Panasonic S Line of Cameras:
Market Positioning

Panasonic Lumix S1H (center).

Cinema5D has a good summary of how the S1, S1R and new S1H are positioned in the market to potential buyers:

"The Panasonic S line of cameras is now easier to understand: the S1R is for photographers that need high-resolution pictures, the S1 is aimed to be a hybrid camera that mixes high-quality photos and videos, and the S1H is developed especially for film productions." Source: cinema5D

This seems to makes sense to me from both a marketing and user perspective, and seems to mirror the segmentation offered by Sony and its mirrorless line-up: A7R III for photographers, A7 III for all-round hybrid, and A7S II for video.
Panasonic says by the end of 2020 there will be 42 L-mount lenses available from Panasonic, Leica and Sigma.
My biggest question revolves around the image quality for video. Is it cinematic? We don't know. Just because it's 6K does not make it cinematic, nor a "serious camera". There's far more to a camera than just resolution; marketers though would have you believe otherwise. However, given Panasonic's vast experience in this market I can't see why the image will not be outstanding. But until we have our hands on the S1H this Fall we can only guess as to how it will look compared to the GH5, let alone other closer rivals in the market segment such as the Canon EOS R, Sony A7 III (A7R III), Nikon Z7 and dedicated cinema cameras such as the C200, EVA1, and FS5/FS7 which, important to note, offer built-in NDs and professional XLR audio, in addition to ergonomic designs that more readily lend themselves to film and documentary film production.
Panasonic did show some test footage show with the S1H. However, the live stream was only available at 720P so the whole thing was rather pointless unfortunately (as nice as it seemed to look) unless you happened to be there in person. Update: you can now watch the video sample shot by DP Alicia Robbins in 4K on YouTube. Or watch below.
WATCH: LUMIX S1H Sample Video by Alicia Robbins
In addition to the S1H reveal, Panasonic announced a paid firmware update for the S1 which looks pretty good to me: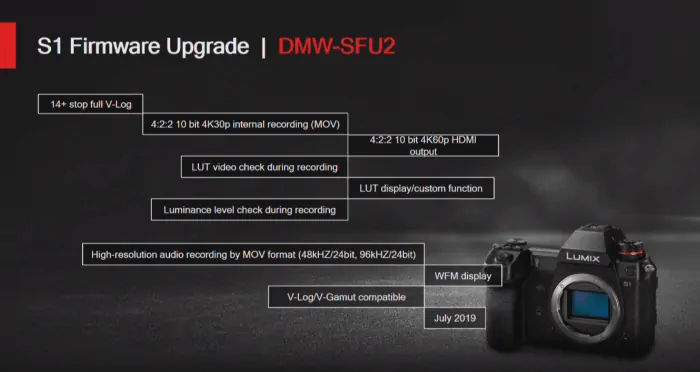 If I were in the market for full-frame, I'd actually take a deep breath, forget the 6K hype monster for a moment, and take a close look at the regular old S1 (not the S1R or S1H) and this paid ($199) upgrade. Looks to me like a full-frame version of the GH5 in many ways. Lots to like. Why pay more for the S1H? Further, if you don't care about full-frame (and most narrative shooters should not) why not just save a bunch more and go for an even less expensive option like the formidable GH5?
As for how Panasonic rolls out these new products? Not a fan. Management took a similar tack with the EVA1 cinema camera. First, teasing a bit of information on the internet (leaks!). Then a reveal that only gives out partial product information. Before, finally months later, giving us everything at just about the same time the final product begins shipping. Why this staggered approach? My suspicion is that the team can react to the internet and various early first impressions/reactions and adjust final spec accordingly. But in my view this approach is company-centric, not consumer-centric. I'd rather see Panasonic launch camera products like Apple does with its phones and various devices. Just reveal everything. Give us a price. And give us a ship date (like, next week or so). Much simpler. Less confusion and it just works far better in my estimation than this prolonged trickle thing that is basically annoying to people trying to make purchase decisions.
What about a GH6?
Panasonic didn't indicate during the short 20-minute presentation whether we'll see a successor to the popular GH5 anytime soon — or at all.
Given the emphasis these days on full-frame (a bit of an industry trick to distance these new cameras from smartphones, hence justifying high margin price points) I wonder if the MFT (Micro Four Thirds) models will get less attention and investment?
Hard to say.
Either way, I'm still perfectly fine with my GH5. It does everything I need in a compact, travel-friendly camera that shoots quality video up to 4K and in 10-bit 4:2:2 to boot and with high frame rate options when needed. What more could you really want?
For those who want RAW there's always the incredible Blackmagic Pocket Cinema Camera 4K — deal of the century if you're into filmmaking and cinematography, and don't need hybrid stills. Though I don't own one, the allure of the Pocket 4K is strong. Far more interesting for narrative work than than the S1H — do we really need 6K? Answer: no, not for most of us. GH5. Pocket 4K. Two incredible cameras that should satiate most videography and indie filmmaking needs for those on a budget. I'm not so sure this full-frame trend we're seeing speaks to me.
I'd say camera bodies in general are amazing these days, pretty much everything else matters more at this point: lighting, composition, story, acting, set design, art direction, etc. So while as gadget geeks we might pine for something new, as video producers and filmmakers there's no excuse not to get the job done with the tools already available to us.
That camera you're holding in your hand, or that one sitting on a shelf behind you, or that one sitting neglected on your desk… yep, it's good enough. Just get shooting already.
Happy shooting!