I try to buy just about everything I can online. It's just too convenient. Saving time is hugely important, especially here in the San Francisco Bay Area where traffic all but eliminates the idea of a "quick run" to the store or mall. So, yes, I've seen my share of Amazon boxes.
But when it comes to wine things are different.
I tend to buy wines at three different places: Costco; Safeway; Trader Joe's.
Occasionally I'll pop into a wine boutique when I have time, but that's relatively infrequent. Even more rare is when I put an online order for wine. Typically I'll shop at a place like wine.com. Pay an annual fee and shipping is free. Of course, there's plenty of downside to shipping wine here in California. Heat is the biggest. You really don't want your reds and whites sitting in a super hot truck all day only to be dropped at your doorstep where there's likely even more heat hitting the box until you're able to arrive home and bring it to safety.
Seems like buying wine in person, as opposed to online, is a fairly common thing.
Survey: Only 27% of consumers have purchased wine online
According to winebusiness.com (a good source for wine news and trends) a recent survey of 1,000 wine consumers "shows that only 27 percent have purchased wine online."
Interestingly that trend is not consistent with overall online retail spending which saw a 24% y/y increase in 2017, and is expected to hit $4.8 trillion in 2021.
In the same winebusinesss.com article Liz Thach, Damien Wilson, and Pierre Costa set out to test this hypothesis:
Could it be that U.S. wineries are not reaching out to consumers via digital marketing the way companies in other consumer products industries are?
In other words, are wine producers and wineries and wine distributors behind the times?
The report is an interesting read. The authors investigate various digital marketing practices employed by the U.S. wine industry and their goals. Then they take a look at activities that result in increased online wine sales.
U.S. Wine Industry: Digital marketing practices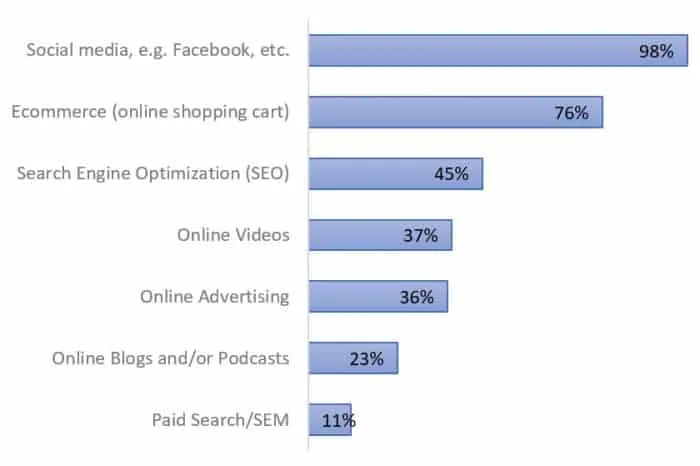 Predictably social media is an important platform for reaching buyers. Facebook is most frequently used (98%) followed by Instagram (88%) and Twitter (67%).
Surprising to me is video.
According to the results, wineries that make more frequent use of online video — such as YouTube — enjoy higher online revenue. I suppose this makes sense as video can often personalize one-to-one relationships across great distances and paint a wine or winery as more approachable, hence leading to sales and, perhaps, increased brand loyalty.
Conclusion: Are You Selling Enough Wine Online? Status of Digital Marketing Strategies of U.S. Wineries
Per the report:
"Wine businesses thus need to invest more resources, and implement an effective strategy for the roll-out of digital media across their business in order to take advantage of this opportunity over the long term."
It will be interesting over time to see if/how companies like Amazon impact the wine industry. CEO Jeff Bezos and team have tried in the past to make inroads, but nothing in terms of online sales seems to have sticked. Not that it really matters. Whole Foods — and its vast brick-and-mortar wine sections — is now owned by Amazon.
As for me, I'm sticking to my plebeian ways and will continue to buy at the local stores here in the Bay Area.
You can read the winebusiness.com article here: Are You Selling Enough Wine Online? Status of Digital Marketing Strategies of U.S. Wineries