Here's 3 camera accessories that will help round out your DSLR or mirrorless camera setup.
A camera body is obviously the core of any camera setup, be it for photography or, as is mostly the case for me, videography.
But if you plan to get serious and step-up your craft a notch or two you'll want to invest in a few accessories.
Below are 3 of my all-time favorites. Each is an accessory I've used with my Canon DSLR (60D, 70D, to, most recently, the amazing 80D) and Panasonic GH5 mirrorless cameras.
Shooting interviews. Music videos. Live concerts. Backstage Broadway. Short documentaries and films.
Each of these camera accessories has served me well, and I can heartily recommend each for build quality and durability.
I've been shooting videos here on Stark Insider for 13 years and have learned that a well-made accessory that doesn't fail at that most critical moment is priceless when in the field.
Here's a short film called CRAZY OR DIE I shot with a Panasonic GH5 and all of the the accessories mentioned here (plus a few others such as a slider and skater and strobe light, not to mention a wig):
Best of all these add-ons won't break the bank. So here's the stuff I recommend to get you jump-started into videography and filmmaking.
Top 3: Must-have accessories for your new DSLR or mirrorless camera
Tripod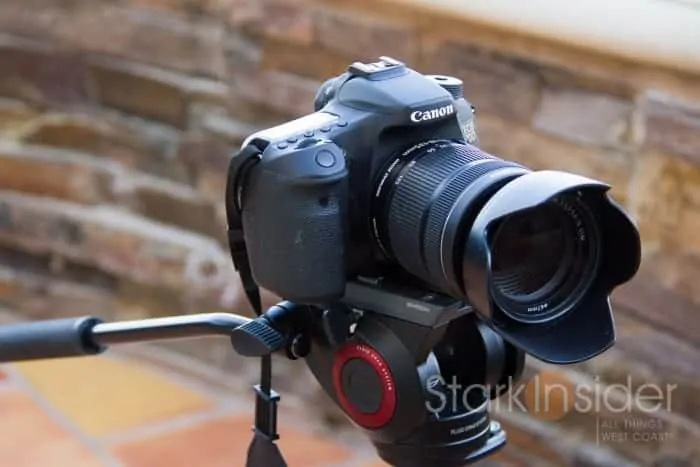 TRIPOD

Recommended:
Manfrotto Carbon Tripod + Manfrotto MVH500AH Flat Base Pro Fluid Head.

Why:
Manfrotto build quality is outstanding and its quick release standard is widely supported giving you lots of options.

Alternative Pick:
AmazonBasics Tripod. Yes, they're cheap, and definitely flimsy, but can get the job done for lightweight gear and lights.
In a world of gimbals, automated sliders and slick drones, a lowly tripod might seem just that, lowly. Study filmmaking and cinema a bit and you might soon realize the tripod is, in fact, almighty. Plan your shots, use a tripod creatively, and you can achieve surprising results. Many of today's contemporary directors rely heavily on tripods. So too if you dig into the indie scene (try the beautiful looking arthouse film Evolution streaming on Netflix). A tripod will never go out of date, run out of battery or (for the most part) break unexpectedly. It will be there ready for you, until the end of time.
Shotgun Microphone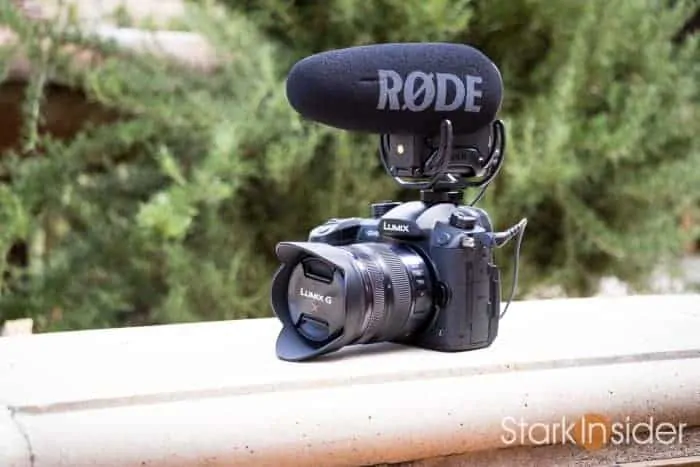 SHOTGUN MICROPHONE

Recommended:
Rode VideoMic Pro On-Camera Shotgun Microphone.

Why:
Rode is one of the best names in the business. It's easy to see why: great sound, long battery life, lightweight and well made.

Alternative Pick:
Sennheiser MKE 600. This is a step-up option for those interested in even better quality. This Sennheiser uses a pro-grade XLR input so you'll need an adapter for your camera making this setup a bit trickier, but possibly worth it depending on your project.
Sound is essential. Have you ever watched a YouTube video and stopped it immediately because it was hard to comprehend what the person was saying or there was just so much room echo that it was migraine inducing? Yes, image matters, but sound is at least 50% of your production value, possibly more. Invest in a good microphone and you're videos should appeal better to viewers. Rode is my pick here. I've been using Rode mics for at least 10 years here on Stark Insider. They're reasonably priced, sound very good, and go forever on a battery. Just make sure your camera has a 3.5mm mic input (it should) and you're all set.
LED Light Panel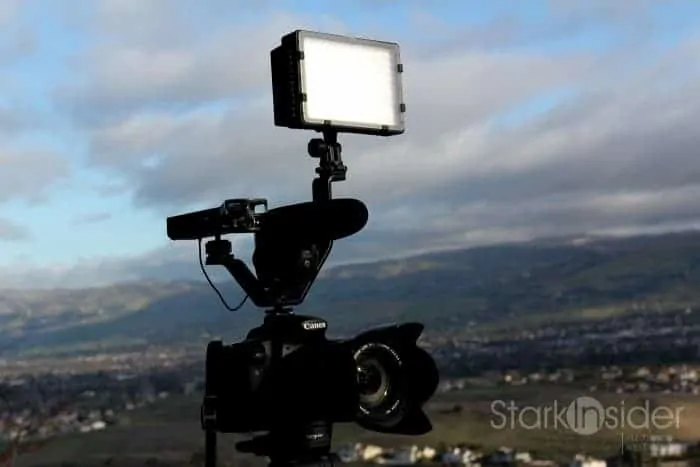 LED LIGHT PANEL

Recommended:
Genaray LED-7100T 312 LED Variable-Color On-Camera Light.

Why:
Clean white light with variable temperature control for daylight or nighttime shooting. Cheaper off-brand lights can often unwanted color cast (typically green) so watch for that when shopping for LED light panels.

Alternative Pick:
Neewer Dimmable Bi-Color LED Professional Video Light for Studio. As the name implies this is a studio panel with lots of power. Perfect for shooting YouTube videos, product reviews, interviews, green screen (though you'll want a 3-way lighting setup for that), and other projects.
You'll eventually want to add lights. Several. A good starting point, however, is a basic LED light that you can mount on your camera or pop onto a tripod (see #1!) to help light a scene or interview. There's lots of low-cost, decent options out there. These days I find myself gravitating towards Genaray LED panels. I especially appreciate that they produce a neutral white, devoid of any sort of color cast that may need to be corrected in post production. The panel above is one I use all the time, and runs off a basic Sony battery. Highly recommended.
Bonus Pick: Camera Bag
Here's a handy and lightweight camera bag that can hold all your gear including one and maybe even two camera bodies, plus lenses, power and other accessories. I finally updated my 10 year-old Targus bag for this one and it's outstanding.