"Millennials aren't yet embracing wine consumption as many had predicted."
That's one of the key takeaways from a new wine industry report released today.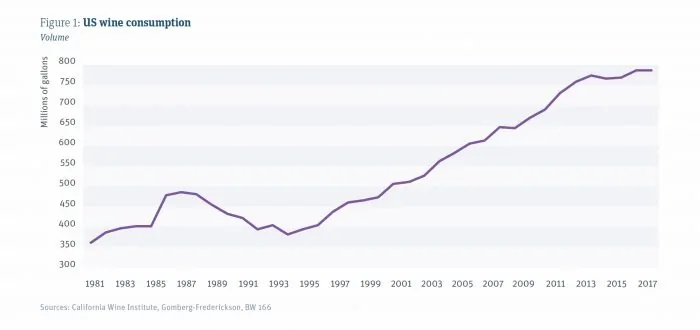 Authored by Rob McMillan of Silicon Valley Bank the 2019 State of the Wine Industry Report predicts that as a result of Millennials failing to embrace wine, among other factors such as retiring baby boomers, premium wine sales will suffer and likely continue to decline once again this year.
"Despite the positive year in 2018 and 25 years of great growth for the US wine business, I believe sales growth forecasts for the next five years should be tempered," said Rob McMillan, founder of Silicon Valley Bank's Wine Division and author of the report.
"The fundamental underpinnings that created the industry growth are changing, which means the tactics that were relied upon to ride this wave of success to this point will slowly prove flawed without business adaptation. To continue its growth in the years ahead, the US wine industry needs new direction and a changed focus."
To continue its growth in the years ahead, the US wine industry needs new direction and a changed focus.
Rob McMillan, Silicon Valley Bank
While 2018 wine sales should again close at record nominal levels, per the SVB report (now in its 18th year) the growth rate of sales will continue to decline:
Trendspotting:
U.S. Wine Sales Growth

The premium wine segment – which we define as above $10 per bottle – will grow in the range of 4 to 8 percent in 2019, roughly flat from the 2018 sales growth estimate.
As the report notes, "2018 was a good year for wine." Long-term trends, on the other hand, suggest a "transition point" for the wine industry.
Since 1994, the U.S. wine industry has experienced an unprecedented run. A booming economy in addition to baby boomers entering years of strong earnings resulted in the U.S. becoming the largest wine-consuming country in the world. McMillan explains that we're now at a point in time when Millennials (who now are all over 21 years of age) are poised to enter the same phase, meaning their high-spending years. In 2019, in fact, Millennials will become the largest demographic.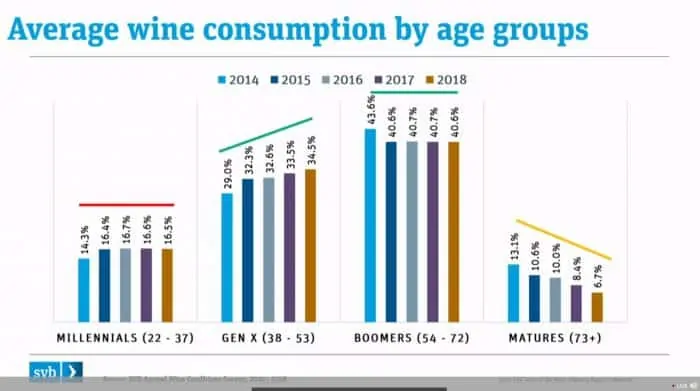 However, one of the key questions is whether or not this cohort will spend their incomes in similar proportion to past generations. With the legalization of cannabis, and the emergence of a variety of other alcohol-based options including craft beer and cocktails, wine isn't always the adult beverage of choice.
In addition to reviewing 2018 and the accuracy of its previous predictions, McMillan and the SVB team also issued what it thinks will happen to the wine industry in the coming 12 months or so, including these notable predictions:
Sales growth of 4-8% for the premium wine market (flat y/y)
Off-premise sales growth of 0.5-2.5%
M&A will slow "noticeably" this year
Imports will gain market share at the expense of domestic producers
Forecast 2018 crush will come in at 4.4 million tons in California — but grape and bulk prices will drop noticeably this year in the California market
"Millennials show the strongest preference for spirits, beer and cannabis and the lowest preference for wine among all cohorts"
Wine below $9 will continue to shrink in volume and value
Oregon is a bright spot for consumers looking for good value
Note that the above predictions we're told are made with the assumption that the U.S. economy will "remain in a steady state, without a recession."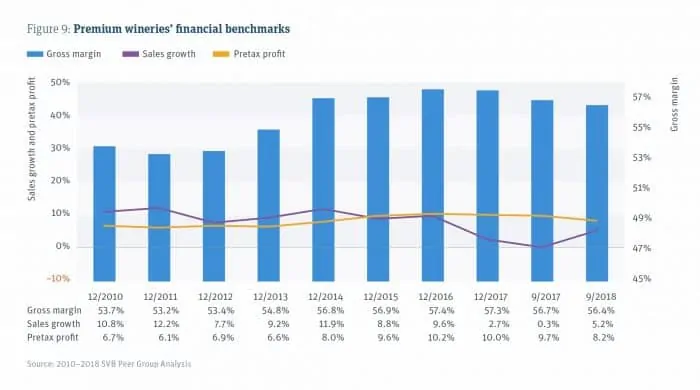 Another key takeaway I came away with after reading SVB's assessment of the market and especially the impact on premium wine in Napa and Sonoma is the importance for wineries to find new ways to reach potential buyers. Most notably, perhaps, this means tapping into direct-to-consumer (DTC) strategies and bringing a wine experience to the consumer — typically online — rather than relying on them to come to the physical bricks-and-mortar tasting room itself.
The 57-page SVB wine report digs deep into demographic spending patterns and preferences, in addition to segmenting buying behaviors and trends across various U.S. wine regions and global markets. Anyone interested in the wine industry specifically or consumer spending trends in general should download the report available today at SVB.
Coincidentally enough, another report was also released today — by Wine Intelligence — which reportedly corroborates the wine consumption gap between aging Boomers and the next-gen buying Millennials.
State of the Wine Industry Report:
Live Stream with Panel

Link: SVB State of the Wine Industry Live Stream

In addition to the written report, Silicon Valley Bank is a hosting a live stream to discuss its findings and provide additional commentary on the wine industry. The panel is moderated by Rob McMillan of SVB and features Amy Hoopes, president of Wente Family Estates; Paul Mabray, CEO of Emetry; and Dale Stratton, vice president of commercial insights at Constellation.