Travel writer Janice Nieder concludes her journey across India in Narlai. ICYMI: Part 1 and Part 2.
Far off the beaten track brings us to the tiny mountain-top hamlet of Narlai
I fell in love with the atmospheric Rawla Narlai Hotel the instant I stepped through the massive wooden gates and gazed in wonderment at this frescoed-walled Rajasthani wonderland, frangipani-scented courtyards, ancient stone ramparts dripping colorful bougainvillea, and luxury pool/spa setting that would be right at home in Las Vegas, all surrounded by the Aravali mountain range , said to be the oldest on the planet -soon to celebrate their 600 million year birthday.
A favored hunting lodge from the 17th century the property is still owned by the same Jodhpur Royal Family who have tastefully restored it to its former opulence adding only a few modern necessities (wifi, air-con, etc.) for the perfect blend of modern and old-world royalty.
Check out the 30+ rooms spread over the new and old wings to see which strikes your fancy. I chose one in the old wing filled with original works of local art, gorgeous latticework, old wood-shuttered windows and rich textiles with a semi-private outdoor lounge area since I shared with a family of jabbering monkeys.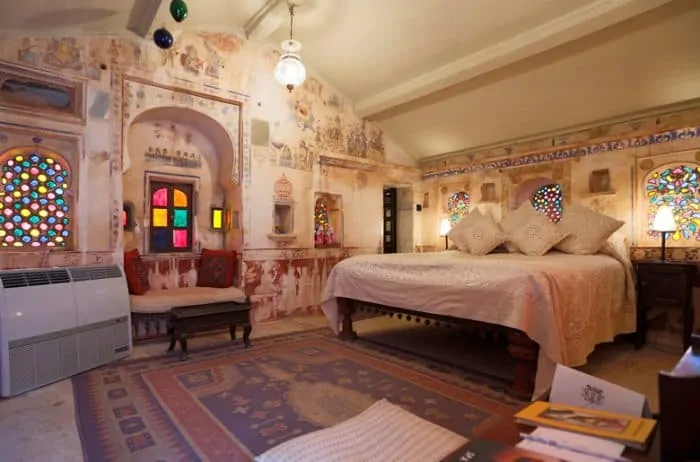 It's the perfect respite from India's hustle-bustle, and you'll be tempted to laze by the pool for the next couple of days, breaking only for a massage and a rooftop cocktail but don't miss out on the perfectly curated activities.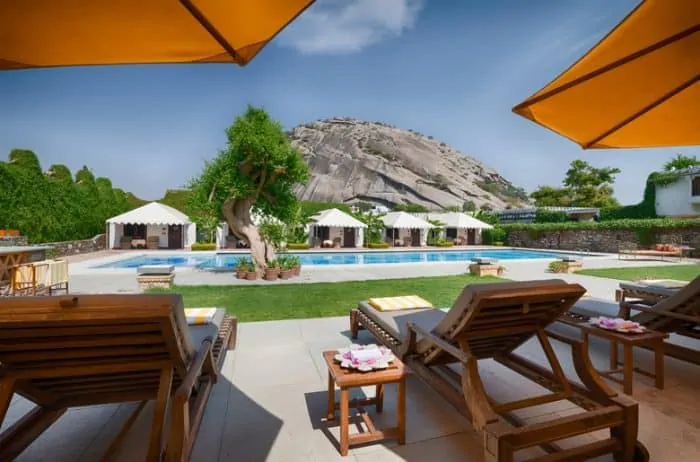 My fondest memories include a guided meander through the village graciously led by what we would probably call the mayor. We stopped along the way to let the scampering children catch up for a photo op, admiring the lush cotton fields and simple farms before visiting a temple where we were greeted by a band of musicians and an optional cup of opium chai from the town elders.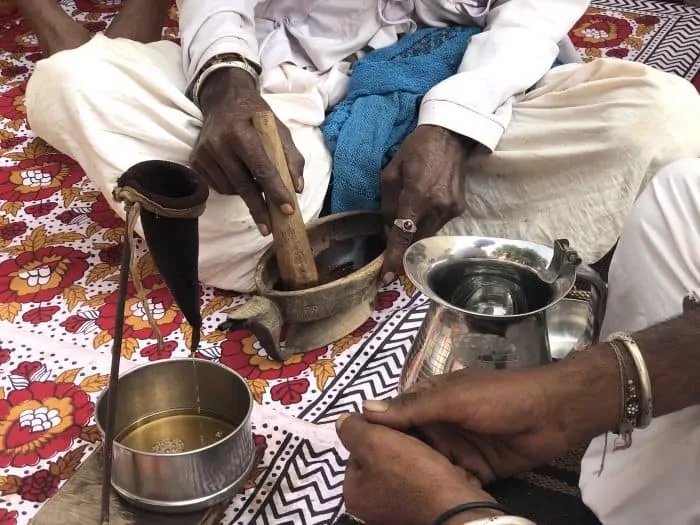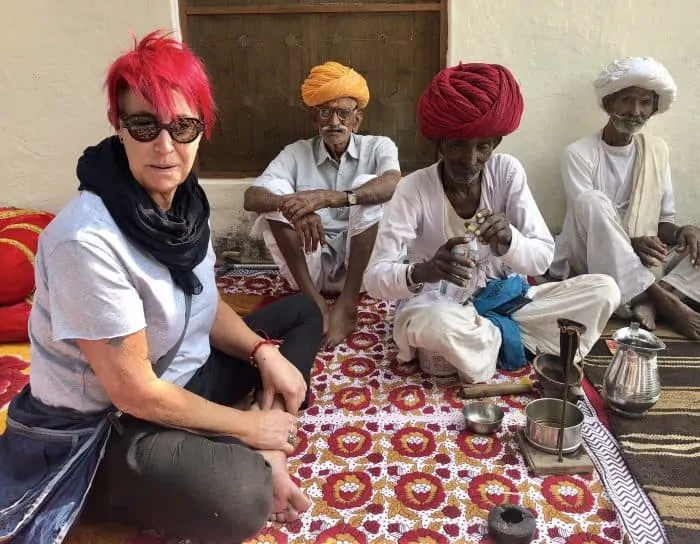 We made an impromptu stop at a local school where the ever-thoughtful Diggi had purchased new school supplies for us to share with the adorable children.
Going on the jeep safari was quite exhilarating particularly after I threatened with my driver with a multitude of tortures if he didn't find me a leopard. Not only did he locate one but he also got extra-credit points for spotting some jackals and a herd of feral pigs.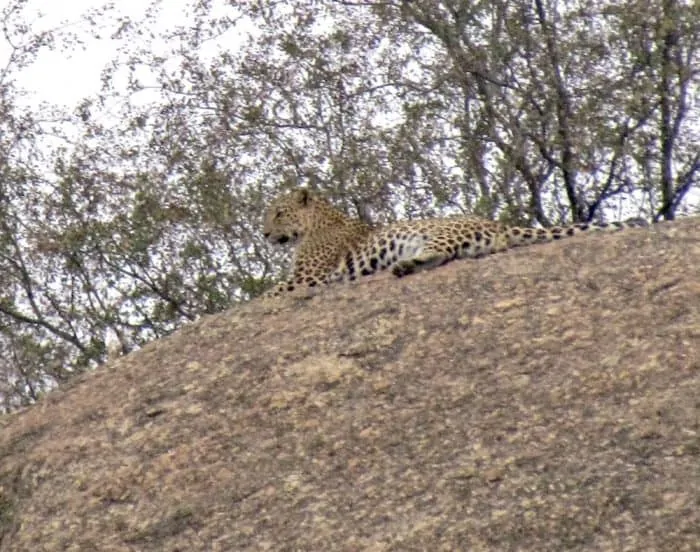 However, the highlight of our stay was an enchanting dinner held at an ancient stepwell. The magic began when we were picked up at the hotel by decorated oxen carts, bouncing along the village back roads until we reached a huge stepwell in the middle of nowhere, which was illuminated by 700 oil lamps.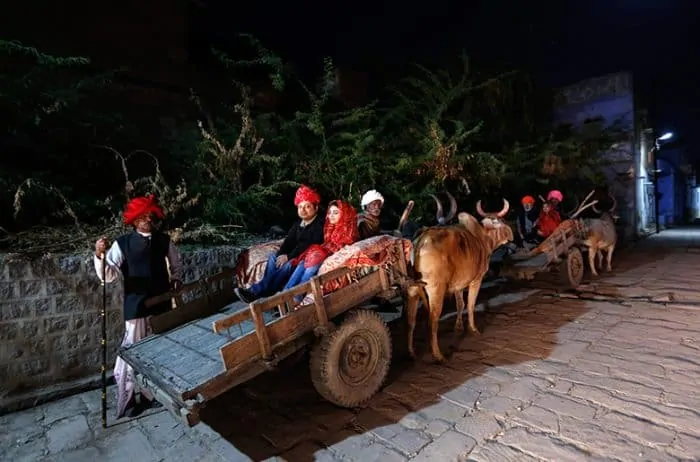 Beckoned by the soulful notes emulating from a lone yogi strumming his tampura on the edge of the stepwell, we took our seats under the star-lit skies and were spellbound for the next 2 hours as we savored our royal thali, while being entertained by traditional dancers.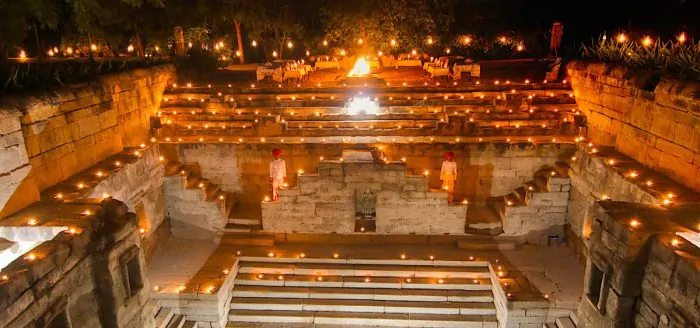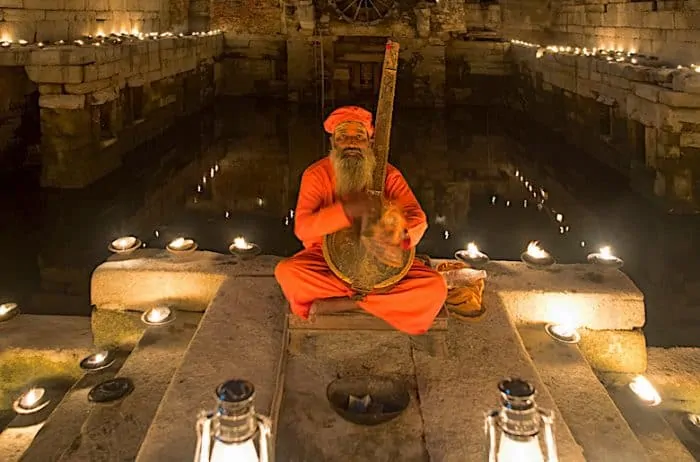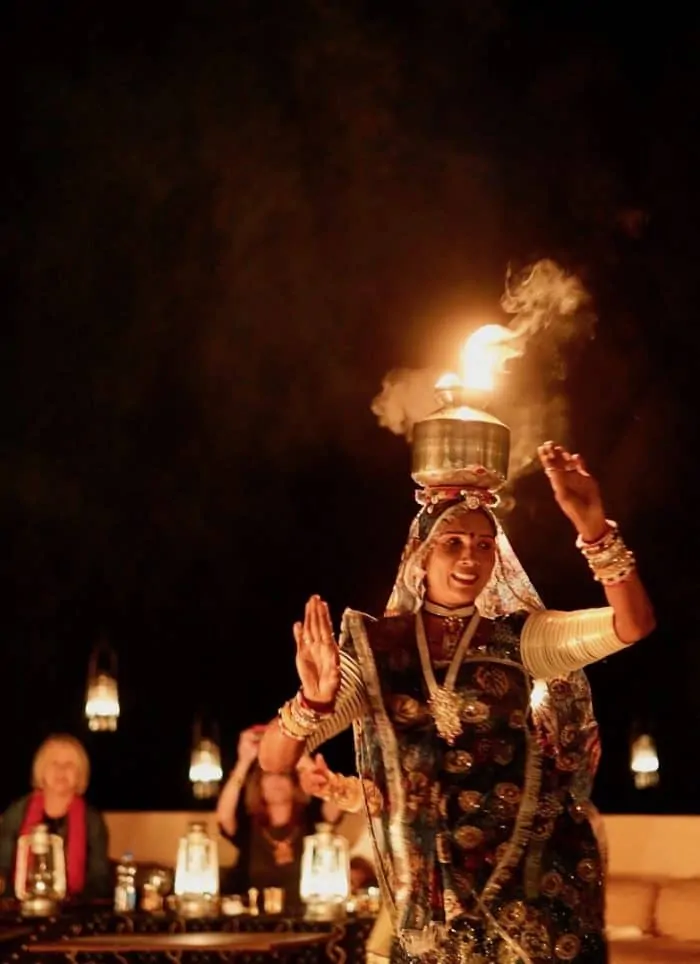 Jodhpur — the famed "Blue City" really is that blue!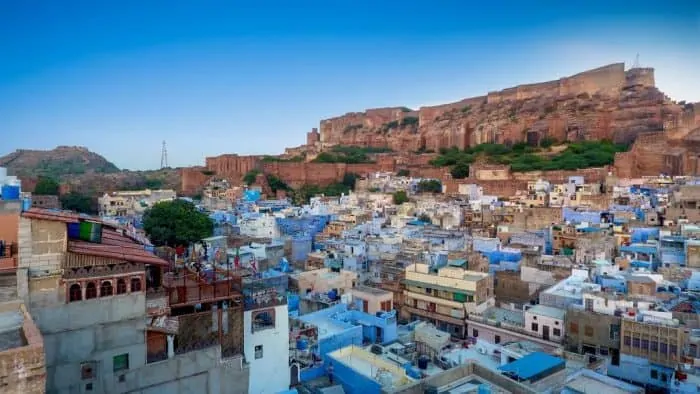 Refreshed by our peaceful village stay we were ready to tackle the cheerful chaos of Jodhpur. My first thought when we entered this 15th-century city with its labyrinth of cubical, azure-colored homes, was that Picasso would have flipped over it during his "Blue Period'.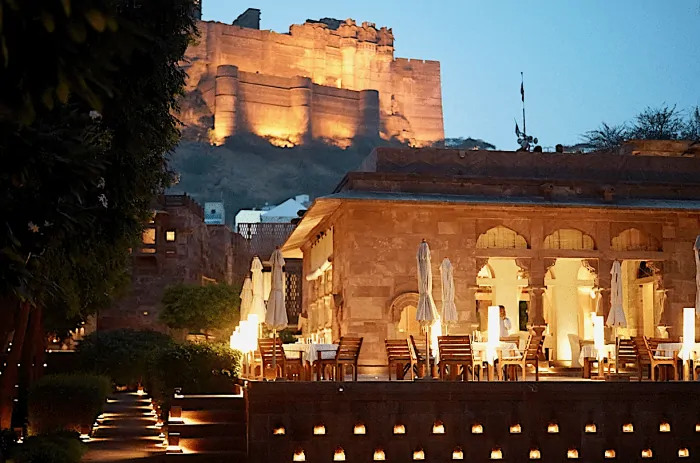 Happily, there are not many must-see sites here, with one enormous exception, Jodphur's crown jewel, the Mehrangarh Fort, so we could continue to chill out in style at over-and-beyond-chic, Raas Hotel, an 18th-century haveli that harmoniously channels its former life.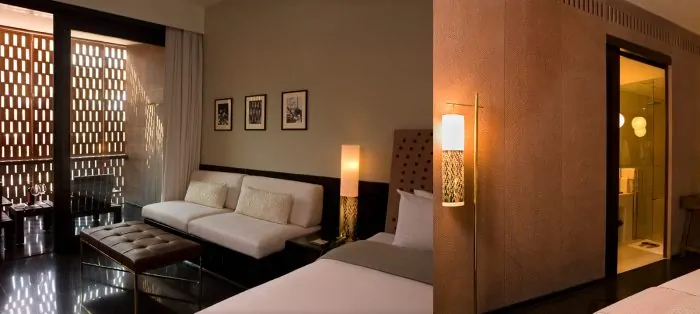 Between the oversized, stylish rooms, heated 18-meter infinity pool, comfy, canopied lounge area complete with at-your call butlers, two restaurants offering both Indian and Continental cuisine (my favorite breakfast buffet of the trip sided by their scrumptious Florentine Eggs Bennie) designer boutiques and a sumptuous spa. If you like a strong massage, I highly recommend Gaina, my small but mighty masseuse. It will be nigh impossible to tear yourself away since you can get the best photos of the neighboring fort from their rooftop bar!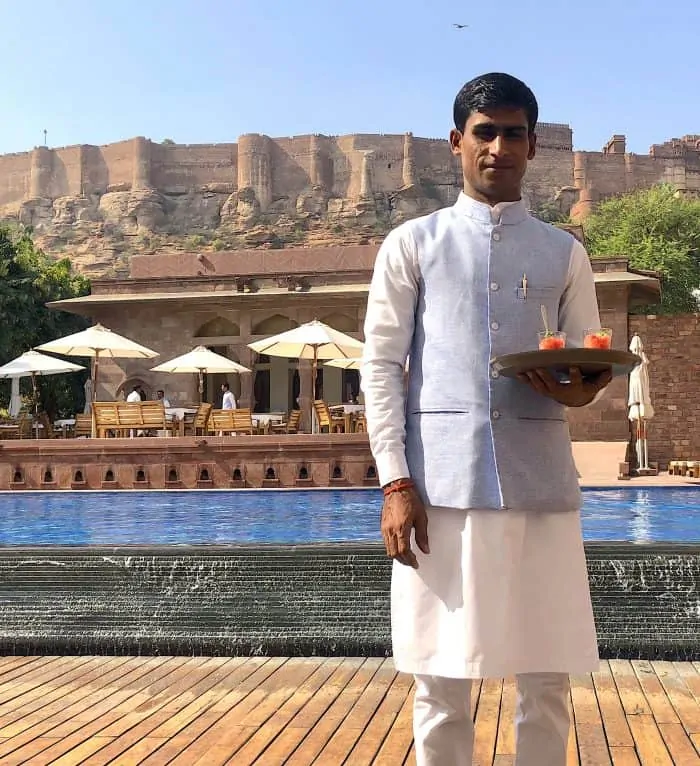 You might want wean yourself away with baby steps, since their multi-tiered, Stepwell House Café, overlooking the… you guessed it, newly restored Stepwell, which you enter from the Raas by a private door. On the same street, you'll find some top-notch designer boutiques like Good Earth, Haveli Crafts, and Via Jodhpur.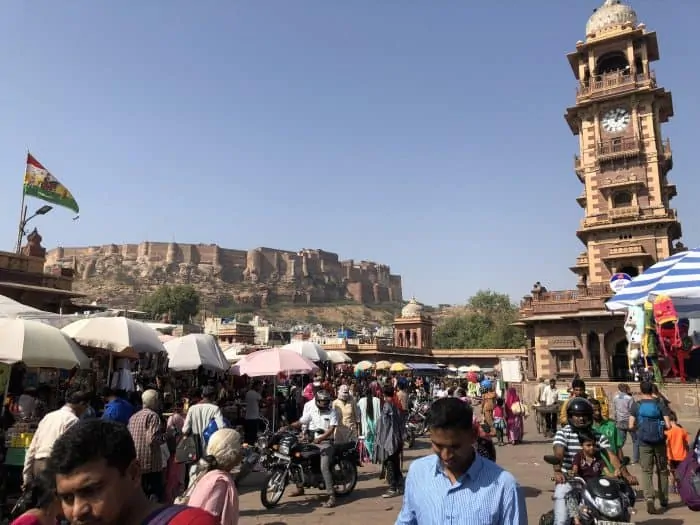 But if you want the full-on, frenetic experience of this medieval city, which is necessary if you want to take advantage of the bargain shopping, you'll need to tear yourself away from the sanitized Raas bubble, and take a deep breath before navigating your way through the tangle of stalls, relentless street hawkers, garbage, blaring tuk-tuks and about anything else you can think of, to the Sadar Market, found under the century-old clock tower.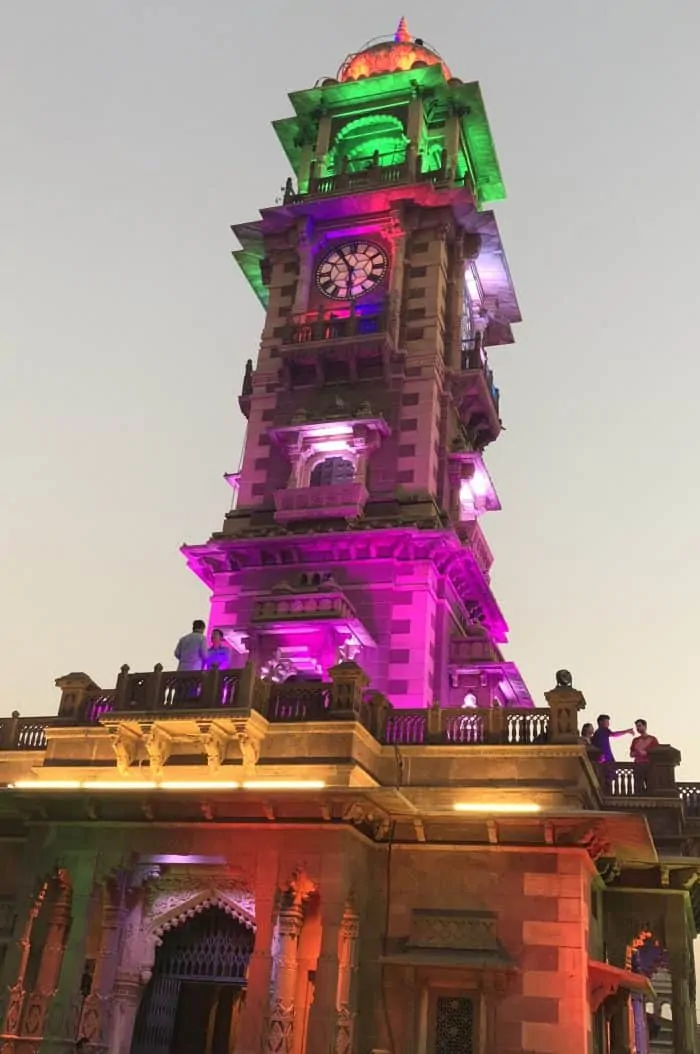 Insider tip:

Good buys in this madcap market include spices (the best quality are found at M.V. Spices which also offers cooking classes) perfumed oils, printed fabrics, costume jewelry and inexpensive Indian boho-style clothes.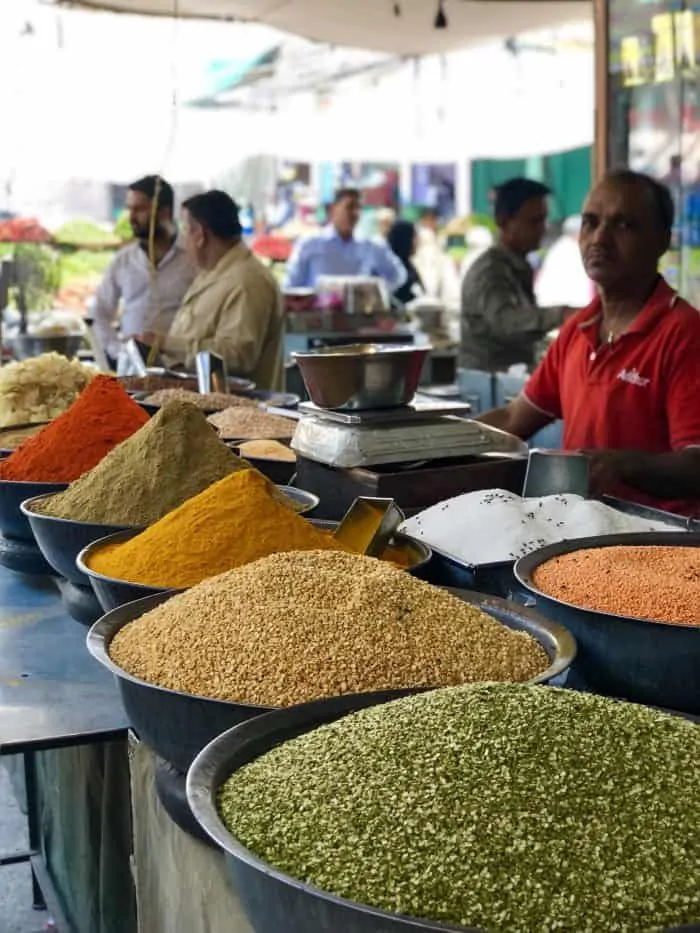 And I'm sorry, but you really MUST visit the privately-owned Mehrangarh Fort which was started in 1460 by the Jodhpur Royal family who is still adding on to the compound 17 generations later. The red sandstone cliffhanger hovers four hundred feet above Jodhpur, making it a popular spot to take in a stellar sunset reflecting off the Brahmin-blue city.
The red sandstone cliffhanger hovers four hundred feet above Jodhpur, making it a popular spot to take in a stellar sunset reflecting off the Brahmin-blue city.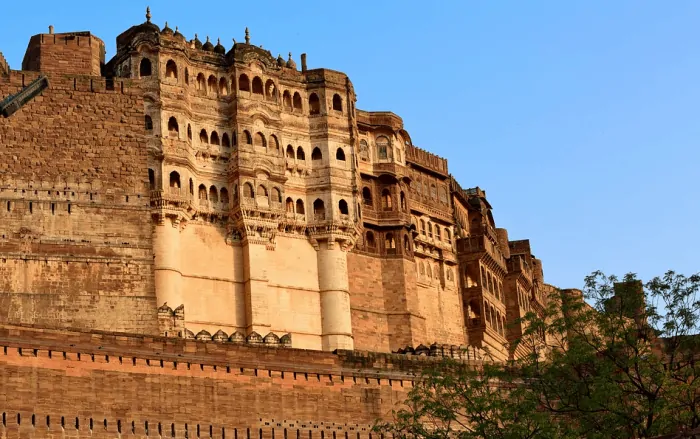 A few years ago they held a colossal party there to celebrate the wedding of the crown prince, who will one day be the 37th Marwar king, although the really big news is that Priyanka Chopra and Nick Jonas are planning to tie the knot there in the very near future.
Once you enter the massive elephant gates you can explore the impressive museum featuring 15,000 items from Maharaja Gaj Singh II's captivating collection of Rajasthani heirlooms including weaponry, miniature paintings, a festive turban collection, and even a royal cradle collection.
Our last day with Peta was perfectly orchestrated. I was excited about our D.I.Y. tie-dying class led by 4th generation Bandhej dyer Ishwar Dewani. Ishwar was quite a character with a carefully oil-coiffed beard and sporting more outrageous rings than he had fingers! But this most definitely was not your hippy, smoke a little pot before dipping a rubber-banded, t-shirt into a pot of Ritz dye class because Ishwar teaches Rajasthan's traditional Bandhe , a 5,000-year-old highly skilled craft.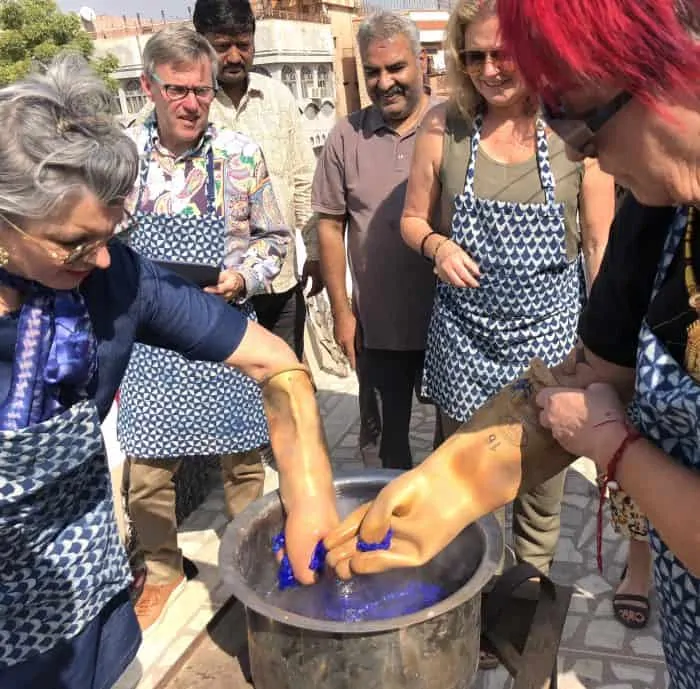 We were each given a small silk scarf and tried to follow his multi-step process, which involved stamping, plucking, twisting and tightly tying our fabric into intricate patterns before dips in both colored and bleach baths.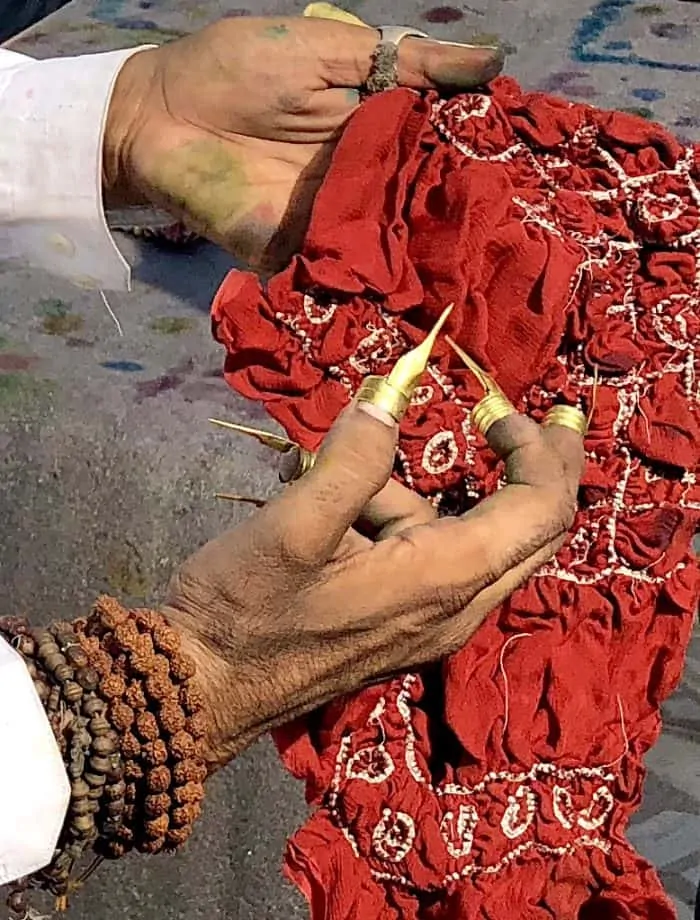 While it was hard to top our opening Diwali gala, Peta pulled it off with an electrifying, farewell bash on the grounds of the grandiose fort. Coincidentally, there was an upper-crust wedding going on at the same time which added an extra special dimension, since the happy couple had hired dancing girls, bedazzled elephants and camels, even a full-on marching band, which we preferred to think were there to bid us a fond adieu.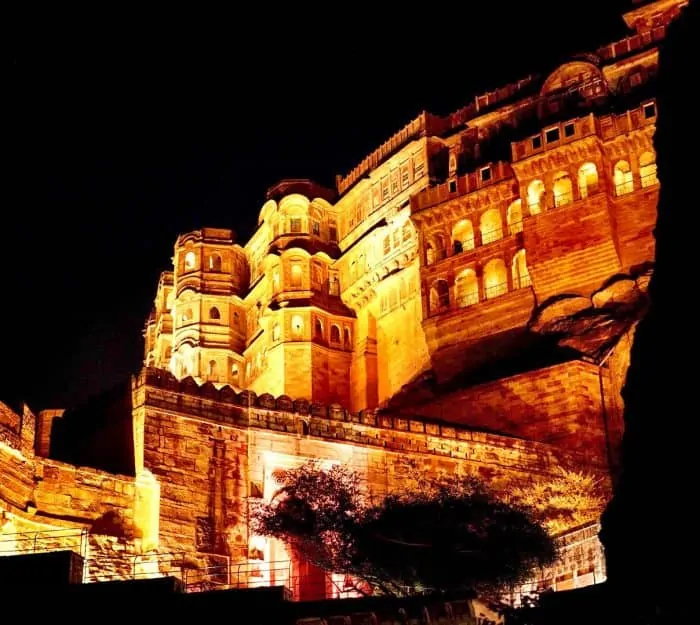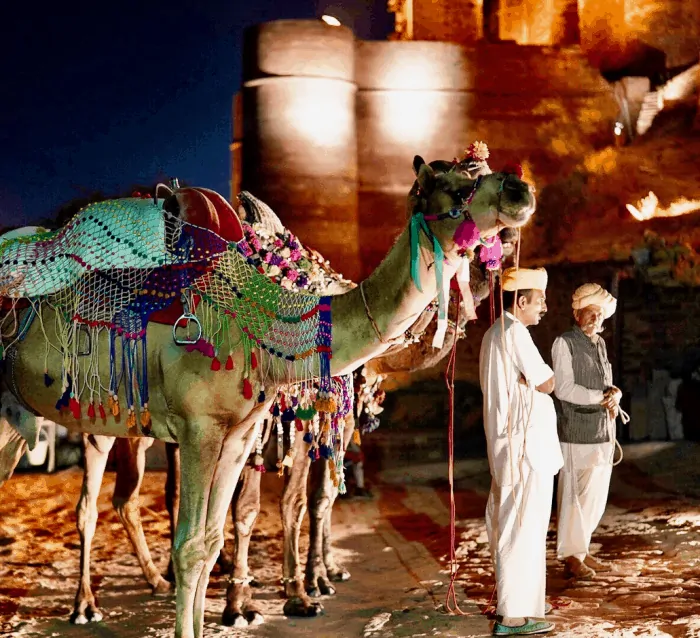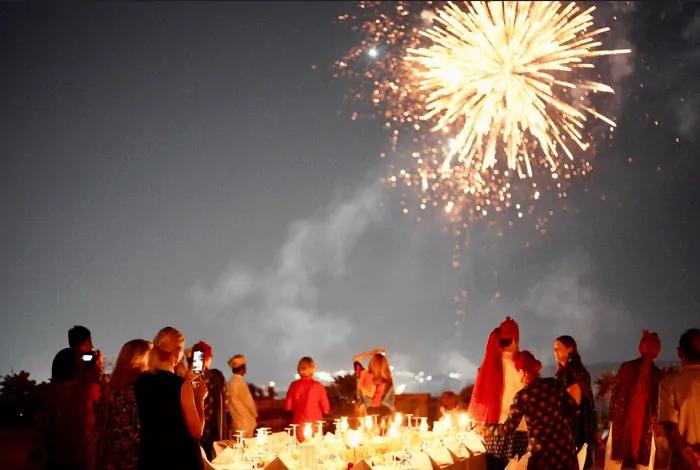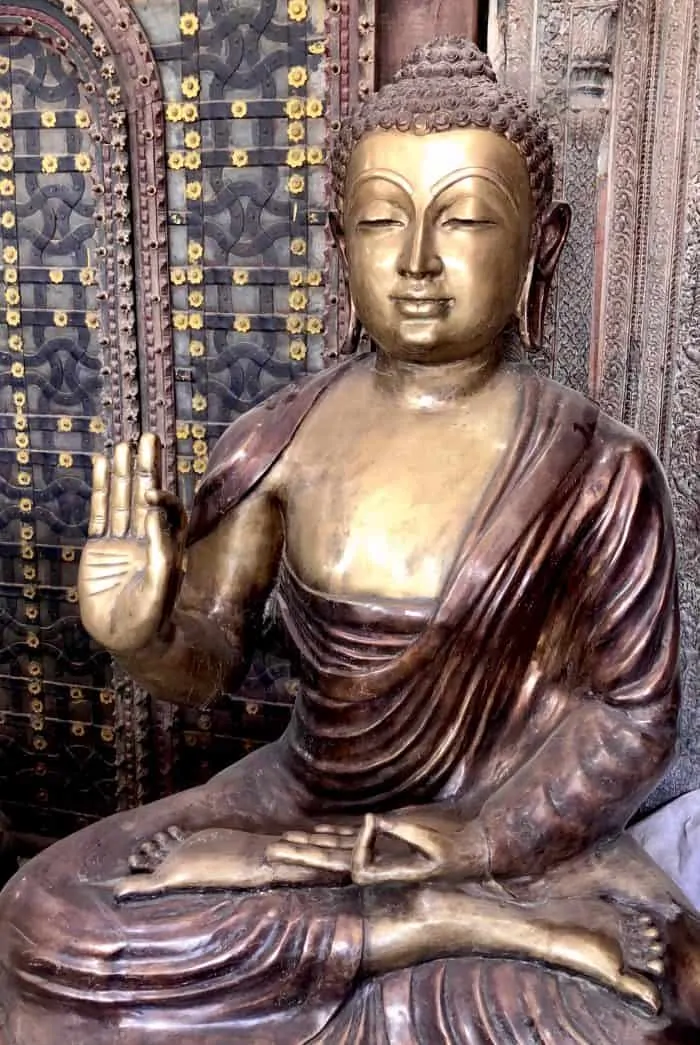 The End!
Wanderlust: Exploring the Exotic Beauty of Rajasthan with New Zealand's Peta Mathias

By Janice Nieder
For more information about this Rajasthani Extravaganza or one of Peta's other escapades check out Peta Mathias Culinary Adventures.