Exploring Rajasthan, The Land of Kings, on one hand, is filled with lavish maharajas palaces, time-stood-still villages, tiger-dense forests, outrageously opulent hotels, humongous forts, sacred pilgrimage sites, luxurious spas, unique stepwells, traditional craftwork and surreal landscapes… super-imposed with chaotic masses of mankind swathed in brilliant kaleidoscope-colored textiles and jewels.
There is an endless cacophony of blaring horns from the onslaught of tuk-tuks (cycle rickshaws) speeding buses, painted elephants, decorated camel carts, goats, pigs, and numerous "free-range" cows roaming the garbage- strewn streets (which serve as their fodder) overlaid by a pervasive aroma of cow, camel and dog dung accented with whiffs of perfume oils and the tangy scents of saffron, turmeric and ginger wafting in from food stalls.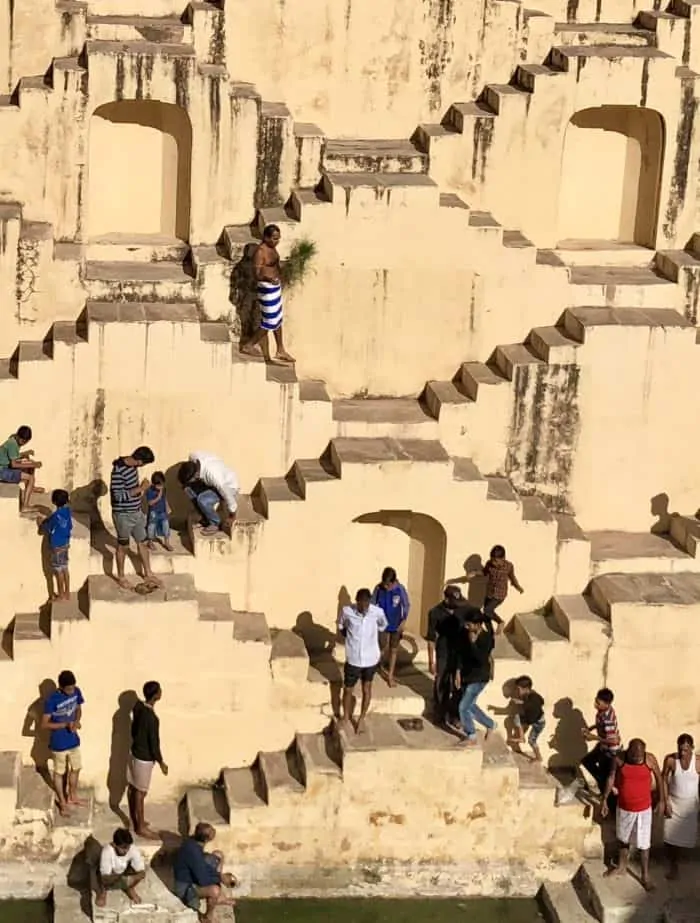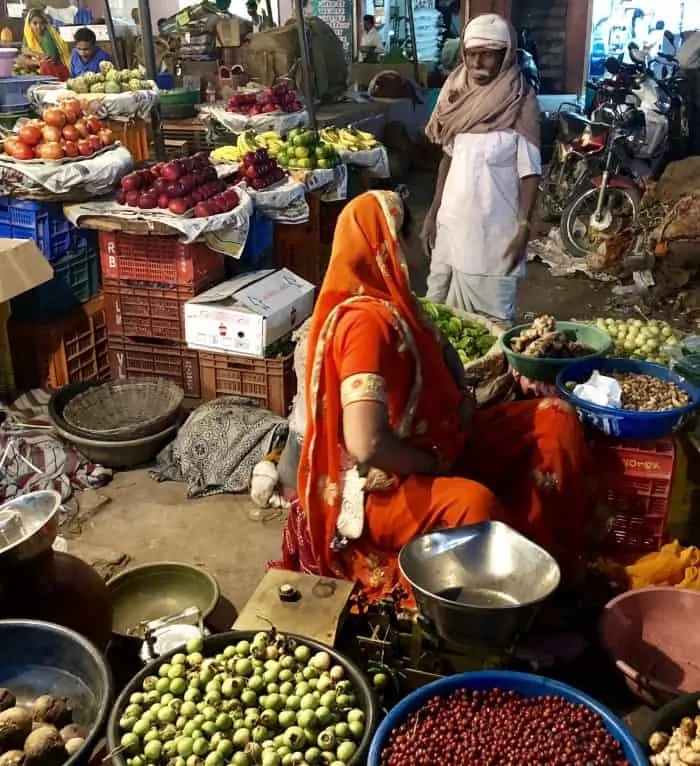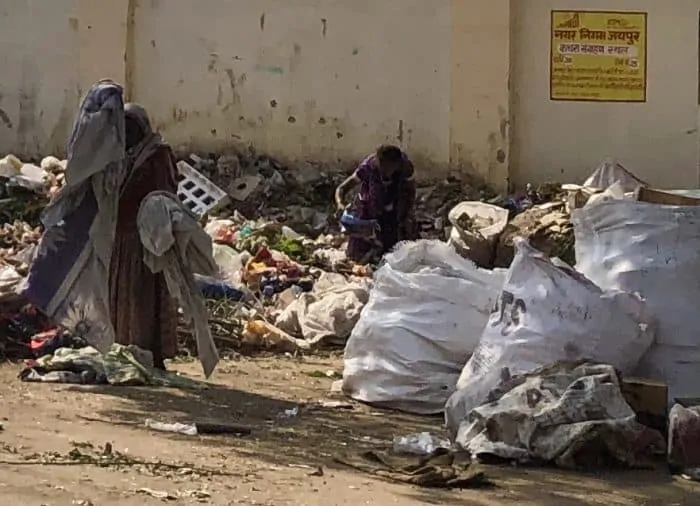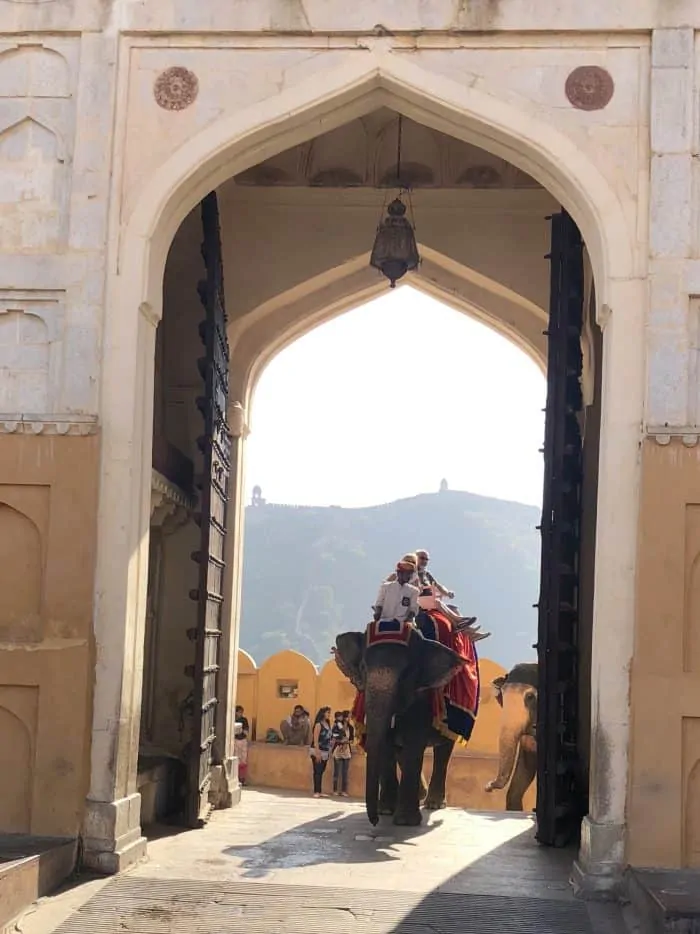 Rajasthan also has some of the warmest, most hospitable people I've ever encountered.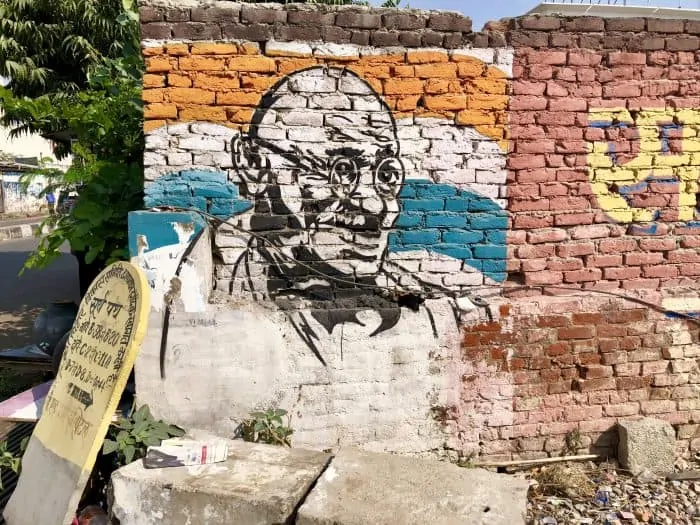 I often describe India as a bi-polar country, well worth visiting but not for the faint of heart.
Like NYC, I have never heard a visitor return from a trip there and when asked, "How did you like it?" respond with a non-committal, "It was O.K." It's much more likely that you'll either adore it or hate it and most likely will vacillate between the two several times a day.
At the very least, if you're past the carefree backpacker days, Rajasthan can be a challenging destination, particularly if you're traveling on your own, which is why I was thrilled when a New Zealand travel writer friend of mine told me about a new "Textile and Culinary Rajasthan Tour" offered by Peta Mathias Culinary Adventures.
After reading the following tour description, I was sorely tempted.
"Welcome to Rajasthan – a dazzling land of deserts, lakes, palaces, colour, textiles and buffalo butter. It is famed for its luxurious upper-class cookery – an exotic mix of dry, spicy desert food and gloriously rich, creamy Muslim indulgence. Rajasthan is wildly inspiring in terms of design, cuisine, music, old crafts like weaving, painting, tie-dying and really traditional culture. It is the only state which had relatively little British intrusion during the Raj (British control), retaining autonomy and semi-feudal princely rule right up to 1971 when Indira Gandhi abolished the maharajas. It is the most conservative and culturally rich state in India.

We meet up and begin our ten-day tour with a Thali welcome dinner in the state capital of Jaipur. The next day we drive to Bundi to spend two days immersing ourselves in palaces and gold thread weaving. Next we travel on to Udaipur, for two nights of art, painting and culture right at the edge of the famous Pichola lake. Next stop is Narlai in the Thar desert for two days of cooking classes, temples, a jeep safari adventure and a sunset horse-ride. Our final 3 nights are spent in the blue city of Jodhpur at the very chic Raas Hotel, where a fabulous final night party concludes our tour.  

Along the way we learn how to tie-dye, paint temple art, cook in the desert, find out how to weave with gold thread, float on lakes, eat with our fingers in faded glory palaces and do a bit of yoga when it all gets too fabulous and we need a lie down."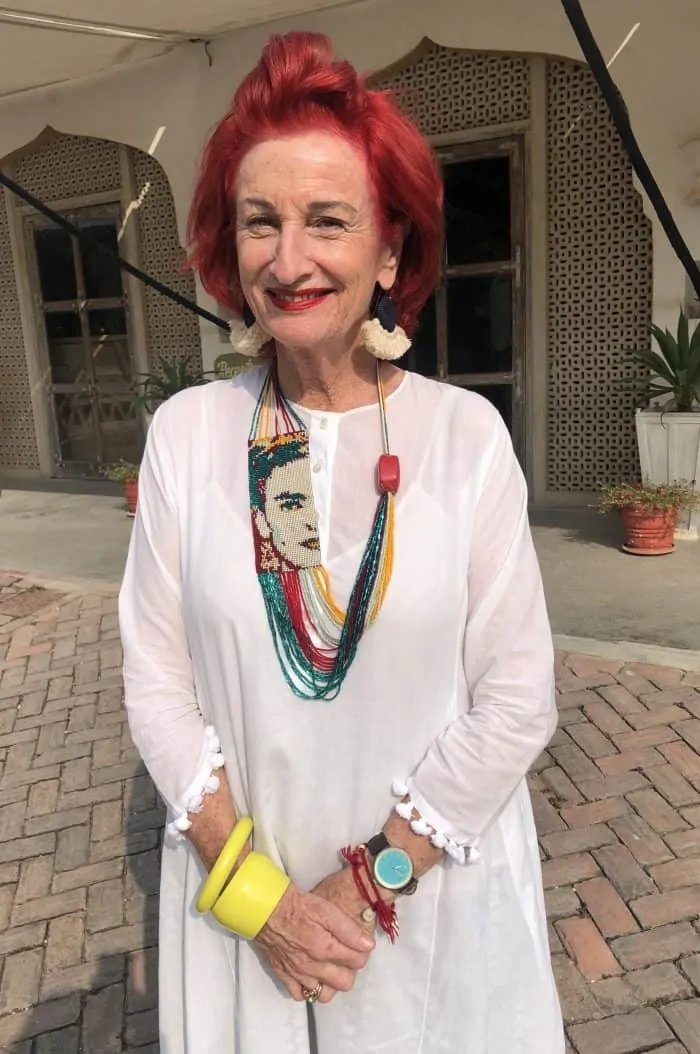 After further research on Peta, who seemed to be New Zealand's answer to Martha Stewart; a prolific chef, best-selling author, a style guru, and an award-winning television travel and food broadcaster who hosts gastronomic tours in Vietnam, Morocco, the South of France, Spain, Italy and India, I was hooked. So I signed up for the November tour, the only American in the group, joined by Peta and about a dozen other convivial, well-traveled Kiwi's.
I quickly learned that this was "The Peta Show" and she does not suffer fools gladly. As unpredictable as India itself, Peta might greet you by sweetly trilling, "Don't forget everyone, to wear your finest glad rags tonight as we have some fabulous surprises in store" yet minutes later when a guest innocently asks, "How much further to our hotel?" she delivers a scathing rebuke, "Can't you read? Don't bother me again with anything that's on your itinerary!" and then turns away in a huff.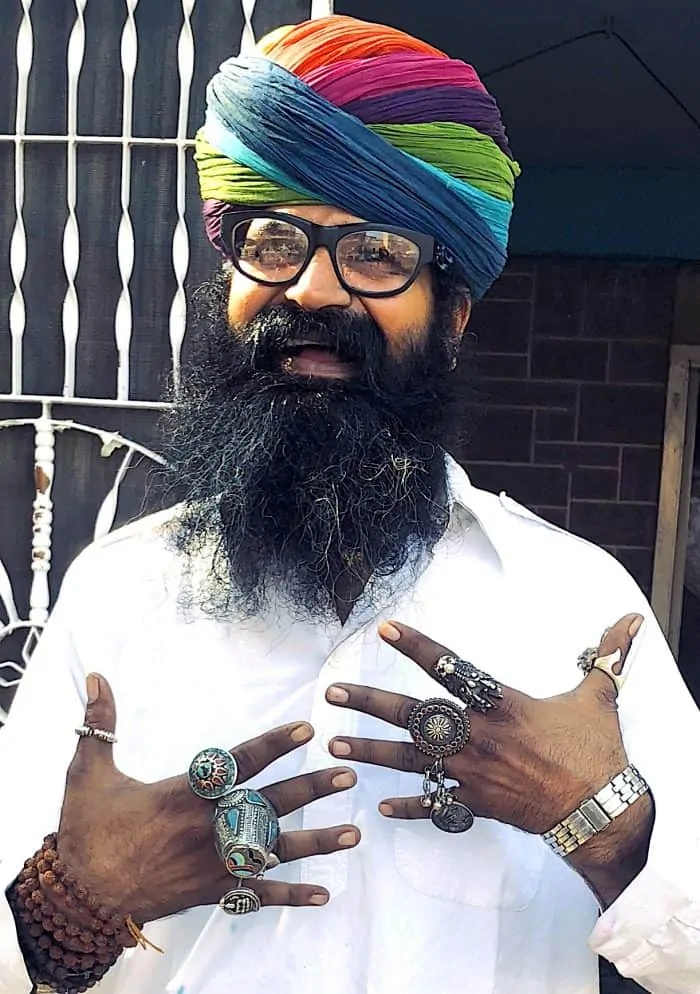 Since there were several repeat travelers on this tour, I can only surmise that they felt it was a small price to pay in order to have access to Peta's inside contacts, including offshoots of the royal family (often our hosts at "faded palace" hotels) clothing and jewelry designers, and some talented artists and chefs who led our private workshops. She's quick to share her shopping spots and gawd knows, that woman can dress! It was a treat to see what creative designer outfit she would show up in next, usually a riot of colors and layers, successfully mixing plaids and polka dots, accented by her glow-in-the-dark neon red hair and an armload of jangling bracelets.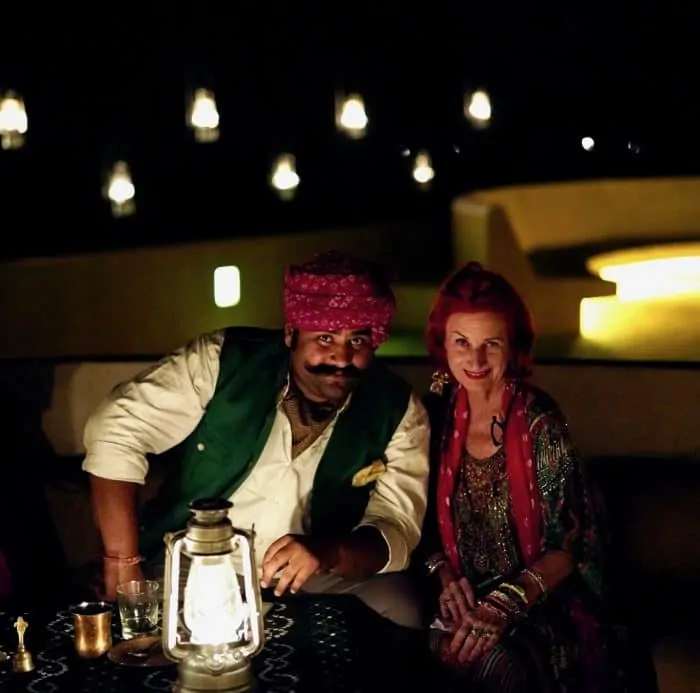 But her real secret weapon was Diggi, her manager and our local Indian guide, who was the yin to her yang-endlessly patient, thoughtful, humorous, extremely knowledgeable, quite simply, The Perfect Guide!
Jaipur — Starting our trip with an explosion!
Most of us arrived in the Pink City of Jaipur a day early to take advantage of Diwali, an important festival of lights which signifies the victory of good over evil. Hindus go into full-blown party-mode for this multi-day holiday where shopping is key. The women throw out all their old kitchenware and buy new replacements as well as shop for a sparkly new sari and blingy jewelry.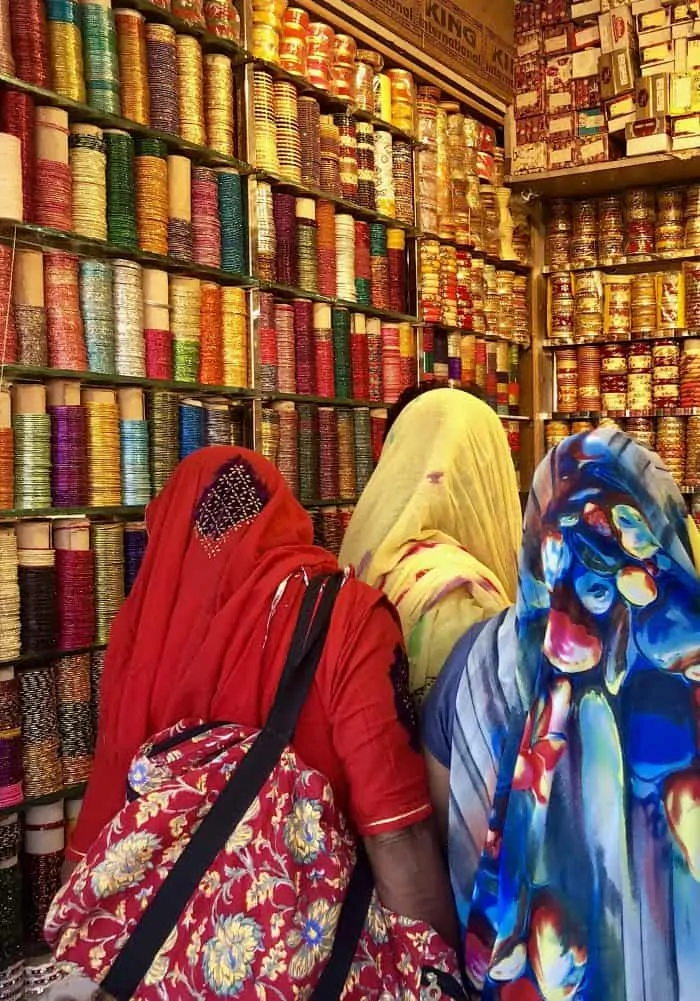 FYI: Jaipur is known as the "Pink City" because back in 1876 the reigning maharaja had all the sandstone buildings painted pink, a color that symbolizes hospitality, to welcome a state visit from Prince Albert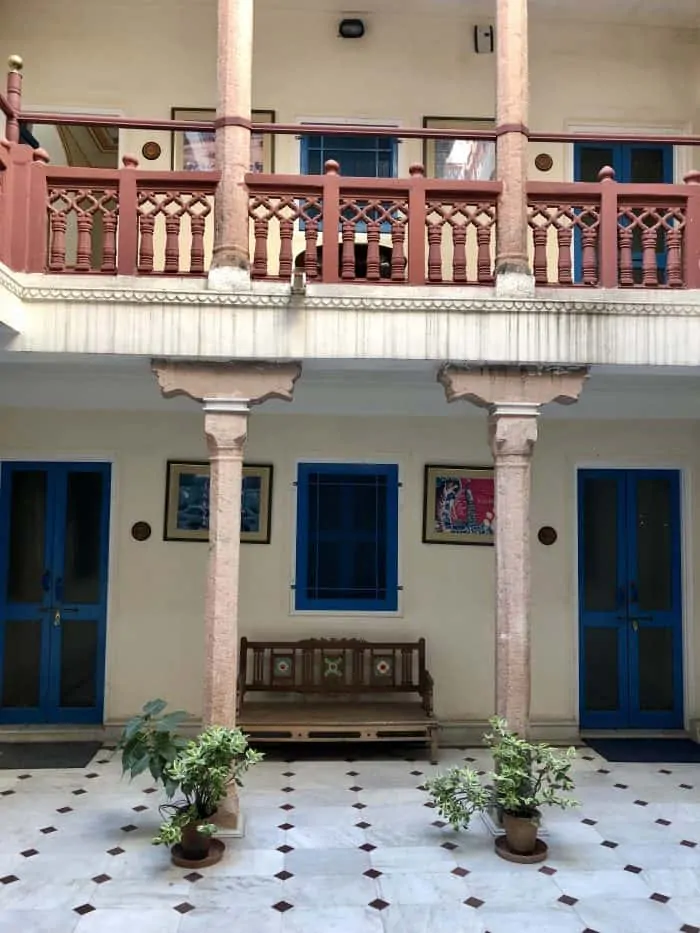 We checked into the Hotel Diggi Palace, built by the royal Singh ji Diggi family in 1860. It was later converted into a heritage hotel although one part is occupied by the royal family who still run the place. The hotel's "faded elegance" adds character although it's more than a little threadbare around the edges, but the warm hospitality of the staff makes up for it. While the food wasn't particularly memorable, eating breakfast on the expansive lawn amidst the monkeys, parakeets and peacocks who stroll through the garden, the masala chai brought to me by a red-turbaned waiter straight out of a Merchant Ivory film will always stick in my memory.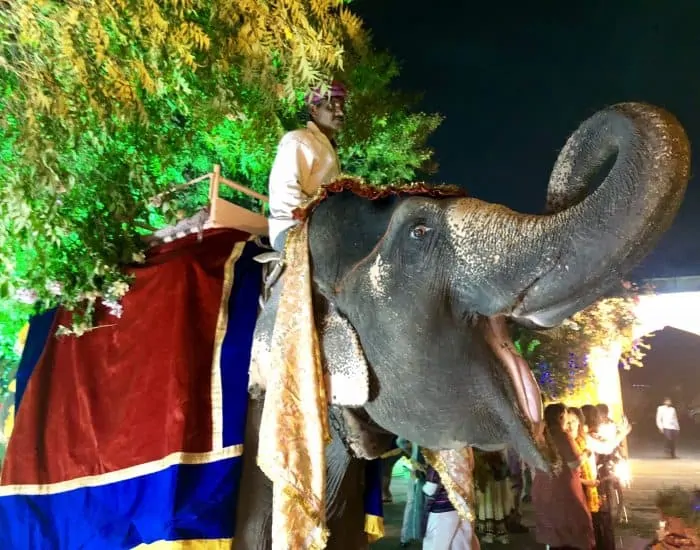 They really pulled out all the stops for Diwali, which included a zillion oil lamps, fire dancers, elephants, and dramatic fireworks that exploded long throughout the night.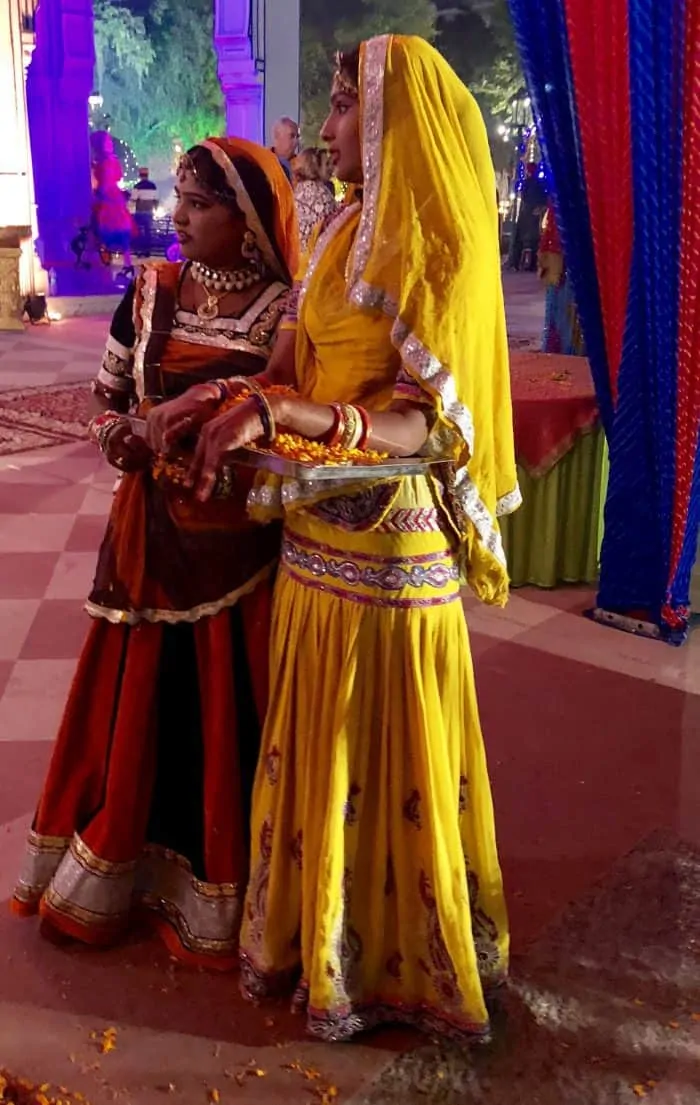 The next day we had Bollywood dance class, led by two very hipster dancers, which was a complete hoot and has become my new go-to cure for a hangover.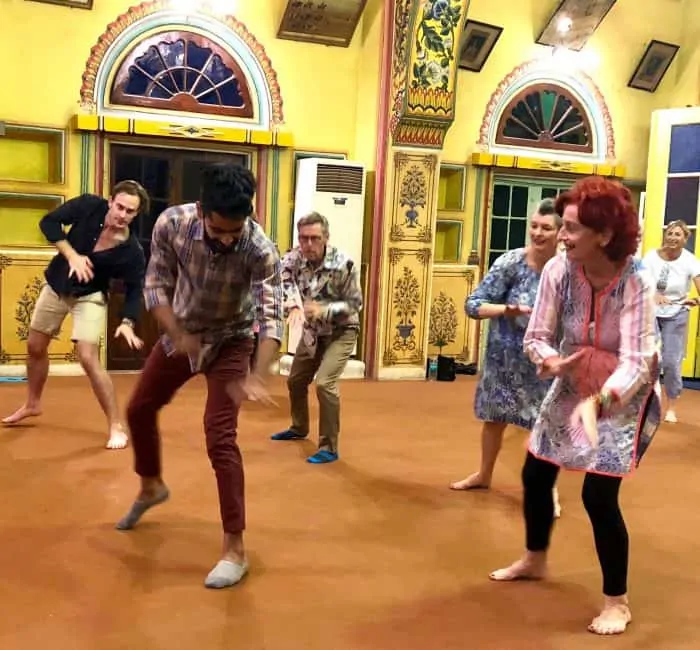 After watching the video and you'll understand why none of us decided to quit our day jobs.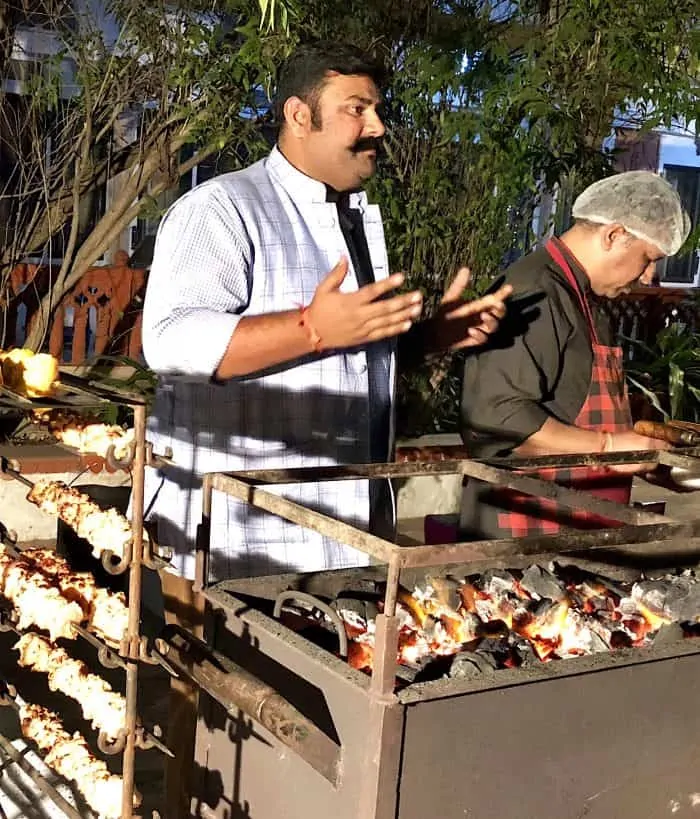 Afterward, we trouped out to the garden for an al-fresco, chicken, fish and paneer (cheese) Tandoori dinner complete with some helpful how-to suggestions from the chef.
Insider Tip:

We couldn't figure out the mysterious sweet/salty/tangy flavor on the paneer until the chef shared the secret ingredient which was a sprinkle of Everest Chaat Masala, a marvelous blend of about 15 spices.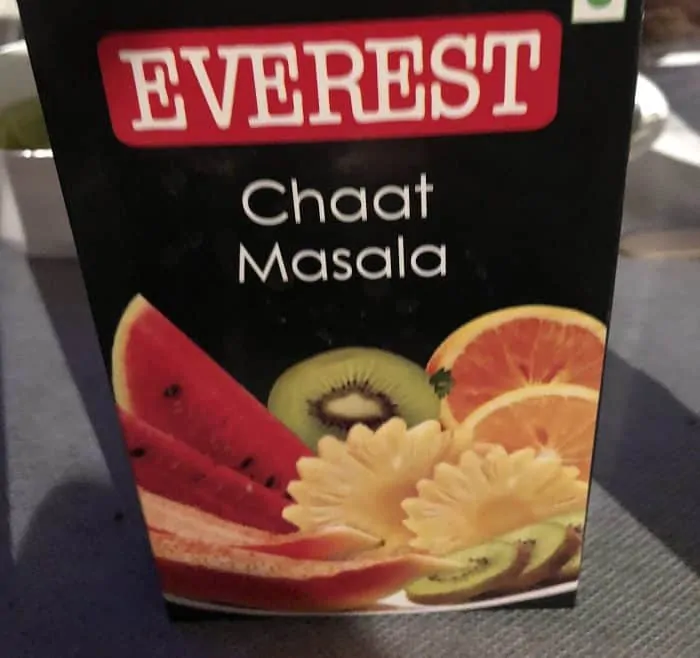 I just found it on Amazon! (see photo link above)
Free-Time Suggestions: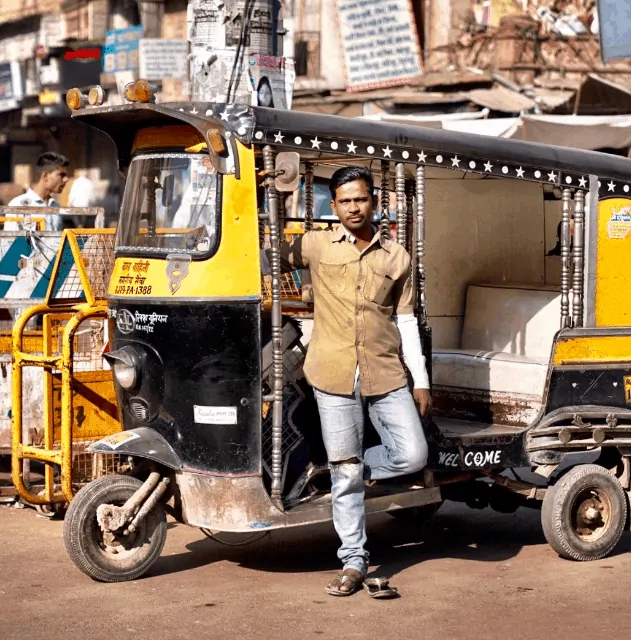 Hire a tuk-tuk or even easier, take a guided tour to explore the capital's gems, starting with the pretty-in-pink, honeycomb facade of the five-story Hawa Mahal (Palace of the Winds) which features almost a 1,000 tiny windows, through which the ladies of the court could peek out onto the streets without being seen.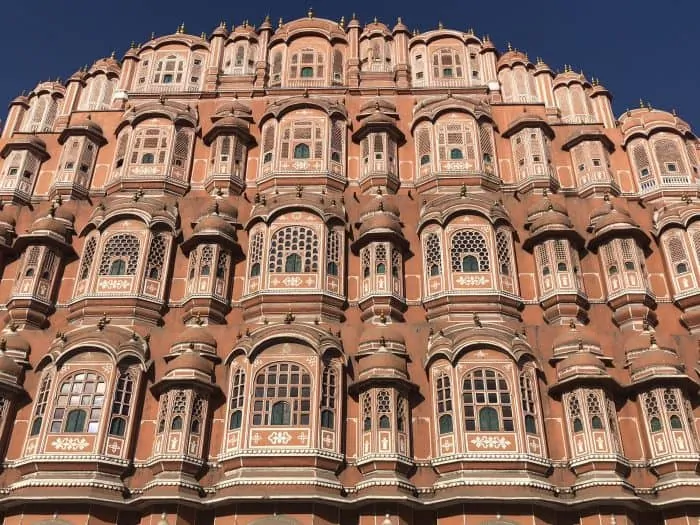 FYI: Jaipur is known as the "Pink City" because back in 1876 the reigning maharaja had all the sandstone buildings painted pink, a color that symbolizes hospitality, to welcome a state visit from Prince Albert.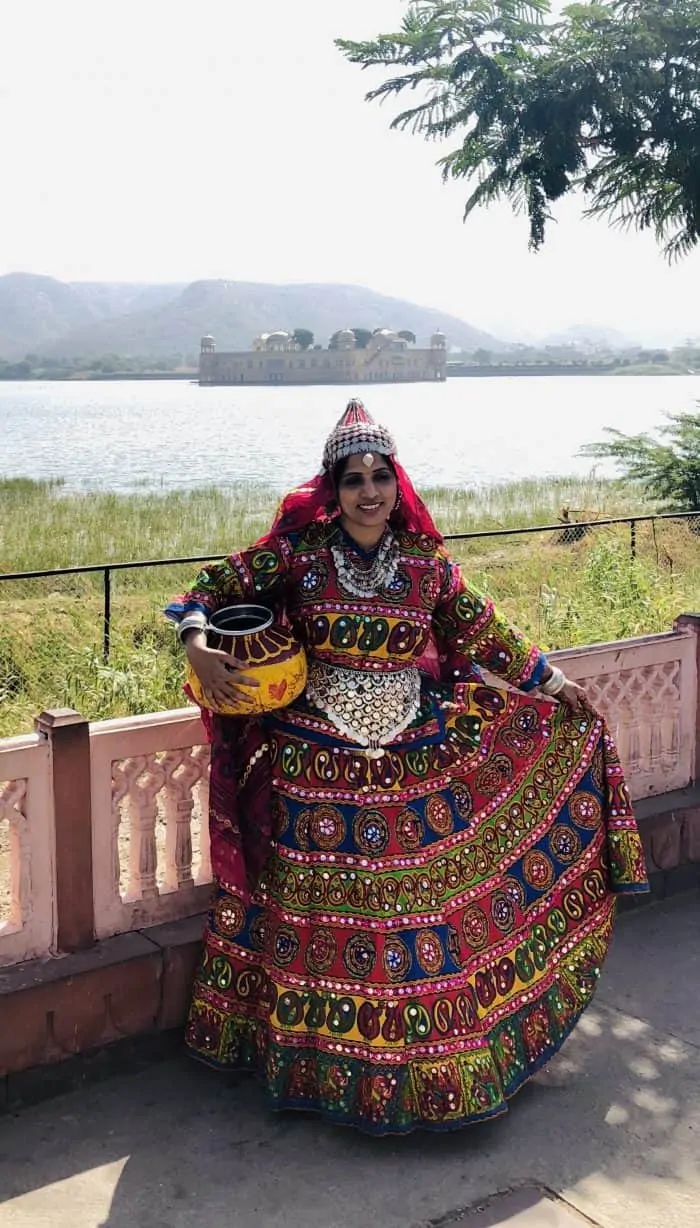 Stop for a selfie at the beautiful 18th century Jal Mahal (Water Palace) which is located in the center of the Man Sagar Lake before heading to the 16th-century, sandstone, hilltop Amber Fort, a primo example of Rajput architecture.
Search out the Sheesh Mahal (Palace of Mirrors) an open-air hall decorated with swirling patterns of colored glass and tiny mirrors that sparkle like thousands of stars under candlelight or i-phone flashlight.
Nowhere near as cerebral, but just as popular is the shopping here! For some incredible bargains shop Jaipur's Old Town, starting in the bustling Johari Bazaar, which offers a myriad of souvenir choices.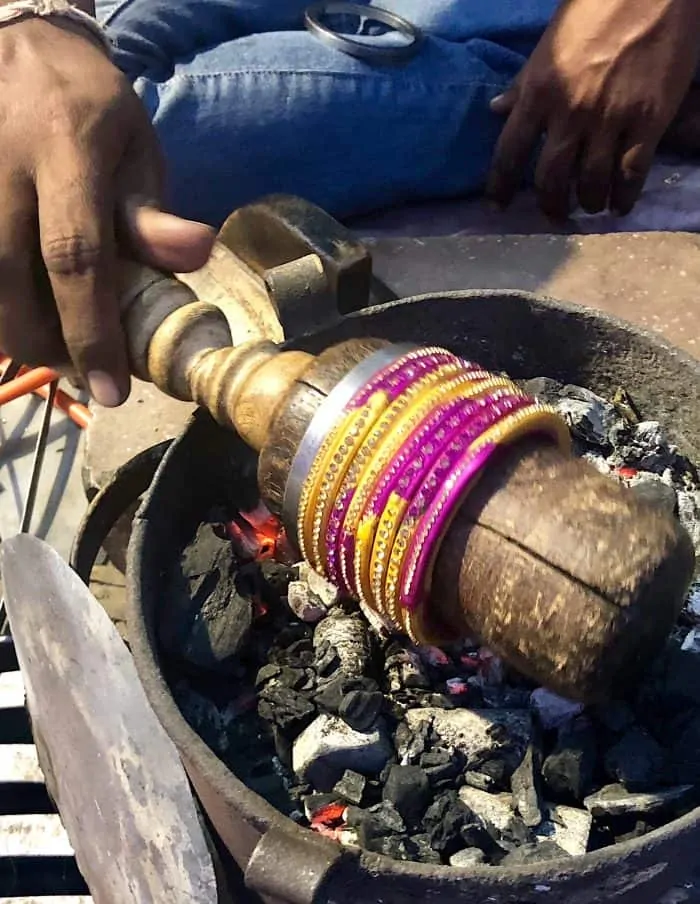 The inexpensive, colorful lakh bangles, made only in Rajasthan, make perfect gifts and you'll find whole lanes dedicated to them. If you're more a Tiffany's kind of gal, head to the famed Gem Palace, where British royals and countless celebs such as Mick Jagger and Jackie O shopped.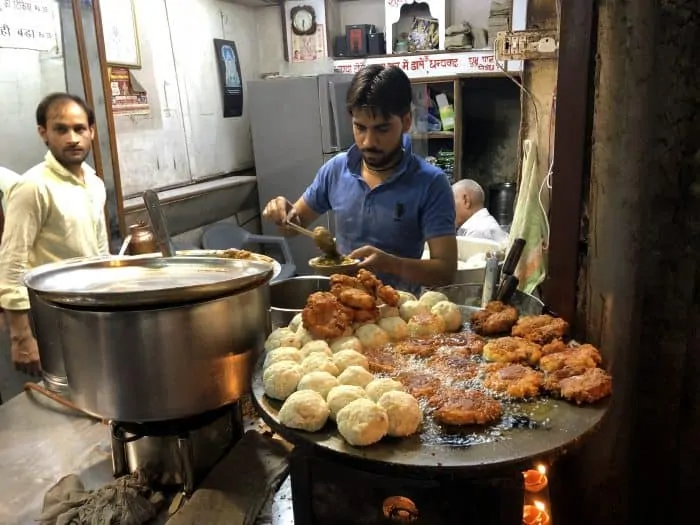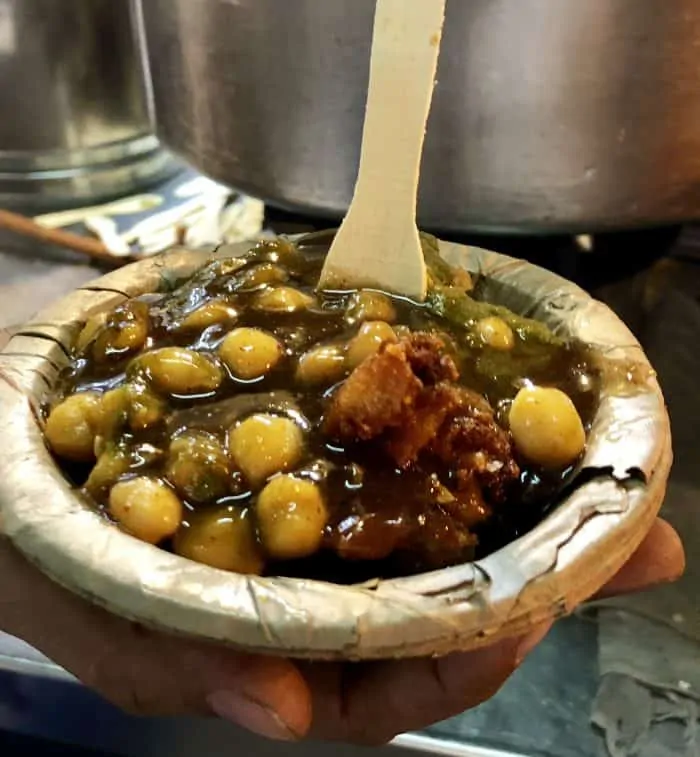 If you're keen on sampling the street food one way to safely partake of some addictive snacks, is to sign up with native foodie, Payal, who offers a tasty, fun-filled "Discover Local Street Food" on Eatwith.
Insider tip:

You'll need to make an appointment in advance (and trust me you really want to do this) to visit Gyan, a simply stunning new minimalist museum by French designer, Paul Mathieu. The museum is dedicated to an extraordinary collector and gemologist, Mr. Gyan Chand Dhaddha (1940-2004).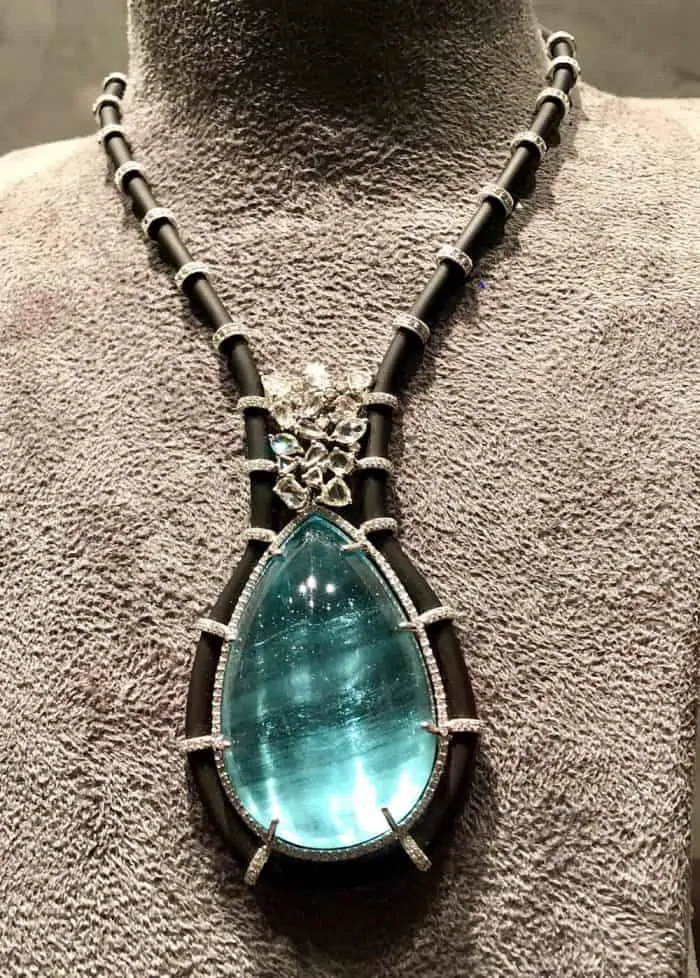 It was opened by his sons to showcase the tapestries, eclectic antiques, priceless jewelry (including a four-strand necklace laden with 650 carats of Burmese rubies) and an exquisite collection of silver hookah mouthpieces lovingly amassed by Mr. Gyan during his lifetime.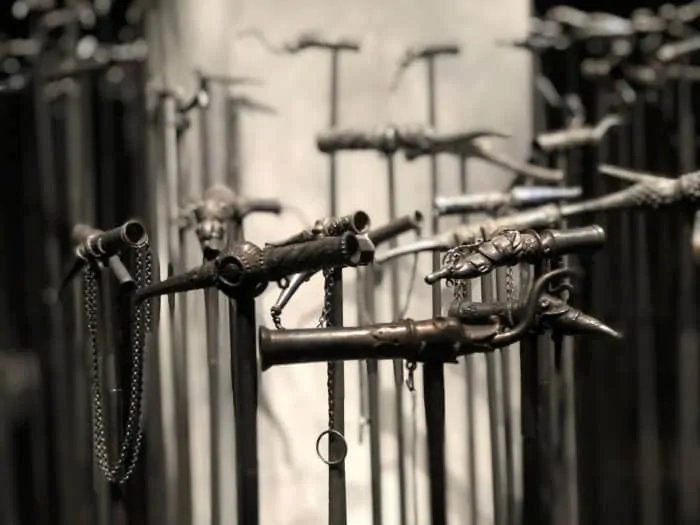 By appointments only: Gyan Museum Jaipur.