More power. More connectivity. More to like.
Sonos has updated its Connect:Amp and it's all about more. Renamed simply "Amp" the new smart amplifier will, of course, work as before with the Sonos app for both iOS and Android, but now features a slick new minimalist design, and a bunch of new features that should satisfy those who take their audio pretty seriously — though still likely not to appeal to hardcore audiophiles.
Priced at $599 (USD) the Amp might seem pricey in this era of $49 tiny smart speakers, but dig in and you'll find a strong offering that appeals to more than casual users, especially for Sonos fans:
Rated at 125W per channel, or 2x the power of the previous Connect:Amp
Supports AirPlay 2 so you can now stream music through your iPhone or iPad
HDMI (with ARC support) for connecting a TV
Given the resurgence of vinyl and record players and the growing community focused on high fidelity listening spaces, Amp could have a lot of appeal for those looking to power speakers without having to buy a traditional — and bulky — audio/video receiver (AVR), and still have access to the latest streaming services and modern functionality provided by the Sonos app.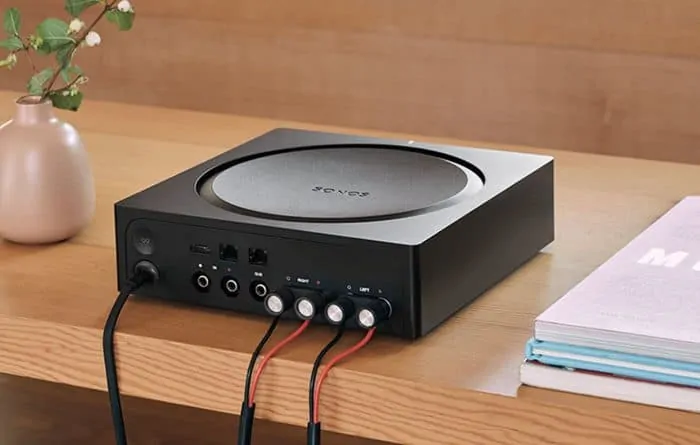 Those who prefer to let their AVR do the heavy lifting in terms of amplification (I'm one of them) will likely still want something like the older, and less sexy looking, Connect ($349). That module essentially brings Sonus capability to existing home hi-fi setups as opposed to the Amp which is focused on an all-in-one mimalimist solution.
I continue to follow Sonos with great interest. Given the (rapid) success of the smart speaker market, led predominantly by the likes of Google (Home, Mini, Max, Hub) and Amazon (Echo, Dot, Show) with their massive R&D budgets focused on AI and machine learning, how can a smaller company like Sonos expect to survive long-term?
Steering efforts towards niche markets like those interested in higher fidelity is one idea.
Perhaps, though as I've said before here on Stark Insider, an acquisition will eventually be in order. Sonos has such breadth in their Sonos App — far more than what you can currently find in the Amazon Alexa or Google Home apps, though the gap is closing — that it would be ashame to lose the vast functionality you get from a home audio system based on Sonos.
Sonos Amp costs $599 and is available via the Sonos web site. All you need to bring are wired speakers of some kind — in-wall, outdoor, bookshelf or in-ceiling.