YouTube TV is here in a big way. For $40/month you essentially get a package of channels that would've cost about twice as much in the old days of satellite and cable. Cord cutters looking for a comprehensible lineup of content could do well to place the service on their shortlist of services.
All the majors are here including CBS, ESPN, FOX, and NBC. Enter your zip code on the YouTube TV web site and you can also see a list of local channels, which varies of course depending on where you live in the U.S.
In total, Google says that YouTube TV offers live TV from over 60 networks today, including live sports and local news. Unlike days gone by, there are no contracts. You pay $40 per month, and can cancel anytime (similar to what lower-cost Sling TV offers).
As you might expect, Cloud DVR means you can record shows, and stream them at your convenience — and there's no limit or space restrictions of any kind to worry about.
Families are covered too. Up to 6 accounts — "share with your tribe" — can be created per household. Login and you'll see your personalized version of YouTube TV, along with your own DVR content.
Overall, it's a pretty compelling offering.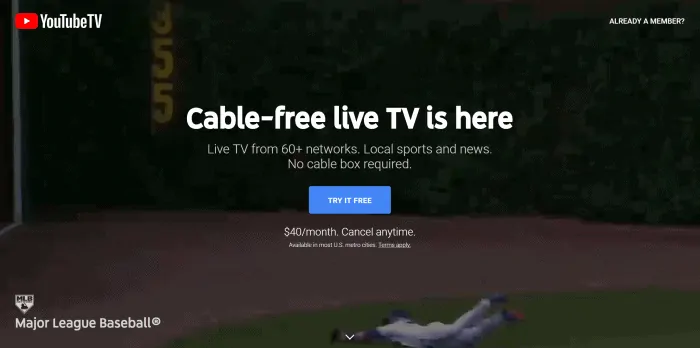 Perhaps most concerning to the old school competition — namely DirecTV, Comcast, and Dish Network — is that new data suggests that not only is Google attracting eyeballs to its new service on mobile phones, but it's also seeing inroads in the living room. At a trade show last month, Google revealed that usage of the YouTube platform on television sets was up 45% in the European Union. That's pretty impressive. And I'd expect similar metrics too Stateside.
Google has a huge competitive advantage:
Android.
The operating system can be found just about everywhere: cars, tv sets, appliances, streaming set top boxes, tablets, and, of course, on mobile phones.
Android gives Google a huge platform to push out content to users. Given that YouTube is the video platform of choice by a long shot, and you have the perfect one-two punch to possibly knock out the (staid) satellite and cable players.
Search and AI (artificial intelligence) are icing on the cake. Both are key Google strengths and enable the company and services such as YouTube TV to surface relevant viewing recommendations — something that end users value when browsing across a seemingly infinite choice of content. If the future for the living room is centered around not only content, but also powerful software algorithms and apps, then I'd place my bet on the likes of Google (and Apple and Microsoft and Amazon) over, say, Comcast or DirecTV.
Major partners are on board including Samsung, LG, Vizio, Roku, Apple (with Apple TV and iOS), and Microsoft (with Xbox).
YouTube TV is here. I think there's no turning back.