The Nest of the Cuckoo Birds is definitely not a classic, not by any stretch. But after watching the 1965 black and white mystery, psycho-thriller, I must admit, it certainly has a lot of interesting elements, possibly charm and definitely camp.
Written and directed by Bert Williams, the film may have been forever lost. However, apparently a print was found in an abandoned theater house — how appropriate, to further galvanize its lore — and then director Nicolas Winding Refn (Drive, The Neon Demon) had the good sense and will to restore the film and share it with the world. You can now watch Nest of the Cuckoo Birds, and other obscure titles, thanks to Refn's new streaming platform byNWR (it's free, you need only register your email).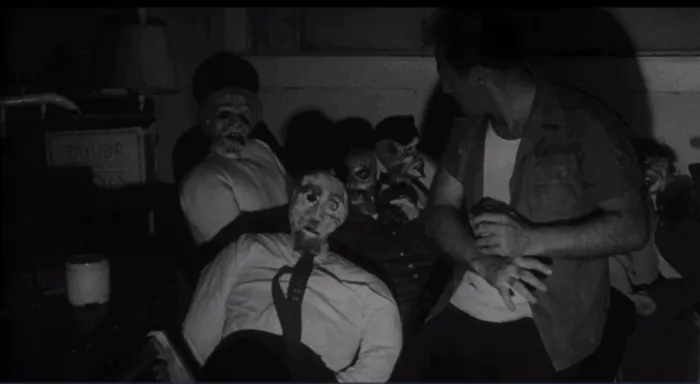 The story is confusing to say the least. Essentially a masked female killer, who operates only at moonlight, is lurking on the beach at moonlight on unsuspecting prey. An unwitting liquor control agent (played by Bert Williams himself) stumbles upon the Cuckoo Bird Inn (love it!) run by an eccentric showgirl — who just so happens to keep her daughter locked away in the attic, occasionally visiting her to deliver a good whipping and tongue-lashing. Oh, there's also a caretaker who happens to be a taxidermist. Yes, there's hints of Psycho all over the place.
As you might expect, there's a climax. The killer is revealed. Which is supposedly a big shocker. Even the marketing promos — bloodthirsty! raw! — were pretty confident in their trickery. "We defy you to guess… the KILLER" one reads. Well, I'm bad at these things. I guessed. I was right.
Nevertheless that's not the point. For me, the experience of watching lost films like these is to soak up the atmosphere. And to put my self in the shoes of the filmmaker. What was he trying to achieve? Why did he, and the (very small) team decide on certain things… like the swinging Mango Tree-like (Dr. No) music, or the editing style which is brisk, and often abrupt, or the masks, or the various sets, and on an on.
Stark Naked Drama. Sadism. Horror. Moonshiners. Stripped Naked Raw Drama. See Sadism-Sin.
That Nest of the Cuckoo Birds was a labor of love for actor/editor/producer/writer Bert Williams is evident. Part of the thrill of watching someone take on so many roles, on such a small budget ($127,000 according to IMDB, which, thinking about it further, may be not so small for 1965), is to see if they can pull it off. In this case, the result is a mixed bag. Based on a bit of Googling I discovered that a film reel was lost during production. Re-shoots were not possible due to budget constraints. Hence, the storyline kind of jumps around. Either way, it's worth checking out, and, in the end, is a bit of a meandering hoot. You can't deny there's atmosphere and a certain amount of style.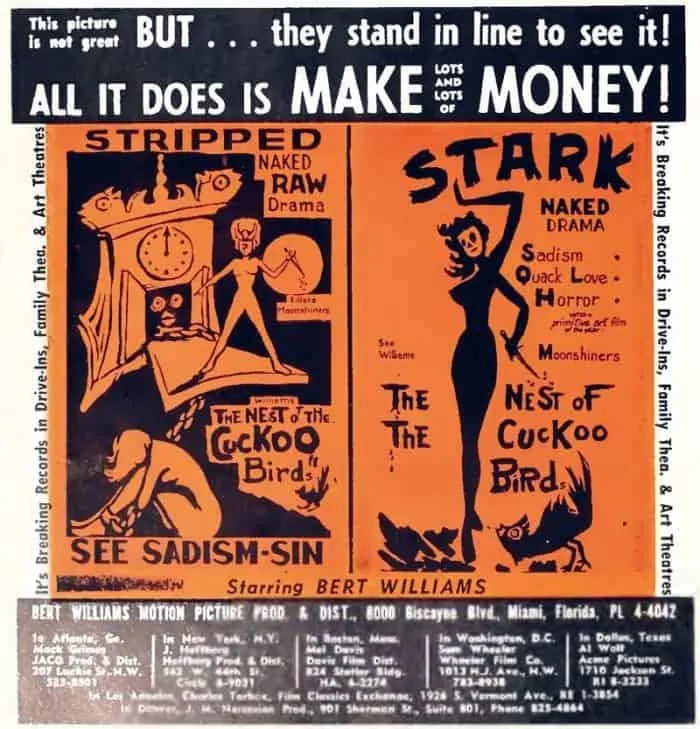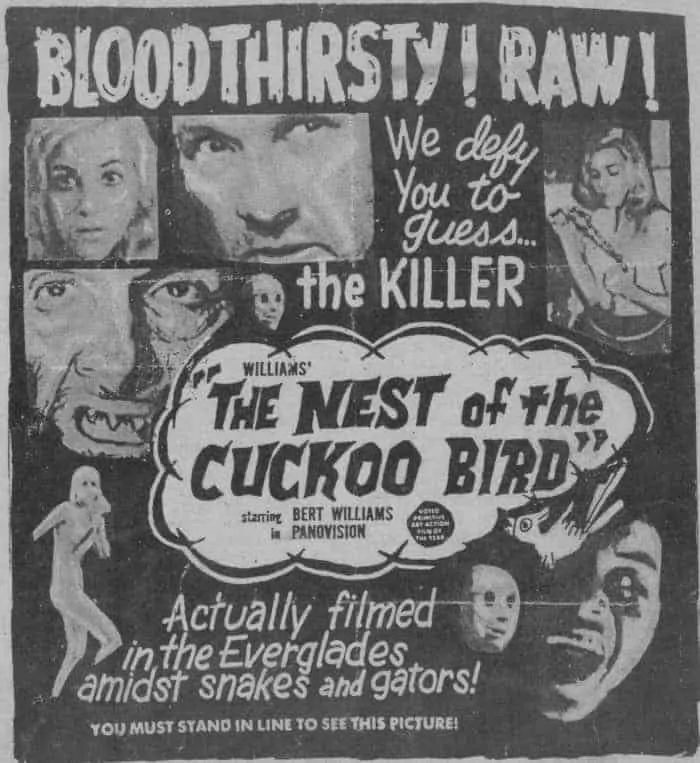 Perhaps the best part, though, of Nest of the Cuckoo Birds is the marketing materials. By today's standards you'd think this thing was a pure act of depravity:
Stark Naked Drama. Sadism. Horror. Moonshiners. Stripped Naked Raw Drama. See Sadism-Sin.
Wow. Bring it Bert Williams. Of course, in the end this was 1965. Shock factor today is something far less, but not without plenty of amusement.
Out of all that, this one zinger especially had me grinning:
Quack Love.
Yes, there's everyday love. Revenge love. Sad love. Crazy love. Happy love. Then there's… quack love! Run for the hills!
ALSO SEE: "Bert Williams: Stark Raving Drama" by Bob Mehr (via byNWR)
The artwork I found around the web for Cuckoo Birds is, well, pretty cuckoo, and priceless. The image of the masked woman with the knife is just pure cinema gold. Ah, an era goneby: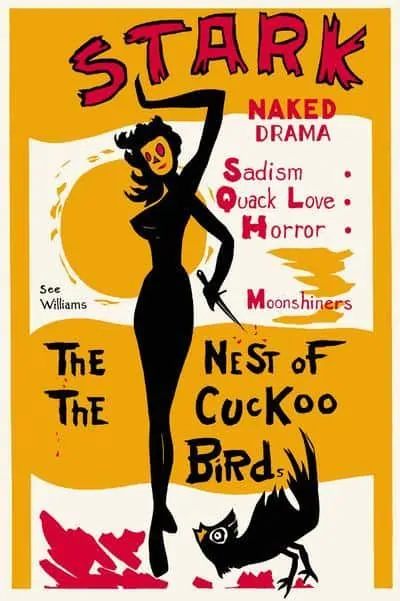 The Nest of the Cuckoo Birds is the kickoff film in Volume 1 Regional Renegades (with introduction "A Box of Bad Dreams" by Jimmy McDonough) of Nicholas Winding Refn's streaming exploitation film project. Others "chapters" include Hot Thrills and Warm Chills (1967), and Shanty Tramp (1967).
In the decades following its last public screening in 1967, The Nest of the Cuckoo Birds would develop a quasi-mythic reputation. This was largely due to the scarcity of the film. Likely only a handful of prints were ever made, and all of those disappeared from circulation and never resurfaced in any form.
– Bob Mehr, "Bert Williams: Stark Raving Drama"
In September, Volume 2 Missing Links arrives with the seminal Night Tide (1961) — a fantastic arthouse film, featuring a riveting performance by a young Dennis Hopper — followed by If Footmen Tire You, What Will Horses Do (1971) and Spring Night, Summer Night (1967).
It's all just too much fun. Plus, on the serious side, these film treasures have been restored and, fortunately, can now be seen by a new generation of film fans.
The Nest of the Cuckoo Birds

3 out of 5 stars

Quirky and visually interesting drive-in film. Not nearly as accomplished as, say, Night Tide, but nevertheless a film definitely worth watching if not for experiencing Bert Williams' curious, stylish vision come to life devoid of studio restraint.

byNWR.com streaming platform for lost films

5 out of 5 stars

Beautifully designed web site with troves of interesting articles, art, and videos associated with each lost film. It's like experiencing a first rate art installation.