A new report reveals that the Tesla Model 3 outsold both the Mercedes C-Class and BMW 3-series in Q1 2018.
Although the results on reflect sales in California, they suggests that, despite production blips here and there, this could indeed be the car that takes Tesla to the mainstream across the country.
Then again, it's important to keep in mind California has typically been a hybrid and electric friendly State when it comes to sales. About two-thirds of all Priuses are sold here. And Teslas are also very popular. In the Bay Area the Model S, Model X and Model 3 are all easy to spot on any given day, especially up and down Highway 101 between San Francisco and San Jose.
Electrek — great web site for following news on the electric vehicle market — posted share numbers via the California New Car Dealers Association (CNCDA) that look like this in California for Q1 2018:
Tesla Model 3 14.3% (3723 registrations)
Mercedes C-Class 12.7% (3323)
BMW 3-Series 12.5% (3260)
Lexus ES 7.8% (2024)
Infiniti Q50 7.4% (1944)
Given the traditional domination of the popular C-Class and perennial Car & Driver 10 best 3-series, there's no other way to interpret this result as simply incredible.
Trend wise, Tesla Model 3 share is looking to be moving in the right direction if you're Elon Musk and team: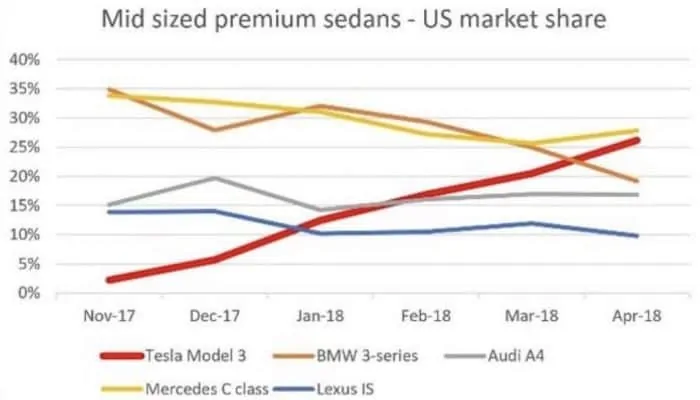 This is only about 7 month's worth of data, but if I were the competition — namely BMW, Audi, Mercedes, and Lexus — I'd be paying very close attention.
Though I've been perfectly happy with my 7-year old Prius (incredibly reliable) I'd have to say if I were in the market for a replacement, the Model 3 would be high on the list. If not alone on that list. Just not having to take the car in for the time sink that is the SMOG check would be pleasure enough; let alone not having to visit a gas station ever again or worry about oil changes and overheating radiators.
Finally, another whopper: Tesla has over 450,000 reservations for the 3. If Musk can hit his goal of 5,000 units per week, tablecloth math says that it would take Tesla 90 weeks — or just over a year and a half — to flush the backlog. And that, of course, is not including new orders.
An electric car revolution?
There may still be concerns regarding cash flow and production hiccups. Still, I'd wouldn't bet against the automotive future to be anything but battery operated. The ICE may sputter, and congest the air, for some time to come. Its days, though, appear to be numbered.