If all goes to plan, the Hydrogen One phone will be available in August on both AT&T and Verizon.
Nothing really special about yet another smartphone making it to two of the largest carriers in the U.S. Unless, of course, you're Irvine-based RED.
Jim Jannard's company famously disrupted the cinema camera market about 10 years ago with the introduction of the modular and relatively low cost RED One. In recent years its expanded its line with a second generation design (Digital Stills Motion Capture or DSMC2) with models starting as low as $12,500 (USD).
So with the mysterious Hydrogen One you can expect something out of the ordinary.
In this case, the wow feature is holographic capture (4V) and display technology. Early reactions of those who have seen it in action — including actor Brad Pitt and director David Fincher — have had overly positive, and even, astonished reactions.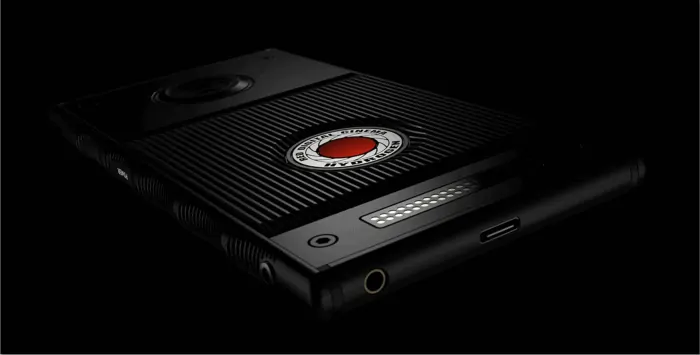 We don't know all the details yet, but aside from availability on AT&T and Verizon we do know the phone starts at $1,200 and is built on Google's  Android operating system. Another important feature is its modular design. Much like its big brother cinema cameras, like the RED Epic and Dragon, expansion ports will enable customers to built out the camera to suit their particular projects. One module that Jannard has revealed is for shooting in real-time 4V. It's going to sell for "$750-$1,000."
Other bits of information and specs that we know so far (as posted on the REDuser forums):
5.7-inch screen with resolution of 2560×1440
4V holographic mode that doesn't require glasses
Pogo pin system for expansion
Qualcomm Snapdragon 835
Unlocked or carrier specific
Battery is 4500mA
RED will be hosting a preview (not an official launch event) of the Hydrogen One at their Hollywood studio on May 19.
For me, the most interesting feature may well be the idea that I could use a portable device to capture Redcode (.r3d) without the need for always lugging around the Scarlet-W. I love shooting RED when possible, but sometimes it doesn't do your back and favors when trekking on locations — though a lot of that has to do with the rigging, adding things like big batteries and lenses and tripods, etc. 4V and holographic sounds interesting, but I'd be happy having a low cost way to capture footage that could match my other camera. For now, when I need a compact shooter I use the Panasonic GH5… or just my iPhone.
In addition to founding Red Digital Cinema, Jannard famously grew Oakley to become a major force in the sunglasses market. This is a guy with an appetite for disruption. We will know soon enough if lightning will strike yet again.