Lucid is building a crazy sounding 8K 3D/4V camera that will work with RED's upcoming Hydrogen One phone.
Has Red Digital Cinema Camera Company been busy or what?!
Yesterday, the maker of cinema cameras used broadly in the film and television industries, re-tooled its camera line-up and naming conventions. The simplification means RED is only selling one brain type, the DSMC2. Buyers then choose 1 of 3 available sensors and price points, from a whole lot of ouch to somewhat less ouch: Monstro 8K VV at $54,500; Helium 8K S35 at $24,500; and the new Gemini 5K S35 for $19,500. Expect total costs for fully ready packages to add $10,000-20,000 (USD) depending on the project.
Then, founder Jim Jannard teased a potentially groundbreaking device at their Hollywood studio last week for journalists. It's called Hydrogen One and it runs on Google's Android OS. But, that's where most similarities between One and any other conventional phone ends. Hydrogen, which features a modular design, will sport a never-before-seen (at least not in the consumer market) holographic capture and display capability. And that's where the next bit of news comes in.
Today, RED partner Lucid revealed it is making a "next generation" prosumer 3D/4-View (4V) camera for — get this — 8K video and image capture. From my understanding, this will be the first camera of its kind. And it will be designed specifically for the Hydrogen One phone.
Per the press release:
"The new RED camera is powered by Lucid's real-time 3D Fusion Technology, transforming the time and processing-intensive 3D/4V workflow into an instantaneous point-and-shoot experience users crave. The look and feel of the new camera sticks to RED's previous designs, but this time it has two perfectly hardware-synced 4K cameras which leverage a beam splitter to capture and convert the output to 8K 4V (.h4v) files. Once the content is created, all the high resolution 3D/4V videos and images can be distributed on YouTube and Facebook as well as through RED's curated content universe."
If all comes to fruition as planned, this could be a market changing move. Keep in mind, RED and its partners have managed to do this all before. Back in 1999, know one suspected the RED One camera could have the kind of impact it could on TV and film production. Yet, Stranger Things have happened. Indeed that's just one of hundreds of shows shot on RED.
Santa Clara-based Lucid already has significant in experience in this space. Most notably it sells the VR180 3D LucidCams through Amazon. So this partnership between Lucid (consumer) and RED (professional) could make for an interesting and powerful combination. Here's a look at Lucid's upcoming camera system: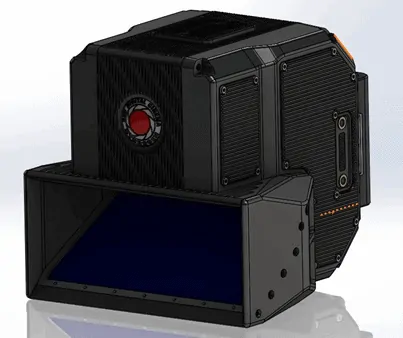 (more photos below)
"This partnership allows us for the first time to deliver the highest-quality 3D capture to our customers, and now they can view the content immediately in 3D/4V without headsets," said Han Jin CEO and co-founder, Lucid. "At a time when two of the biggest challenges in the industry have been resolution and easy viewing of 3D content, we believe this is the solution everyone has been waiting for."
No pricing has been announced (though we do know the Hydrogen phone will cost about $1,300 via RED), but Lucid says it will ship Q4 2018.
No doubt, interesting times.
We will know soon enough if this forever alters how we capture, view and share content. It all sounds fantastical and promising.
But there's a difference between building this kind of technology and actually winning over (many skeptical I'm sure) consumers who might balk at spending extra money for technology that is a "nice" to have.
Me? Well, I'm an early adopter kind of guy as those who drop in to Stark Insider time to time probably ready know. Count me as eager and hopeful that the Hydrogen and Lucid camera projects come together successfully.
First Look: Lucid 3D Camera for RED Hydrogen One phone
Photos courtesy Lucid.