"2018 will be a good year for the wine industry…"
Rob McMillan, founder of Silicon Valley Bank's wine division, should know. He's been heading up these annual reports that dig deep into trends, sales, and markets to forecast what's to come for as long as I can remember.
The "State of the Wine Industry 2018" — now in its 17th year — can be downloaded today from SVB (alternate download location here just in case).
"The successful wineries 10 years from now will be those that adapt to a different consumer with different values – a customer who uses the internet in new and interactive ways, is frugal and has less discretionary income than their generational predecessors," notes McMillan in the accompanying press release.
As usual there's lots to digest. All told the report is 45 pages long and features 9 sections. Likely of most interest to industry prognosticators and for those who just enjoy tracking the wine market in general include:
2017 predictions in review (and it must be said: how satisfying that a report would talk about what they got wrong!)
2018 wine business predictions and observations
Evidence of changing consumer preferences
Generational changes and wine demand
Direct-to-consumer sales
Retail evolution
Harvest, bulk wine and land
As I've done in the past here on Stark Insider I'll try to distill the top 10 takeaways for those who prefer a cheat sheet of sorts.
Top 10 takeaways from the Silicon Valley Bank (SVB) 2018 wine report
1. Wine is at the tail end
Per the report, "The US wine industry is at the tail end of its largest growth period in history." This surge in wine volume began in 1994 (see chart below). You can now see a flattening and we're urged not to expect a repeat performance in growth over the next 20-years.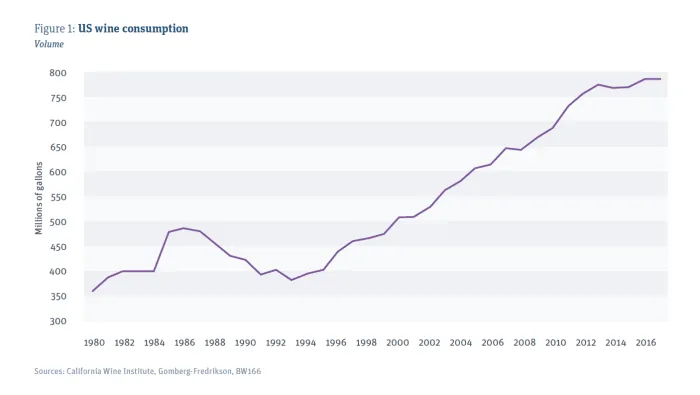 2. Premium wine sales will cool off, but outpace overall industry growth
Sales will rise 2-4% this year for the wine industry overall. Meanwhile the premium segment (bottles costing $10 or more) will beat that, at 4-8%, but that's down from the predicted growth of 10-14% for 2017. To be clear, as reinforced in the predictions review section, McMillan notes that, "sales are still increasing, but growth rates are slowing."
3. Baby boomers are consuming less as they age
A bit of a surprise here — isn't wine the cherry on top of retirement?
Maybe so, however a fixed income does tend to impact spending patterns. For this demographic that means, predictably, moving away from high price points.
Expect the "Gen X cohort" to surpass boomers around 2021 and to "become the largest fine wine consumer demographic in the US."
 4. Millennials are having a positive impact
At the lower-priced segment, at least, Millennials are migrating away from red blends and introductory wines, both foreign and domestic.
So maybe the cocktail threat isn't as big as expected? Hard to say, but at least it seems this generation is not abandoning wines as an adult beverage possibility.
5. West Coast yields are expected to impress in 2018
For California, SVB Wine expects a total crush of about 3.8 million tons of grapes — a bit more than what was seen last year. Meanwhile if these forecasts turn out to be accurate, the Pacific Northwest will set another yield record.
6. Anything, but Chardonnay you say? Not so fast…
It might make for a catchy — if tired — catch phrase, but Chardonnay is apparently doing fine thank you very much. The wine is "demonstrating strong demand." I suspect this is good news for California producers, as many allocate substantial blocks to the most loved and most revered of white grapes.
Cabernet Sauvignon, the leading varietal by far is facing flat to downward pressure. Meanwhile, Chardonnay still holds second place in terms of sales volume, followed by red blends, Sauvgnion Blanc, Pinot Noir and Pinot Grigio. Trailing the leaders by a significant margin include Merlot, Moscato and Zinfandel.
7. Wineries are depending less on sales to restaurants each year
Traditionally, restaurants represent a good selling opportunity for wineries, especially so for larger ones. However, that appears to be changing. The SVB report indicates that for small wineries, sales to restaurants have been in decline for the past decade. Declining bar tabs is one reason for that. Also, there is a general decline in the overall number of restaurants in the US (about 620,000 as of Fall 2016).
8. Top brands feature many familiar names
All brands / Brands > $20, top three leaders in each category
Cabernet:
Josh Cellars / Caymus Vineyards
Robert Mondavi Winery / Jordan Wineyard & Winery
Black Box Wines / Justin Vineyards and Winery
Chardonnay:
Butter / Rombauer Vineyards
Josh Cellars / Sonoma-Cutrer Vineyards
Black Box Wines / Frank Family Vineyards
Red Blends:
Apothic wines / Cooper & Thief Cellarmasters
Roscato / Conundrum Wines
19 Crimes / The Prisoner Wine Company
Sauvignon Blanc:
Kim Crawford Wines / Duckhorn Vineyards
Whitehaven / Cloudy Bay
Prophecy Wines / Cakebread Cellars
Pinot Noir:
Meiomi Wines / Decoy Wines
Black Box Wines / J Vineyards & Winery
Prophecy Wines / Flowers Vineyard & Winery
Pinot Grigio
Bota Box / Santa Margherita
Black Box Wines / Livio Felluga
Prophecy Wines / Jermann
9. Where does the consumer push the growth curve next?
In the face of the red blend trend McMillan is betting on "Oregon pinot noir, $15 to $25 limited-production domestics and premium foreign wines."
 10. Amazon effect
Today e-commerce represents about 10% of total US retail sales. Amazon accounts for 50% of that.
Many wineries have gravitated towards direct-to-consumer (DTC) sales, only 3% (!) of winery sales are "true online purchases." This seems to be a huge opportunity — apparently so far a missed opportunity — for wineries looking to brace for the Amazon effect (among other large online retailers) and to help establish important new revenue channels.