Game of Thrones and Stranger Things are, as we all know too well, terrific shows. But here's an idea if you want to switch gears one evening, and perhaps take a break from narrative and dive down the rabbit hole that is pure creative inspiration.
Created by Wired former editor-in-chief Scott Dadich the show is called Abstract: The Art of Design.
The design of the show itself, like its subject matter's work, is breathtaking.
The first episode from the documentary series premiered last year (2017) at Sundance. Netflix is now streaming all 8 episodes from season 1. I highly recommend you seek them out.
Each episode highlights a prolific designer in their particular field such as shoes, stages, automotive and interior design. I think there's enough here to appeal to those interested in the creative process behind some fairly esoteric career choices — these are far from the standard start-up tech jobs you find around here in the San Francisco Bay Area, that's for sure.
In episode 4, for instance, we get a riveting look into the groundbreaking, modernistic world of Bjarke Ingels — Inception style, thanks to his fun, opening BTS suggestion which the director runs with in entertaining fashion. At only 41, the renowned architect has already left an impressive artistic mark on the world. Starting in Copenhagen his daring and innovative, eco-friendly building designs transform otherwise bleak and predictable skylines. Such is his success that you can now (or soon can) see his work here in the U.S. on high profile projects such as 2 World Trade Center, the new Google HQ and Washington Redskins stadium, in addition to residential structures in New York City (Via 57 West, see photo below).
Abstract enables us to get inside Ingels' mindset as he doodles and brainstorms with small teams. Seeing the idea develop is fascinating. When the physical result is unveiled, an in his words it "looks effortless" you realize not only the amount of labor intensive work required to build the structure, but also the unbounded enthusiasm and energy to break down the norms of traditional design. At once it boggles and inspires.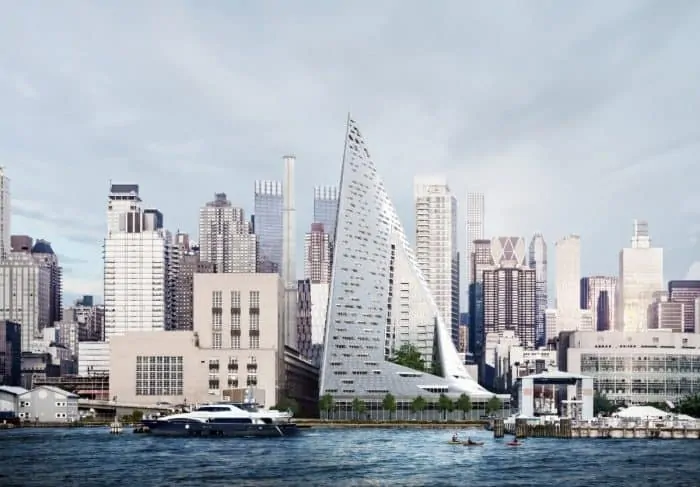 Other episodes feature other remarkably talented and accomplished designers: illustrator Christoph Niemann; shoe designer Tinker Hatfield (most known for his work at Nike); and stage designer Es Devlin who bears a striking resemblance to the late Amy Winehouse (Devlin's work for U2 and Beyonce and Kayne West is simply mind-blowing). I haven't had the chance to watch past episode 4, so I've yet to see the rest: auto designer Ralph Gilles; graphic designer Paula Scher; photographer Platon; and interior designer Ilse Crawford.
But there's even more to enjoy about Abstract.
And that's the design of the actual show itself. In a word: breathtaking.
It's evident that the people behind this show greatly respect the subject matter.
Not only do we get to savor the designs of these luminaries, but we also get to enjoy — as is often the case these days with slick Netflix production values — a very artistic, modern, and often even edgy presentation. Spoken words tell us one thing, and while often the visuals are in lock step, other times they are feeding us juicy metaphors or allegory. Wonderful stuff. It's evident that the people behind this show greatly respect the subject matter. So much so that each 40-minute episode is like a two-fer. You get creative inspiration from the designer itself. And, if you're into video and learning about filmmaking, you get a masterclass in editing and cinematography.
So far there's only one season of Abstract. I'm hoping for more, but can't seem to find information as to the future of the series.
Official Trailer: Abstract: The Art of Design (Netflix)
I suspect a show like this flies below the radar for most viewers. Netflix is now a land of giants. Big budgets are the new norm for streaming these days. Amazon Prime and Netflix and Hulu and HBO and others are locked in an epic battle for a new generation of viewers. The big winner so far seems to be us.
Yes Stranger Things, Ozark, Black Mirror, Jessica Jones, and most of their peers are of substantial quality. For a nice break, though, and an adrenaline rush of creative inspiration you should definitely check out Abstract: The Art of Design. My best guess: your new favorite binge watch.
Abstract: The Art of Design

Where: Netflix, 1 season, 8 episodes (2017)
Created By: Scott Dadich
Length: 40 minutes
Rating: 5 out of 5 stars

Profiles:

Christoph Niemann // illustrator
Tinker Hatfield // shoe designer (Nike)
Es Devlin // stage designer
Bjarke Ingels // architect
Ralph Gilles // automotive designer
Paul Scher // graphic designer
Platon // photographer
Ilse Crawford // interior designer