Describing Twin Peaks as surreal is a pretty common assessment, especially given director David Lynch's penchant for using abstract artists such as Francis Bacon and René Magritte to influence the style of his movies.
Now you can also describe Kyle MacLachlan's Golden Globe nomination (Best Actor, Limited Series or Television Movie) as "surreal."
Speaking to EW, this is what the actor — and wine label operator — said about winning a Globe in 1991 and once again to being nominated some 25 years later for playing the same character:
"It's very surreal, to be honest. I think it's a testament to the power of that character. Dale Cooper has a resonance with people that I think is very special."
Others nominated in the category include Robert De Niro (The Wizard of Lies), Jude Law (The Young Pope), Ewan McGregor (Fargo) and Geoffrey Rush (Genius). Safe to say: pretty darn good company.
It's worth noting that though he does indeed play the same character — coffee and pie loving FBI agent Dale Cooper — in The Return, there are 3 variations that each required a unique look and performance: chummy and curious good Cooper, evil-possessed-by-BOB Cooper, and the might-be domesticated, but not altogether right Dougie Jones.
Confused?
Try watching all 18 hour-long parts and see if you can sew all the pieces together. The show may or may not necessarily be solely about the death and investigation into the murder of a certain Laura Palmer. Lynch once famously said, "if you want to catch the big fish, you've got to go deeper." So, deep it is.
Noting that Lynch is a "creative genius" the conversation turned to the infamous TV vs. film debate. Is Twin Peaks The Return (aka A Limited Event Series) a TV show or a film?
"It think it's kind of both," says MacLachlan. "David was very specific about calling them hours and not episodes. So they're 18 hours, and the way it was written and directed was if it were a long film."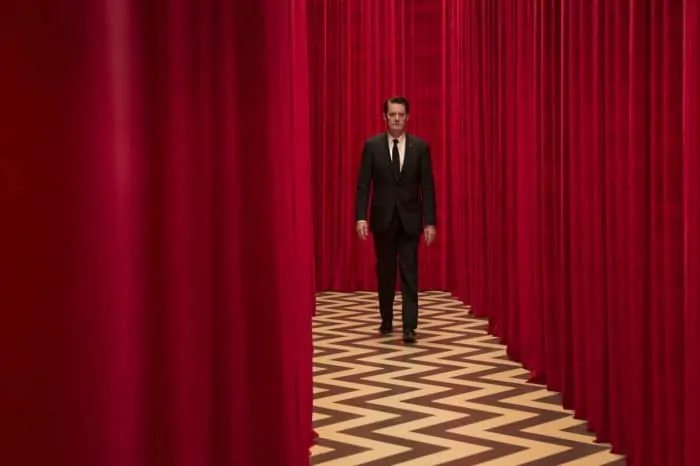 Indeed, the 2017 edition of Twin Peaks did not feature the standard devices you'd see in an episodic TV show. For instance, there are no "recaps" or "coming next" style sequences booking each hour-long episode. However, one thing David Lynch apparently liked to do was end off at the Bang Bang Club. Several episodes had a band performing live at the Bang Bang Club in the small logging town of Twin Peaks. Helpings of surreal and oblique were piled on in those final minutes, as if trying to tell us that there's much more to know about this place then what you see on the surface.
You can read the full interview with Kyle "Kale" MacLachlan over on EW.
Meantime the Golden Globes are set for January 7, 2018 in Beverly Hills. The Screen Actors Guild (SAG) Awards follow a few weeks later — nominations arrive for those tomorrow.
As we wait to see how well Twin Peaks fares during award season, you might want to start ripping your way through the fancy Blu-Rays. Featuring no less than 8 (!) discs and 6 (!) hours of featurettes the expansive set requires more than a few black coffees.
Hopefully re-watching The Return will help satiate your obsession with all things Lynch… at least until season 4 heads into production… ?