Now that the GH5 has been out for a while — Panasonic released the mirrorless wunderkind in February 2017 to much fanfare amongst the videography community — bundles are beginning to pop up across various online retailers (check them out some popular GH5 camera bundles here).
Usually I'm not a fan of them. As I've said in the past these sorts of packages are a way for the seller to load up a bunch of poorly selling products, discount them slightly, and move some inventory. As a buyer you typically get a few useful items, but mostly junk that you'll never use.
Thankfully, with the GH5, there an increasing number of useful bundle deals.
They're worth checking out — for yourself or, of course, as a very (very) nice gift for someone who has been very (very) good this year.
One that recently caught my eye was a kit that includes the GH5 along with an Atomos Ninja Monitor. It goes for $2,993 (USD) and also comes with some much needed accessories such as extra batteries, a charger and an HDMI cable to connect the monitor to the GH5.
Panasonic GH5 with Atomos Ninja Inferno
I have a Ninja Inferno monitor/recorder ($995) and absolutely love it.
At first I though it was too big. With a 7-inch display you'd expect that. However, there's also room in back for an SSD module which makes it kind of thick and heavy, especially after you've inserted 2 batteries. Try it out mounted on the hotshoe on the GH5 and in short order you might find it to be no big deal. In fact, I like that it actually offers additional grip points, and added weight. That can help stabilize the rig.
Benefits of Recording to SSDs
Recording to an SSD from the GH5 is a beautiful thing for several reasons:
SSDs are relatively cheap in terms of camera media. For instance, the Samsung 850 EVO 250GB is currently selling for $89.99 which works out to $0.36 per GB.
Transfer speeds are way faster than standard SD cards, enabling you to save time offloading footage.
Best of all: you can get clean, high quality and ready-to-edit 4K/60 10-bit 4:2:2 Prores files (the GH5 only records 8-bit internally in this mode). Amazing.
4K/60 is definitely the headline feature with the Ninja Inferno. After shooting most of the year with it, though, I've really come to appreciate the (very) bright display. Composing shots on it vs. the tiny built-in LCD is so much more forgiving for nailing focus and see what's happening on the shot. It's so handy — I also use the Atomos with my RED Scarlet-W.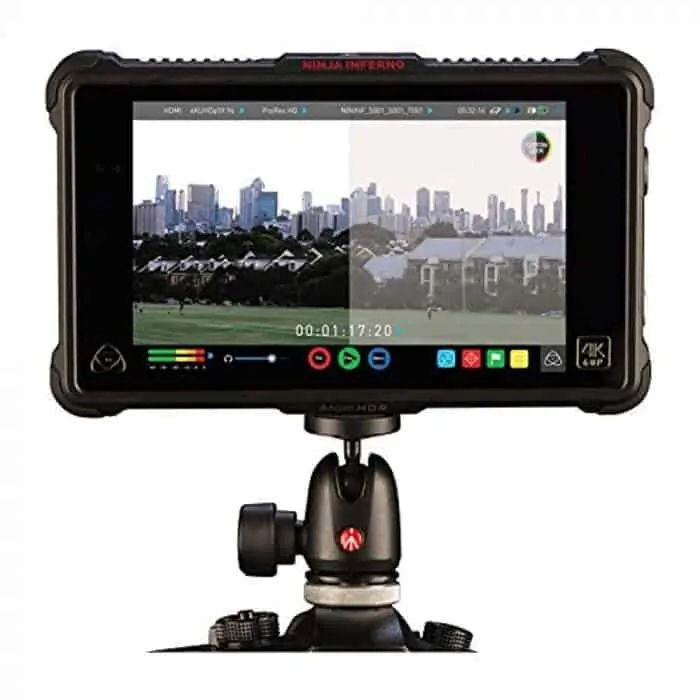 But… batteries
One thing to be aware of: the Inferno eats batteries. They drain relatively fast. No surprise given the large display and that it's also recording high bitrate Prores files at the same time. I've found a pair of large-sized Sony NP batteries will get me through most shooting situations. If you're planning a day in the field, though, you'll need several spares. For me, totally worth it.
Video Shot on GH5 with Ninja Inferno
I shot this short film festival submission CRAZY OR DIE on a GH5 using the Atomos Ninja Inferno monitor. I used Sigma 18-35mm ART 1.8 and Rokinon Cine 35mm 1.5 lenses in combination with a Metabones Speedbooster Ultra EF/MFT adapter.
Atomos Ninja Inferno + GH5: Highly recommended
So if you're researching the GH5 as for yourself or for a gift, you may want to check out the "Pro Filmmaker Kit" which bundles in the Atomos Ninja Inferno. Highly recommended.