Rise. Kind. Star.
The third entry in the Stark Insider 2017 Short Film Collection is here.
We shot this one over the summer. Loni Stark was again gracious enough to put up with me shifting lights and a camera around her, while showing her clips from the (amazing) Scrabble scene from Rosemary's Baby (1968) — one of my favorite all-time films.
Shooting a "simple" scene like this revealed many things to me and made for if not a crowning achievement, at least a useful learning exercise:
Lighting is essential and is really the most powerful tool for making an image look "cinematic" and it's one of my major weaknesses — comparing PIP of Rise. Kind Star. to the original scene from Rosemary's Baby (you can see that version embedded below) reveals that my lighting is bland, and lacks strong shadows and lights that Polanski obviously mastered early in his career.
Loni Stark was adapt at ad-libbing an anagram we used to fit the ending where we veer off course from the original scene.
In Rosemary's Baby the camera is placed deceptively low in a few close-up shots in this scene, I think in order to capture Mia Farrow thinking and analyzing, trying to crack the code so to speak (are there really a coven of witches living next door?! … or is this just a symptom of my pregnancy?). When I tried to duplicate the close-up shot with Loni I couldn't get the camera low enough without the tripod hitting the ground. It makes me wonder if Polanski had Mia Farrow elevated somehow, even though it was to appear as if she were sitting on the floor.
This scene was almost entirely about the reaction.
Test your lights for flicker before shooting! I used some LED smart bulbs during the opening high frame rate (slow motion) part where the Scrabble tiles fall to the table. Only later did I notice flicker. While using modern color-changing bulbs like the incredible Philips Hue bulbs sounds good on paper — so easy to change color from blue, say, to purple or from warm white to cool white via an app — in practice I've found they flicker on video, at least at 23.98 fps and also at higher rates here in the U.S. Too bad. So test your LEDs in advance or you might find yourself with damaged footage (you can minimize flicker in post, but in my experience not eliminate it completely).
Look for an Easter Egg!
All told doing these kinds of short videos is like a film school project of sorts. You get to turn something around quickly. And while doing it you learn a lot, even if you're mostly duplicating — or trying to emulate — what came before you.
The pacing of the edits. The sound design. The lighting. You get a really good appreciation of the whole process. The idea is to take away some learnings and apply them going forward.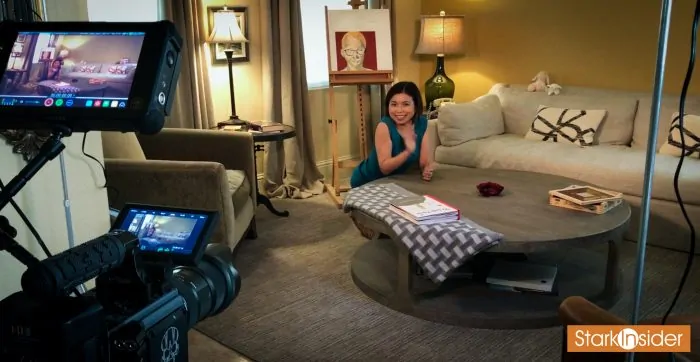 Rise. Kind. Star. was shot on a RED Scarlet-W mostly in 5K, and then re-framed to 1080p for edit, and then delivered in 4K.
I particularly like the flexibility that shooting in 4K and above provides in post-production. In the past I've been a bit of a nay-sayer. I have to admit my attitude is shifting somewhat, especially while working on this short and the Mulholland Drive audition bit we did in our second short A. Blinding. Light. where Loni tries to impress David Lynch and win the role against Naomi Watts. We know how it that turned out lol.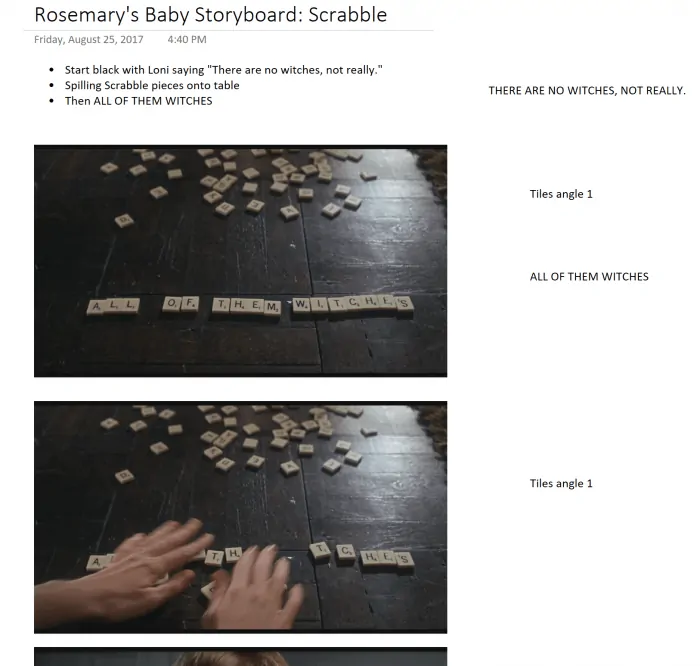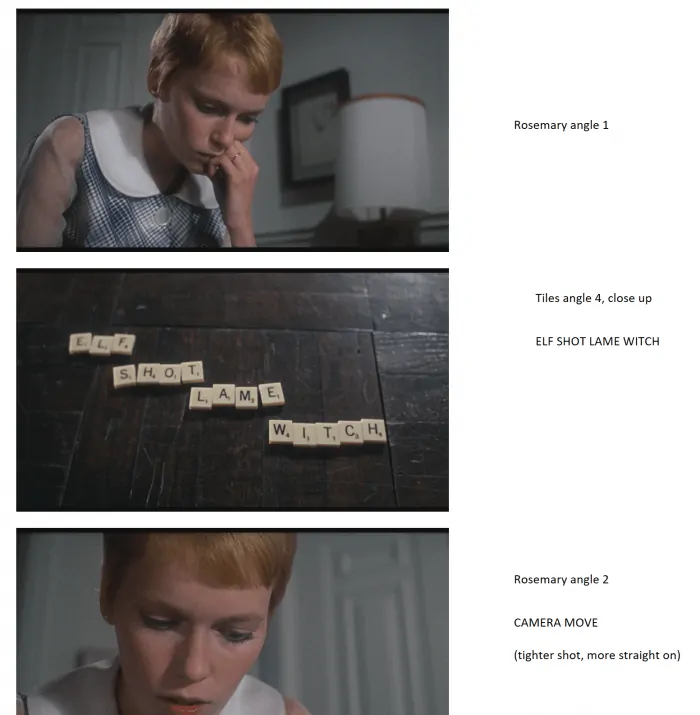 Yes, I could have easily shot this on the Panasonc GH5 or even something like a documentary-focused camera like the Canon C100. I'm sure the image would look pretty close. But the thing I especially appreciate about RED is Redcode. The R3D files are truly as close to a digital negative as you can get. In combination with Adobe Premiere Pro you can adjust ISO, do color correction and grading with very little image degradation. So if you miss white balance or exposure a bit while shooting it's very easily fixed in post.
The proprietary Redcode is truly a secret sauce and, in my view, one of the main reasons to shoot narrative on a RED camera.
Rosemary's Baby Scrabble Scene PIP

Shot by shot comparison with original scene from Rosemary's Baby (1968). One of the all-time greats.
My thanks again to Loni Stark for her generous time, shooting late at night, with little sleep and on an empty stomach (oh the drama) — surely the tension provides for a better result. When she asks Are we done yet? And I say Yes! Boom, she's off like a rabbit to a life less surreal.
"Who is Stark Insider?"
More to come. Don't forget we're rolling out these shorts every Monday on the Stark Insider YouTube Channel and the Stark Insider Vimeo Channel, in addition to the Stark Insider Facebook Page.
As for the whole filmmaking process all I can think about right now is…
Poor Hutch!
Stark Insider 2017 Short Film Collection #3:
Rise. Kind. Star.
Featuring: Loni Stark as Rosemary / Ro
Location: "New York" (or is that San Francisco?)
Gear: RED Scarlet-W, Sigma 18-35mm 1.8 ART (killer lens), Genaray LED panels, Zoom H6 recorder, an old Scrabble board Loni had lying around