Comedian and SNL alum Bill Hader is the latest to be added to the Festival of Disruption. You know, the guy with this kind of headshot: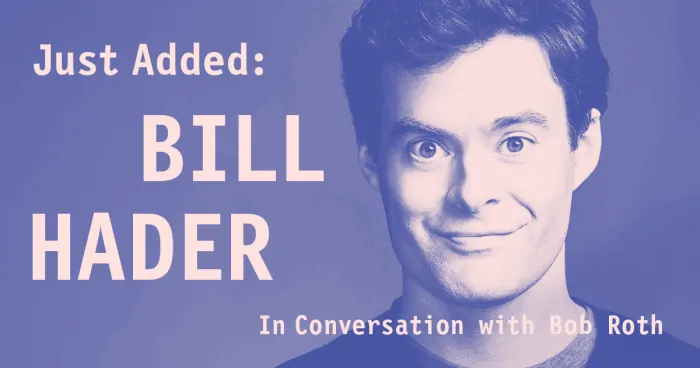 Now in its second year and curated by founder David Lynch the Festival of Disruption is certainly evolving into one of the more interesting annual events in the country.
Running over a weekend in Los Angeles (October 14-15), Festival of Disruption features a combination of music, talks, exhibits, DJs, and, of course, the icing on the cake, David Lynch films. This year: Lost Highway (1997) and some "Rare David Lynch Shorts" (then again, aren't they all rare… arthouse gems?).
Other screenings include Lost Angeles Plays Itself and Don't Look at Me (I'm not sure if this is the short by Pierce Leggin or John Strong or George Gross or Sergio Fabio Ferrari… all share the same title on IMDB)
On the FoD Facebook page, organizers announced that Bill Hader would be featured in conversation on "comedy, creativity and meditation" with Bob Roth. Tickets start at $249 for a 2 day pass. The Theatre at Ace Hotel in L.A. is the venue for the entire festival.
Others participating at the event include DJs Moby and Shepard Fairey, Pete Holmes, Brian Eno, singer Rebekad Del Rio (who has made appearances in Lynch films such as Mulholland Drive and Twin Peaks: The Return), Bon Iver, The Kills, Ed Ruscha, Bill Pullman, Sheryl Lee, as well as exhibits by William Eggleston, and, yes, David Lynch himself.
TRAILER: Lost Highway
Speaking of Lynch, he has — thankfully! — added himself to the on-stage agenda.
The renowned auteur who burst onto the arthouse scene with the legendary Eraserhead (1977) will have an in-depth talk with biographer Kristine McKenna.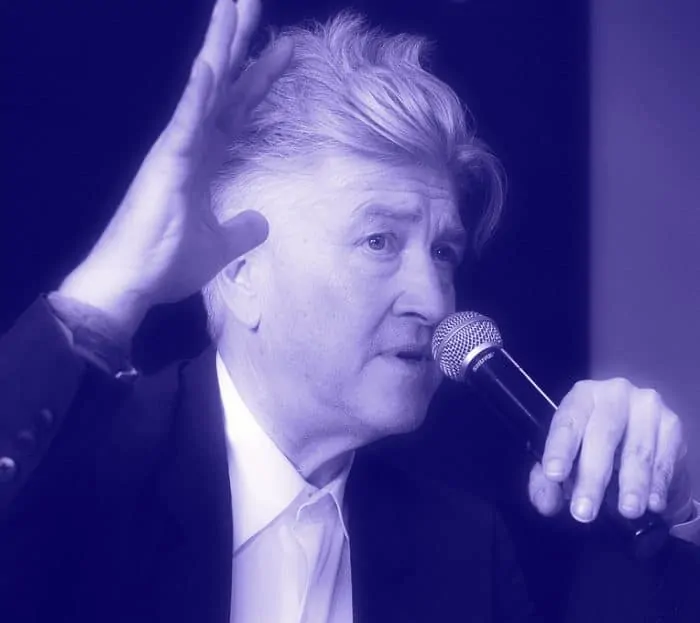 Ideas are like fish. If you want to catch little fish, you can stay in the shallow water. But if you want to catch the big fish, you've got to go deeper.
– David Lynch, "Catching the Big Fish"
Having just completed David Lynch's charming novela "Catching the Big Fish" (a must-read for Lynch fans for all the BTS stories and anecdotes from his films) I find myself most intrigued by the Festival of Disruption, and how the topic of Transcendental Meditation will weave its way into the event. I don't practice it myself, but I like the idea of taking time-outs during the day to unplug. To get into the zone. To even daydream. My favorite place: the steam room at the local gym. Just add some 80's new wave and boom, creativity flows — for better or worse.
Festival of Disruption

Curated by David Lynch
October 14-15, 2017
The Theatre at Ace Hotel
festivalofdisruption.com

Music

Bon Iver
The Kills
TV on the Radio
Sharon Van Etten
Laura Marling
Reggie Watts
Rebekah Del Rio

Talks (with Kristine McKenna)

David Lynch
Ed Ruscha
Bill Pullman
Sheryl Lee
Twin Peaks Collaborators: Duwayne Dunham, Dean Hurley, Johanna Ray and Gary D'Amico

Exhibits

William Eggleston
David Lynch
Polaroid Photobooth

Films

Lost Highway
Los Angeles Plays Itself
Don't Look at Me
Rare David Lynch Shorts

Meditation

Brian Eno's Reflection
Bob Roth with Bill Hader and Pete Holmes

DJs

Net proceeds benefit the David Lynch Foundation
More soon on Stark Insider…