The Toxic Avenger musical is now playing at The Stage in San Jose, California. Summer hits don't come any better. Here's the Stark Insider review.
On the one hand it's categorically stereotypical and more often it's politically incorrect. There's the dimwitted, sexed up blonde. A mother "disappointed" with her underachieving (mutant) son. And a politically ambitious, sexed up mayor who joyfully uses her ample bosom to get what she wants.
But, guess what?
This is Tromaville, New Jersey. Anything goes.
So, on the other hand, right from the opening cough The Toxic Avenger is an unabashedly hilarious musical — a hootenanny for those of us ready to sit back and take a break from tiresome news cycles.
The Stage (San Jose, California) pulls off yet another minor miracle in staging a show that oozes Broadway quality across the board. From the singing and dancing, inspired and tight choreography, to the lights, and music and acting, through and through Toxic Avenger is one of the best shows I've yet seen in covering this venue for Stark Insider over the past 10 years. Two hours (including intermission) goes by quickly, thanks in large part to crisp pacing, and well-delivered musical numbers.
If you close one eye and squint, you might be watching Beauty and the Beast or Phantom of the Opera… but with several helpings of Bon Jovi, 8-bit video gaming, and disembowelment.
If you've seen or heard about Lloyd Kaufman's 1984 cult film on which this musical is based then you already know that camp and farcical storylines are the order of the day. Plot? Not so much. Trolling and physical hijinx are where it's at.
When high school nerd and aspiring scientist Melvin is tossed to his presumable death into a toxic vat somewhere on the polluted streets of Tromaville, we fully expect the inevitable: that he'll return, deformed, but with super-hero strength, ready and willing to take down environmental offenders such as the evil Good Earth company.
At its heart, there's a love story concerning misfits with good souls. If you close one eye and squint, you might be watching Beauty and the Beast or Phantom of the Opera… but with several helpings of Bon Jovi, 8-bit video gaming, and disembowelment. Ah, but it's the journey that counts.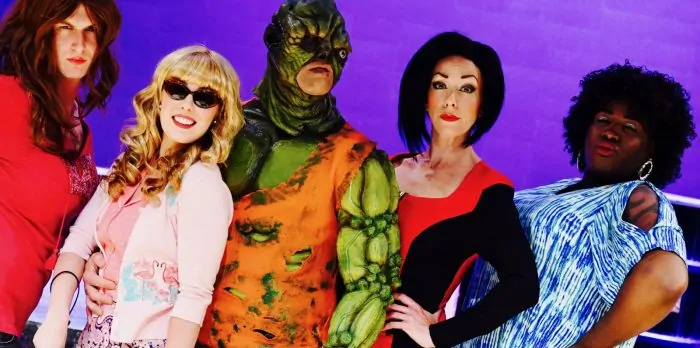 The cast here is set to hyper-drive. A mere 5 actors spend almost two hours whipping in and out of a seemingly endless number of costume changes at breakneck speed — and their performances are uniformly outstanding. I can only imagine the fracas backstage.
As the Toxic Avenger, Will Springhorn, Jr. engages full-on Nicolas Cage mode. One moment he's woo-ing the love of his life, librarian Sarah (played with minxish zeal by Courtney Hatcher), whispering in hushed tones, before the next belting out his booming trademark super hero cry and taking down a purse snatcher with ninja precision (and that footwork!). We! Must! Save New Jersey! And, no, his left eyeball, unfortunately, will no longer stay in its socket. Sad.
Allison F. Rich, as she's prone to do, positively shreds the stage. We've seen her many times before here at The Stage in San Jose, but in these dual roles, as Melvin's aging and hobbled mother and the flirty, career-driven Mayor Babs Belgoody, we get Broadway-calibre acting greatness (she also briefly plays a nun for good measure). It's one for the ages. Note, especially, the scene where her two characters appear together ("that would be impossible") and sing the lovely duet, "Bitch/Slut/Liar/Whore". A memorable performance to be sure.
The rest of the cast are equally top notch.
Joshua Marx as simply "White Man" plays what seems like a dozen different roles with aplomb, and has many of the best lines, like when he's in a coffee shop observing the inanity of the whole thing ("I've been there.").
Branden Noel Thomas as "Black Man" works up a literal sweat and has timing and facial expressions straight out of SNL.
A large video screen forms most of the set's backdrop, and is smartly integrated into several scenes (design by Vijay Vanniarajan). In one entertaining moment, it turns into a Street Fighter-like video game scoreboard and tracks, in real-time, character's health levels. In another, blood splatters across the screen like a graphic novel. Actors occasionally appear on the screen too in digitized, Twin Peaks-like fashion, making the overall production feel even more spectacular and surreal.
Think of it more as Joan Crawford… the one later in her career (Strait-Jacket?).
Finally, there's a tight 5-person band (Brian Allan Hobbs, Ryan Stohs, Gus Kambeitz, Antony Pickard, Daniel Mandrychenko) to house right that lends the evening even more energy. A show with live music can really help break the FM radio monotony that is Autotune and EDM.
Sure, Andrew Lloyd Weber this is not. And that's largely the point. Think of this unhinged specimen as Joan Crawford… the one later in her career (Strait-Jacket?). You get the sense that after the bigness of Memphis, Tony Award-winning co-creator Joe DiPietro was in a kind of "balls to the wall" mindset and just wanted to cut loose. Hence, the unadulterated, unfiltered excess that is The Toxic Avenger. Park your brain at home. And enjoy a perfect summer evening on the town. Freaks unite!
Photo credit: Dave Lepori