Clinton Stark reviews Frankenstein now playing at City Lights Theater Company in San Jose, California.
Are you God?
In successfully re-animating a corpse, young scientist Victor Frankenstein flies close to the proverbial sun, and, as we know, the results are devastating.
Writer-director Kit Wilder, though, has given the Mary Shelley's cautionary tale a fresh coat of Silicon Valley paint. The world premiere of this new adaptation of Frankenstein opened last night at City Lights Theater Company in downtown San Jose to a sold-out house. And it's a popper.
The re-imagined production, while staying mostly true to the novel which explores the perils at the intersection of humanity and machines (or technology in general), is often a dazzling sight to behold. Wilder smartly brings a few new tricks to the table — an impressive feat alone given the storied history of the now 200 year-old source material which has seen countless film, radio, television and written adaptations.
First, there's the stunning use of projection mapping.
Upon entering the City Lights Theater, you'll immediately notice 7 columns, constructed at various angles, as if protruding from the ground like the tips of icebergs or, perhaps, like the sharp stalagmites found on Superman's home planet. Through the course of the almost two-hour show, projectors are used to tell backstory using antiqued digital photos, and, as expected, to change the backdrop for various scenes (a lab, old mansion, the Alps, etc.). The result of this modern scenic design (Ron Gasparinetti) and, particularly, the stunning lighting and video design (Nick Kumamoto) is, often, quite spectacular. In combination with the brooding sound design (George Psarras), one that occasionally reminded me of the omnipresent industrial dread of David Lynch's seminal debut film Eraserhead (1977), the effects have no problems in helping evoke the grandeur of science run amok, of a love-less life of solitude, or, simply, a father and daughter enjoying a day among buttercups in the forest.
Projection is nothing new in theater of course. But the "mapping" part (which requires 3D computer modeling) means images can appear to bend to match the physical surface areas more precisely. The end result is entirely engrossing.
Be humane, not human.
And, of course, there's The Creature (Nick Mandracchia). As Wilder explains in the program notes, he opted not for the "patchwork of humanity" characterization of Frankenstein's creation. Rather, here he is interpreted as a "full-grown infant" not of many bodies, but one. Some may recall Roberty DeNiro's (lumbering) version in Mary Shelley's Frankenstein (1994), a patchwork of skin, scars and stitches dominating his face. On the contrary, this Creature is like a reborn individual, replete with past life experiences, one who rebuilds his understanding of the world through bursts of memory recall (accompanied by rapid-fire montages featuring dazzling, if disorienting, strobes and sounds) as opposed to the learnings of a newborn. The data is there. It just needs to be surfaced.
The rest of the Frankenstein story is here mostly intact, as we remember.
After years of failure, Victor Frankenstein and lifelong friend Henry Claval (Jeremy Ryan) finally re-animate a corpse. Feeling as if he's released an evil force upon humanity, Frankenstein, in a panic, abandons his creation. The Creature must fend for himself in a world that doesn't take kindly to his monstrous appearance, and soon begins to resent his creator (his "father") and sets out on a violent path of bloodlust and revenge.
IN PHOTOS: 'Frankenstein' at City Lights Theater Company, San Jose
(Photo credit: Taylor Sanders)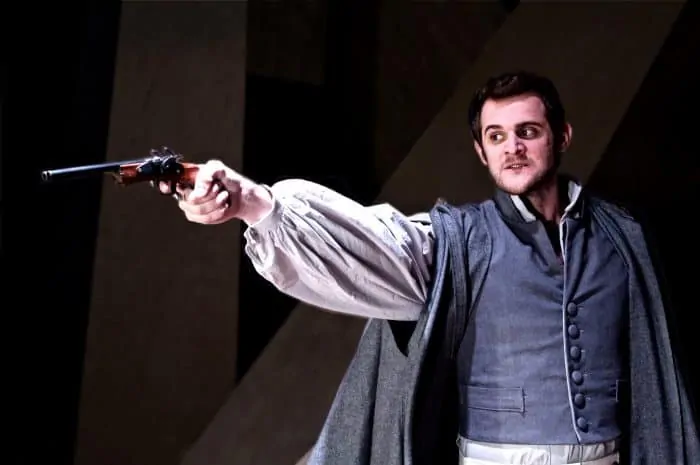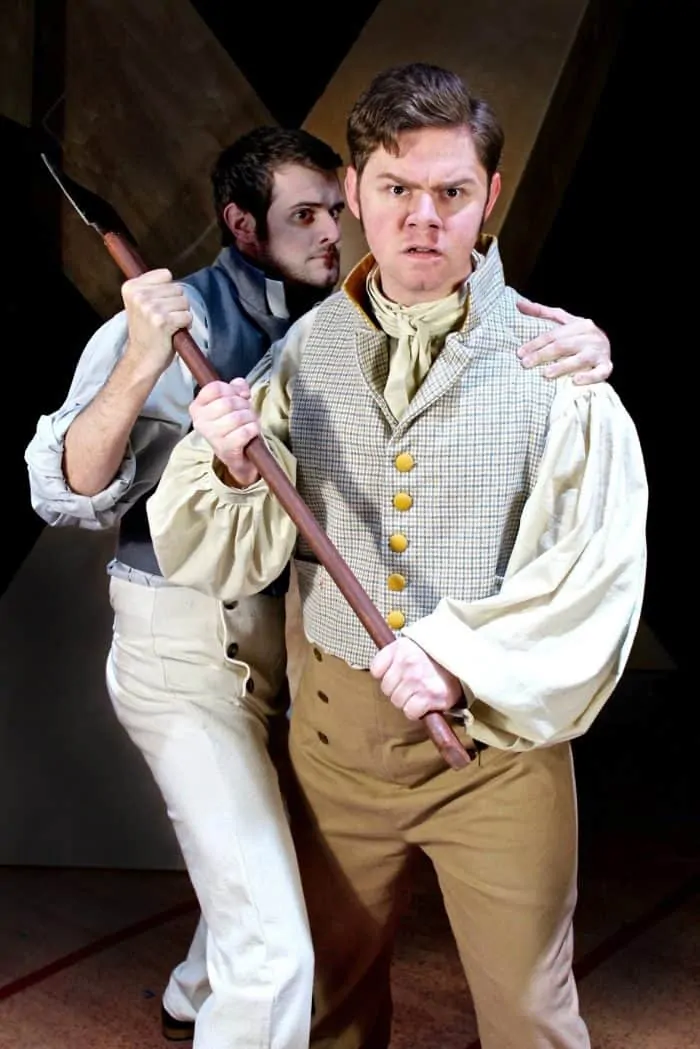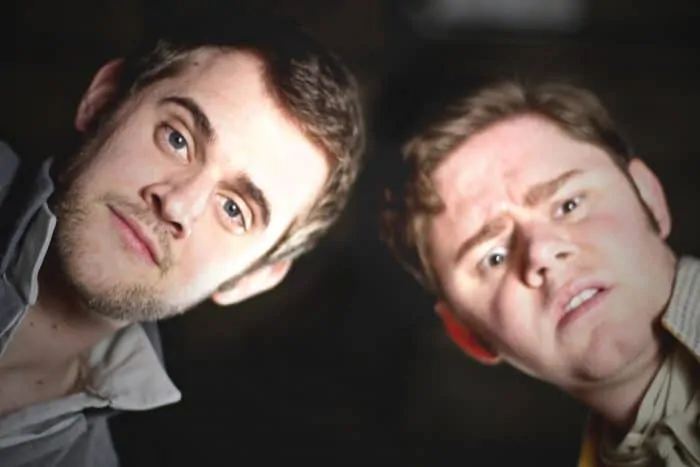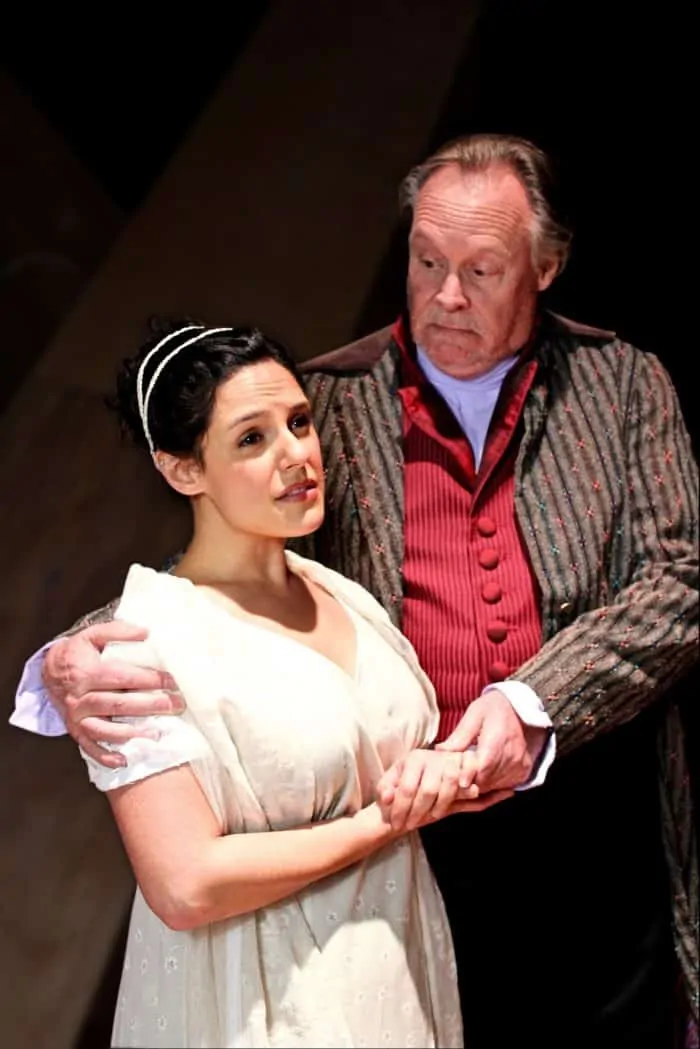 Meantime, back home, Frankenstein's father (Steve Lambert) is eager for his son to marry Elizabeth (Roneet Aliza Rahamim). Since The Creature is out there, somewhere, running amok, Victor Frankenstein cannot put his mind at ease until he's destroyed his creation. There's a climax, high atop the Alps in Switzerland. Of course the story can only end one way: in haunting despair.
New works in theater are minor miracles. This is the second in City Light's history (the first commission in 2014, Truce: A Christmas Wish from the Great War, also by Kit Wilder) and is well executed. While at the core, this is the same story, there's enough fresh new elements to give the journey enough intrigue and variation as we head to the inevitable conclusion.
The human spirit must prevail over technology.
Given this is a high-tech adaptation, perhaps one thing that could've also been given a modern twist was the wardrobe. The costumes are period relevant, to be sure, but how interesting if they were given some sort of space-age or Xanadu-like treatment? Then again, maybe that would lend itself to parody.
Speaking of spoofs, one of the great things about re-visiting Frankenstein is its history. Who can forget Gene Wilder in Mel Brooks' hysterical musical Young Frankenstein (1974)?
After seeing the show at City Lights, I felt compelled to spend time with Google and dig deeper. What a wonderful and eclectic history Mary Shelley's work has enjoyed.
Boris Karloff's iconic turn in the eternal classic Frankenstein (1931). The silly joy of the creature-feature and something like Frankenstein Conquers the World (1964). Robert DeNiro's mysterious if not entirely convincing performance in Mary Shelley's Frankenstein (1994).
Not to mention, the twisted and inspired adaptations that have left lasting impressions on the genre. Tim Burton's Frankenweenie (2012) comes delightfully to mind. And, I'd have to add a personal and cult favorite to the mix, Re-Animator (1985).
City Lights Theater has given us an exciting, high-tech adaptation of Frankenstein that invites us to re-examine our relationships with technology. Wilder and team have nailed it. Sure, you can watch a movie, Snapchat your friends, or play Nintendo Switch, but there's nothing quite like experiencing the energy of a live performance — your nerves tingling in anticipation.
Empathy, it's been said, goes hand and hand with theater. If so, Frankenstein is quite possibly its perfect vehicle. Also, a very timely one. Is this merely grotesque family drama, or are larger themes at play? Artificial intelligence (AI) and things like the rise of autonomous vehicles, machine learning, "Big Data", Siri and voice-based assistants, chatbots, self-learning algorithms, smarthomes… it would seem the story and lessons of Frankenstein are as a relevant as ever.
Frankenstein
City Lights Theater Company, San Jose
4 out of 5 stars