Broadway musicals continue to draw massive audiences. Hamilton, no doubt, is the most recent example to demonstrate that we still pine for good song and dance, along with a compelling story.
That tickets are so outrageously priced (in many cases) and hard to come by further the notion that perhaps the performing arts and, in particular, live theater can survive in a world of Facebook Live and Snapchat stories and Instagram photos. My guess: something to do with those professional production values?
Here on Stark Insider we've been covering touring Broadway shows for almost a decade now. Given the worldwide interest in them it's no surprise that some of them are our best performing videos on YouTube. I rolled up the SI videos from least to most watched. Time flies. And it was a quite a walk down memory lane to see how many backstage doors Loni Stark and I have ventured through.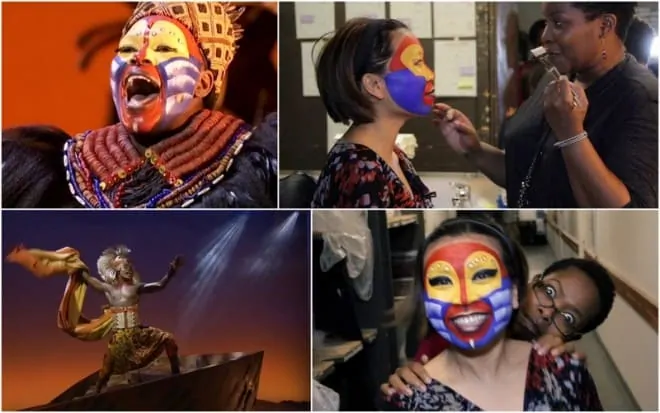 Our #1 all-time viewed video on the Stark Insider YouTube channel was a bit of a surprise.
I remember a few years back, we shot it in a dressing room. Nothing more, nothing less. I recorded an actor getting into costume with a basic Canon DSLR camera while Loni stirred up some lighthearted conversation. Later I edited the clips, mixed in some b-roll, and published the video to a little known site called YouTube. Pre-Google it was a rapidly growing place for prank and cat videos. Turns out that friendly green ogre is quite the popular guy! To see what show that was, coming in at #1, scroll to the bottom of this article.
Along with working with the likes of Cirque du Soleil and various (superb) theater companies around the San Francisco Bay Area, shooting these vids is a thrill and a half. We never know what to expect.
Will Loni get put in makeup?
Will we attempt a stunt?
And/or will we get to watch actors re-create a scene, rehearse, or sing?
Or will something completely unplanned happen–for better or worse?
The wild card quotient definitely keeps life interesting. Of course, being able to use high quality b-roll and well-known songs helps too.
So here we go, the top Backstage Broadway videos on Stark Insider.
Counting 'em down, Casey Kasem style, from least to most viewed.
Broadway Backstage with Stark Insider: Top videos on YouTube
19. Spring Awakening
18. Fiddler on the Roof
17. Avenue Q
16. Riverdance
15. Stomp
14. Peter Pan
13. Chicago with John O'Hurley
12. Dirty Dancing
11. Curtains
10. American Idiot at Berkeley Rep
9. Priscilla Queen of the Desert
8. Phantom of the Opera with Chris Mann
7. The Addams Family Broadway Musical
6. Grease
5. La Cage aux Folles
4. Matilda the Musical
3. Wicked
2. The Lion King
1. Shrek Unmasked: Backstage at Shrek the Musical
Don't miss another episode: Subscribe to the Stark Insider YouTube Channel