Does Barefoot ring a bell?
If you've been shopping lately at places like Trader Joe's, Whole Foods, Safeway, CVS or countless other retailers, you've probably noticed a bottle or two of Barefoot wine sitting innocuously on the shelf.
A new report ranks the E&J Gallo brand as number one in its round-up of off-premise top 20 table wine brands.
Sales of Barefoot wine over the last 52 weeks came in at $670 million. At an average of just $5.58 each, that would mean about 120,000 bottles. Juggernaut indeed.
Trinchero's Sutter Home brand came in a distant — though very respectable — second place with $368 million in sales ($5.45 per bottle).
Another E&J brand, Apothic, also made the top 10, and the company has a total of five brands out of the top 20 in terms of 52-week sales. Constellation Brands, another wine conglomerate, holds four of the top 20 brands.
From Wines & Vines:
"Despite the traditional lull in sales that follows the year-end holidays, U.S. wine sales totaled $2.6 billion in January 2017, according to market research firm bw166. This was up 4% from a year earlier. Sales for the 12 months ended January 2017 also increased 4%, rising to $39 billion."
Rounding out the top ten table wine brands: Franzia boxed wine (The Wine Group), Woodbridge by Robert Mondavi (Constellation Brands), Yellow Tail (Deutsch Family Wine & Spirits), Kendall Jackson Vintner's Reserve (Jackson Family Wines), Apothic (E&J Gallo Winery), Chateau Ste. Michelle (Ste. Michelle Wine Estates), Ménage à Trois (Trinchero Family Estates) and Black Box Wines (Constellation Brands).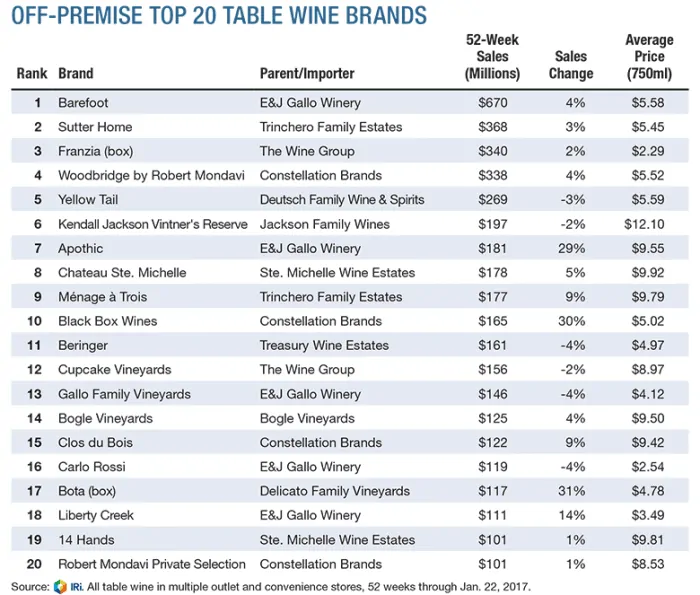 This data tells me this: man, a lot of people buy sub-$10 grocery wines. A lot. Though, most sales still come from the over $20 bottle segment.
Sure, cult wines may get a lot of headlines and often have mysterious stories to go along with their mystique (well-crafted marketing), but in terms of keeping the domestic wine industry chugging these labels are where a lot of the day-to-day, cash register action is to be found.
Yellow Tail was a bit of a surprise. Coming in at number five with $269 million in sales, I thought the brand had all but disappeared from store shelves. That may (or may not) be just the case here in Northern California. And y/y sales show a slight -3% decline. Still, a quarter of a billion dollars in wine shipments isn't too bad.
Overall, sales in the wine industry for the 12 months ended January 2017 increased 4%, to $39 billion.
In addition, Wines & Vines says the hiring index (for direct to consumer roles) is four times stronger than it was a decade ago.
All told it seems like the wine industry — like the tech sector here in Silicon Valley — is benefiting from a positive economic environment.