Canon released three new EOS camera bodies this week: EOS 77D, Rebel T7i and M6 mirrorless.
Starting at $749 (USD) the trio fill-out the mid-range of Canon's range, and provide aspiring photographers and videographers with some reasonably priced options. Each of these new models provide a step-up from regular smartphone and point-and-shoot cameras — for one, all of them offer an interchangeable lens mount so you can swap out lenses to find that perfect frame of view or look.
But, it might seem a little confusing at first. All of these new Canon models are within about $150 of each other:
So which one to buy?
First, let's take a quick look at the differences among the three models.
Key Differences: 77D vs. T7i vs. M6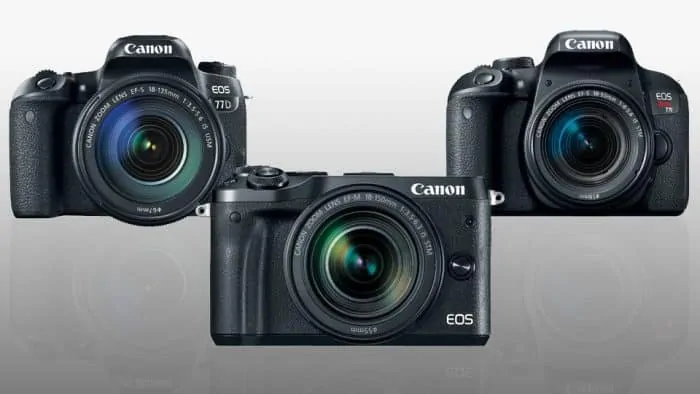 The most obvious difference is that the 77D and T7i are traditional DSLR cameras. That means they have a real-to-goodness optical viewfinder (not electronic) with a mechanical mirror that moves when the shutter release is pressed. One look at these two and you know right away they are inspired by traditional Canon designs.
Meanwhile, the M6 is a mirrorless model — a market Canon is steadily moving into, and according to some market reports, is now trailing only leader Olympus. Being mirrorless means the viewfinder (which is an optional accessory on the M6, unlike the more expensive M5) is electronic. That's important to know. Some may prefer traditional optics. However, one huge advantage of the mirrorless design is size. It's much smaller than the 77D and T7i. Very handy for those who travel a lot.
Key specs for each new model:
Canon EOS 77D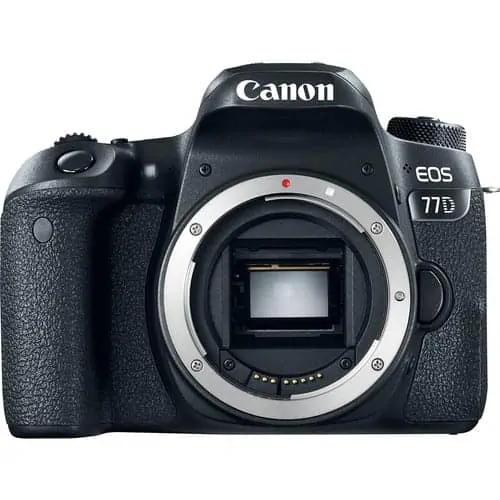 24.2 MP APS-C CMOS Sensor (same as the step-up 80D)
Dual Pixel CMOS AF
DIGIC 7 Image Processor
6fps Burst
Top LCD
3-inch fully articulating touchscreen
$1,499 with 18-135mm kit lens (highly recommended lens)
Canon EOS Rebel T7i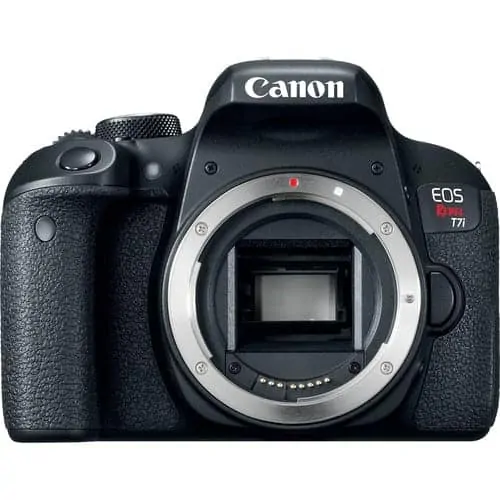 24.2 MP APS-C CMOS Sensor (same as the step-up 80D)
Dual Pixel CMOS AF
DIGIC 7 Image Processor
6fps Burst
3-inch fully articulating touchscreen
Canon EOS M6 Mirrorless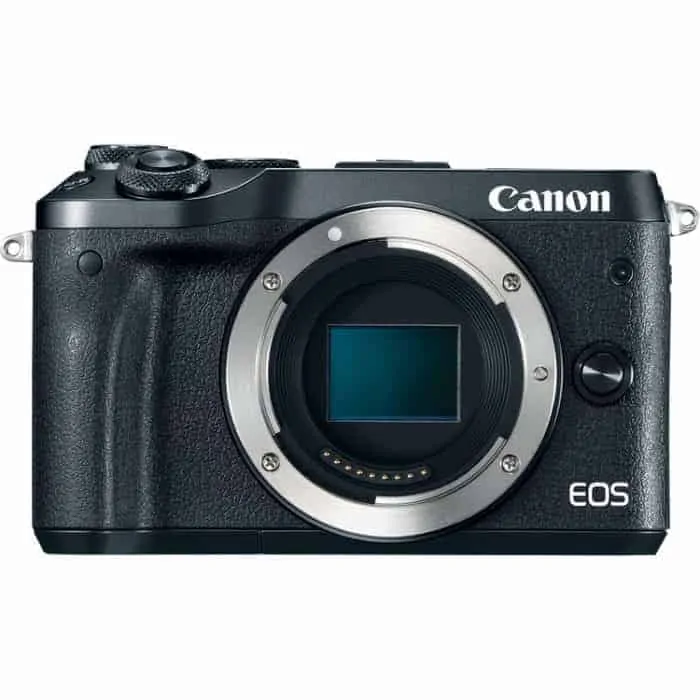 24.2MP APS-C CMOS Sensor
Dual Pixel CMOS AF
DIGIC 7 Image Processor
3.0″ 1.04m-Dot Tilting Touchscreen LCD
Full HD 1080p Video Recording at 60 fps
Built-In Wi-Fi with NFC, Bluetooth
Up to 9 fps Shooting and ISO 25600
Combination 5-Axis Image Stabilization
None of these models have 4K video mode (whether that matters is personal, however, most videos today on YouTube are uploaded in 1080p) and record in 1080p HD.
The key differences between the 77D and T7i are ergonomics. The 77D has a top LCD, a modified control layout on the rear, and a quick control dial. If physical controls are important to your shooting style you should consider the 77D. If not, save $150 and go with the perfectly capable T7i.
Regarding the M6. This is a harder comparison as it is based on mirrorless technology. One thing to know — aside from its smaller size — is that it has a different lens mount. If you want to use your existing Canon EF lenses you'll need an adapter ($149). In addition, keep in mind that battery life on the M6 won't be as good as the 77D or T7i. This is true of most mirrorless models as the physical size of the battery is smaller (lower capacity) and the electronic nature of the mirrorless design results in increased power draw.
Which to Buy: 77D or T7i or M6?
I've been shooting Canon DSLR for about 12 years now. My favorite weapon of choice these days is the Canon EOS 80D. A truly fantastic camera for stills and video. I also shoot with the 70D. Here's a video I shot for Stark Insider.
SHOT ON CANON EOS DSLR:
Wrong's What I Do Best – San Francisco Art Institute
Video by Clinton Stark
Canon EOS 70D, Sigma 18-35mm ART lens, Canon 18-135mm kit lens, Zoom H1 field recorders, Sennheiser MKE 600 shotgun microphone, Neweer LED light panels.
I also use a Canon Cinema EOS C100 II camera for interviews, and travel features. It's bigger and more suited for situations that demand the utmost in image and audio quality.
If I were starting over again and was on a strict budget, of these three I'd go with the T7i in a heart beat. I started with a Rebel T2i and was amazed at the camera's capability for the price. The T7i uses standard EF lenses, has decent burst performance, and, perhaps best of all, features Canon's outstanding Dual Pixel auto-focus (it is just utterly superb) as first seen on the pricier 80D.
Clint's Canon Camera Picks

For hobbyist, travel shooter, casual family get-togethers:

For aspiring videographers on a budget:

For serious videographers, wedding shooters, nature/travel and fast action:

Canon EOS 77D
Canon EOS 80D (weather sealing, more controls, faster performance)

For professional documentaries, run-and-gun, paid wedding filmmakers:

Shot on C100 II by Clinton Stark:
If I were a travel shooter, or maybe a foodie shooter working in discrete places (restaurants and kitchens), or maybe just a casual shooter, I'd give strong consideration to the M6. It's small and unobtrusive, yet it features the same 24.2MP sensor seen on the bigger models. Consequently, you get the best of both worlds: compactness and quality images (this isn't necessarily the case with some competing mirrorless cameras from Panasonic and Olympus). Nice.
Shoot, Shoot and … Shoot Some More…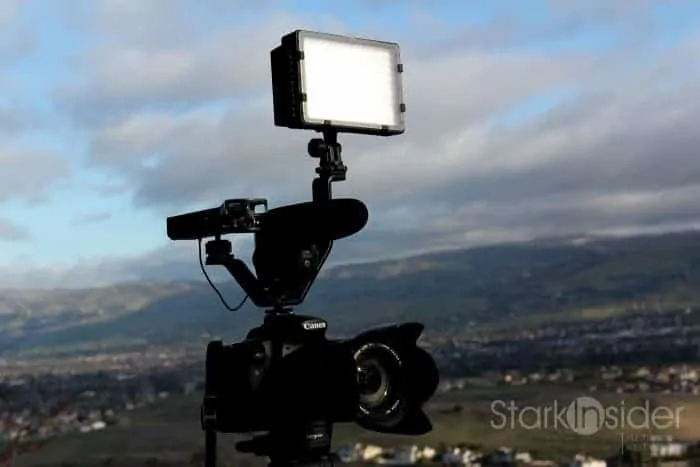 In the end these are merely cameras. Just tools. Everything else is likely more important to the end result: composition, lighting, acting (if applicable), and sound to name but a few. In the end your story will matter most. That will come from your imagination, not a spec sheet.
77D. T7i. M6.
All well-performing, reasonably priced cameras from Canon. Take your pick.
Then, shoot, shoot, and shoot some more.
Because the more we practice, the better we'll (hopefully) get. Try not to pixel peep too often. Get out there, enjoy the creative possibilities. Most of all, have fun.
Happy shooting!