One of the most talked about films in recent memory is La La Land.
There's good reason for that. Writer-director Damien Chazelle has done the near impossible: reboot the storied musical for the big screen.
And, to boot, there's plenty of agreeable ingredients here: strong performances by leads Ryan Gosling and Emma Stone, the cinematography, music (an original score by Justin Hurwitz), and an intelligent script which doesn't necessarily play out as the audience might expect.
Gosling fans will either get a hoot or cringe during the short scene where he plays keyboard-guitar to Aha's Take On Me during a party. My take: it shows the serious actor doesn't always take himself too seriously.
But the best thing to me about La La Land — which I saw recently at the Mill Valley Film Festival — is its impressive control over the technical side of filmmaking. As the audience don't see it. And that's the trick no doubt. Instead, we experience breath-taking emotion as the camera seemingly magically follows Emma Stone and Ryan Gosling during the open sequence during a Los Angeles traffic jam. It's pretty special, and one of many unforgettable moments.
"Cinema is a matter of what's in the frame and what's out"
All that to say, here's a BTS photo from the making-of La La Land that caught my attention. It was posted on a Facebook group called Behind the Clapperboard which features a constant stream of these kinds of behind-the-scenes photos: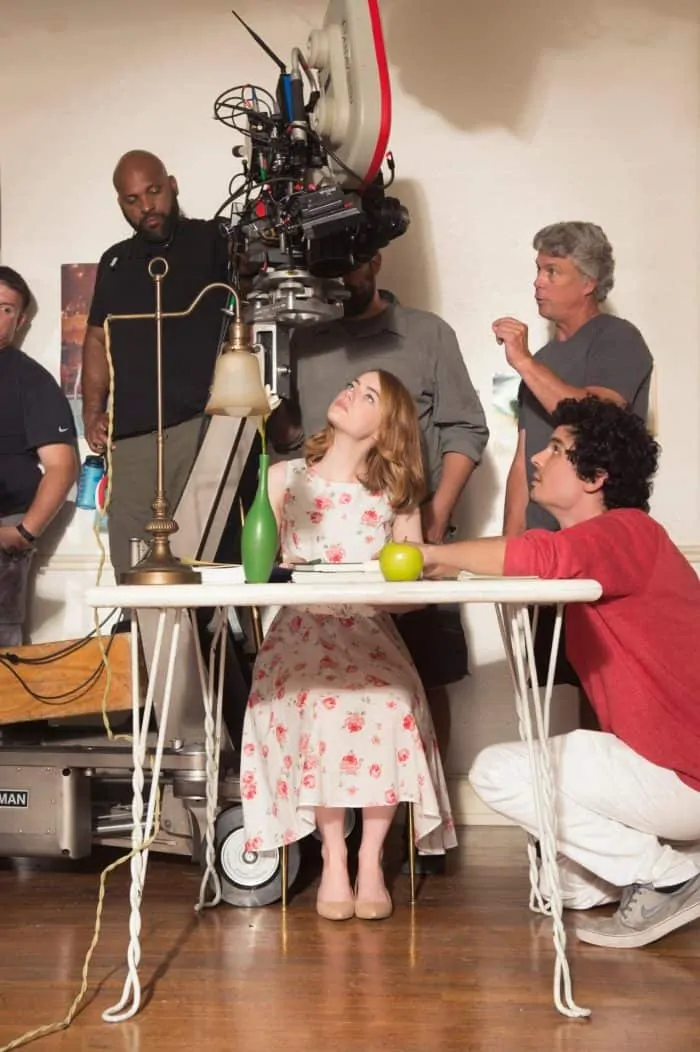 In the above shot you can tell that La La Land is being shot on good old film (note the film cannister mounted to the camera). You can also see Damien Chazelle — kneeling down at Emma Stone's level — evidently talking with his lead actress about the scene in question. Here, the crew is standing clear of the actress and director. It is up to Chazelle to set the mood, and to get the performance required.
And another shot: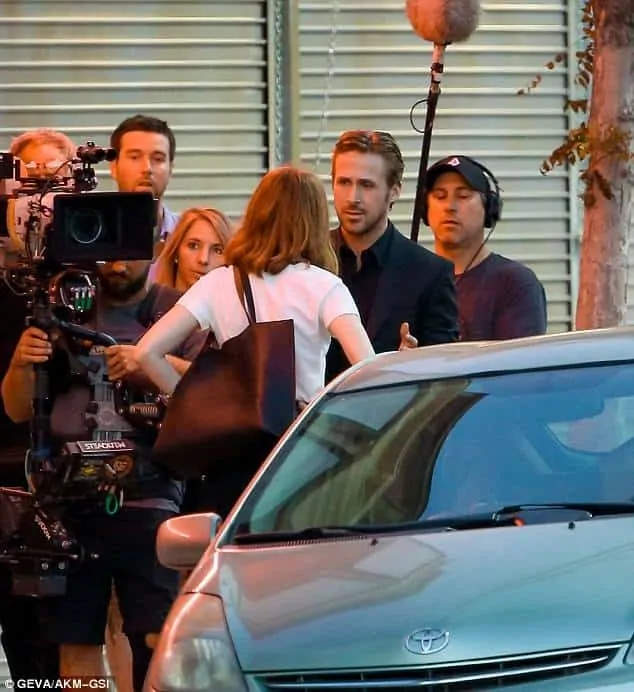 Great stuff — check out that Steadicam!
We were fortunate enough to meet Damien Chazelle at the Mill Valley Film Festival. There we spoke briefly with him about the film (the Stark Insider video is below). Having been a fan of his previous effort, the stunning Whiplash, he strikes an intelligent impression. Based on this short encounter, his work, and my understanding of how he approaches filmmaking, my guess is that we're going to be hearing a lot more from Damien Chazelle. I wouldn't be the least bit surprised if his La La Land nomination for best director is not his last.
WATCH: LA LA LAND Interview with Damien Chazelle, Justin Hurwitz and Emma Stone