Wine & Vines magazine reports that there are now 9,872 wineries in North America, a 5% year-over-year rate of growth.
California still leads with 4,202 wineries followed by Washington (747) and Oregon (713).
British Columbia (309) has the highest number of wineries in Canada.
According to the report "Wines Vines Analytics/2017 Directory & Buyer's Guide," Texas had the largest growth, increasing by 59 wineries y/y, or 26%.
Wines & Vines includes both bonded wineries ("that have brick-and-mortar facilities") as well as virtual wineries ("that use other's premises to produce their brands").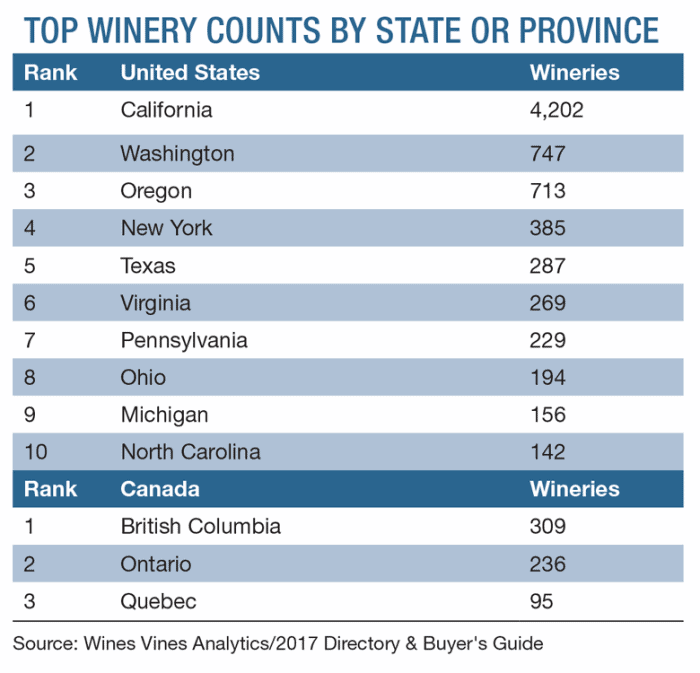 Regarding the Wines & Vines research methodology, here's what they had to say:
"Wines Vines Analytics, the magazine's market-research team, segments U.S. wineries by their size.  The number of large wineries (producing more than 500,000 cases annually) remained steady at 65.  This concentrated segment of large wineries produces more than 81% of domestic wine.  The medium category increased slightly to 261 wineries, producing about 10% of domestic wine.  Ninety-four percent of U.S. wineries are small or very limited production, producing fewer than 50,000 cases a year each."
The report comes in advance of the wine industry's annual Unified Wine & Grape Symposium, to be held later this month in Sacramento.
Wine Report: Top Winery Counts by State or Province

United States

California 4,202
Washington 747
Oregon 713
New York 385
Texas 287
Virginia 269
Pennsylvania 229
Ohio 194
Michigan 156
North Carolina 142

Canada

British Columbia 309
Ontario 236
Quebec 95

Source: Wines Vines Analytics/2017 Directory & Buyer's Guide
TL;DR: rejoice, there's a lot of choice out there when it comes to wine.