Stark Insider is a media sponsor of Mill Valley Film Festival (MVFF) 39. Don't miss a thing. Get your iPad, iPhone, Roku, Apple TV, Chromecast, VR headset, Android, self-driving car, or plain old web browser ready, and be sure to subscribe to the Stark Insider YouTube Channel for updates, news, and reviews. Plus interviews with Loni Stark.
Next up: Nicole Kidman!
Interestingly this year at the Mill Valley Film Festival, there's been a lot of talk about the importance of language, motherhood and, more broadly speaking, the value of communication — connecting as humans. And, so far, with our MVFF video coverage here on Stark Insider, we've talked exclusively to women: Emma Stone (La La Land) and Amy Adams (Arrival).
This continuation of women in film — directors, actors, producers, distributors and what have you — is I supposed apropos given Zoe Elton's "Mind the Gap" program and goal of increasing the festival's female-male ratio. And, I guess what you might call, our "powerful leading ladies" series continues with Nicole Kidman, who is in town with her new film Lion. (stay tuned, though, we have the guys coming up including a reunion with James Franco and Amin Matalqa and Raza Jeffrey and Stana Katic from the action film The Rendezvous).
Kidman was also an honoree at this, the 39th edition of MVFF, and was hosted by director of programming Zoe Elton for an on-stage conversation.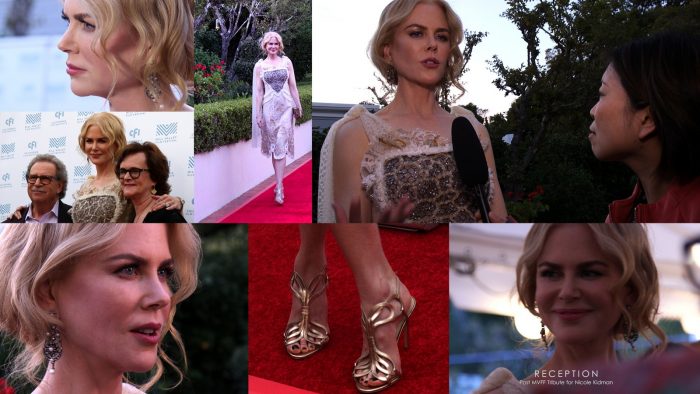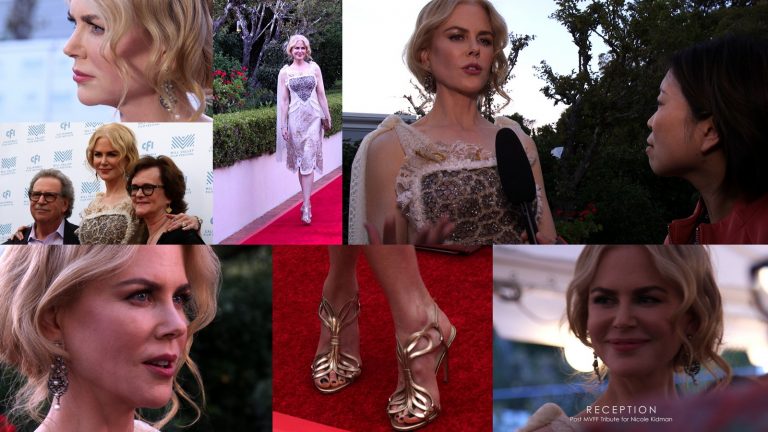 A post-screening reception was held at the beautiful grounds of Elks Lodge. There press assembled, along with fans and patrons, to get an up-close of Hollywood glamour. And Nicole Kidman did not disappoint. She kibitzed with adults and children alike, appearing very comfortable, posing for photographs.
I was very fortunate to spend some time with Kidman on the red carpet to talk about Lion (see video above).
"I think it's an emotional story," she said. "One that tells you how connected we are."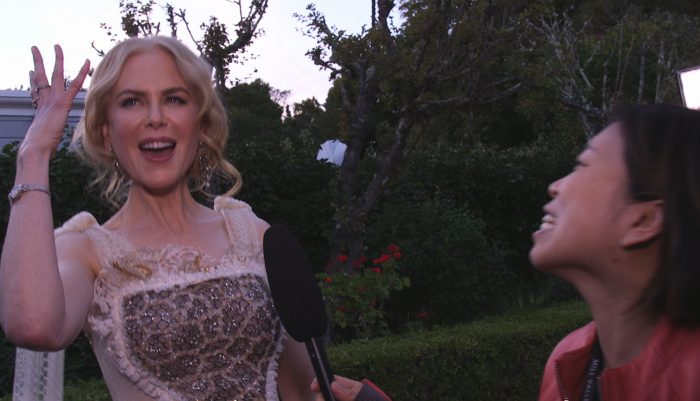 There's that human "connection" theme again. It also appears to be a recurring conversation in Mill Valley this year. Definitely timely. Say no more.
Director Garth Davis' film (Australia) tells the story of a man (Dev Patel) in search of his birth family. Based on true events, IndieWire, in their review, called it a "tearjerker" that earns the tears. Indeed, I talked with one woman after the screening who was, for lack of a better expression, bawling her eyes out. Apparently, that's a common reaction. Kidman noted that was indeed a common reaction, though the film has a strong message and a good ending.
IN PHOTOS: Nicole Kidman Arrives at Mill Valley Film Festival Reception
Location: Elks Lodge, San Rafael, California.
Photos courtesy: Photo-Drew Altizer.
Nicole Kidman poses for press with MVFF founder Mark Fishkin and director of programming Zoe Elton.It was certainly a very memorable evening, with all of us the beneficiaries of Nicole Kidman's grace and wonderful charm.
And isn't life grand? Clint Stark didn't forget to push record this time!
If you're in and around the San Francisco Bay Area, you have plenty of time still to catch a movie, panel and/or event or two. MVFF 39 runs through Sunday, October 16, 2016.
Stay tuned for more from MVFF. Subscribe to the Stark Insider YouTube channel to receive automatic email alerts when new content is posted. See you at the movies!